Ryan Soskin: Learning to build startups from the inside
Ryan Soskin got the confidence to start his own company by helping small companies grow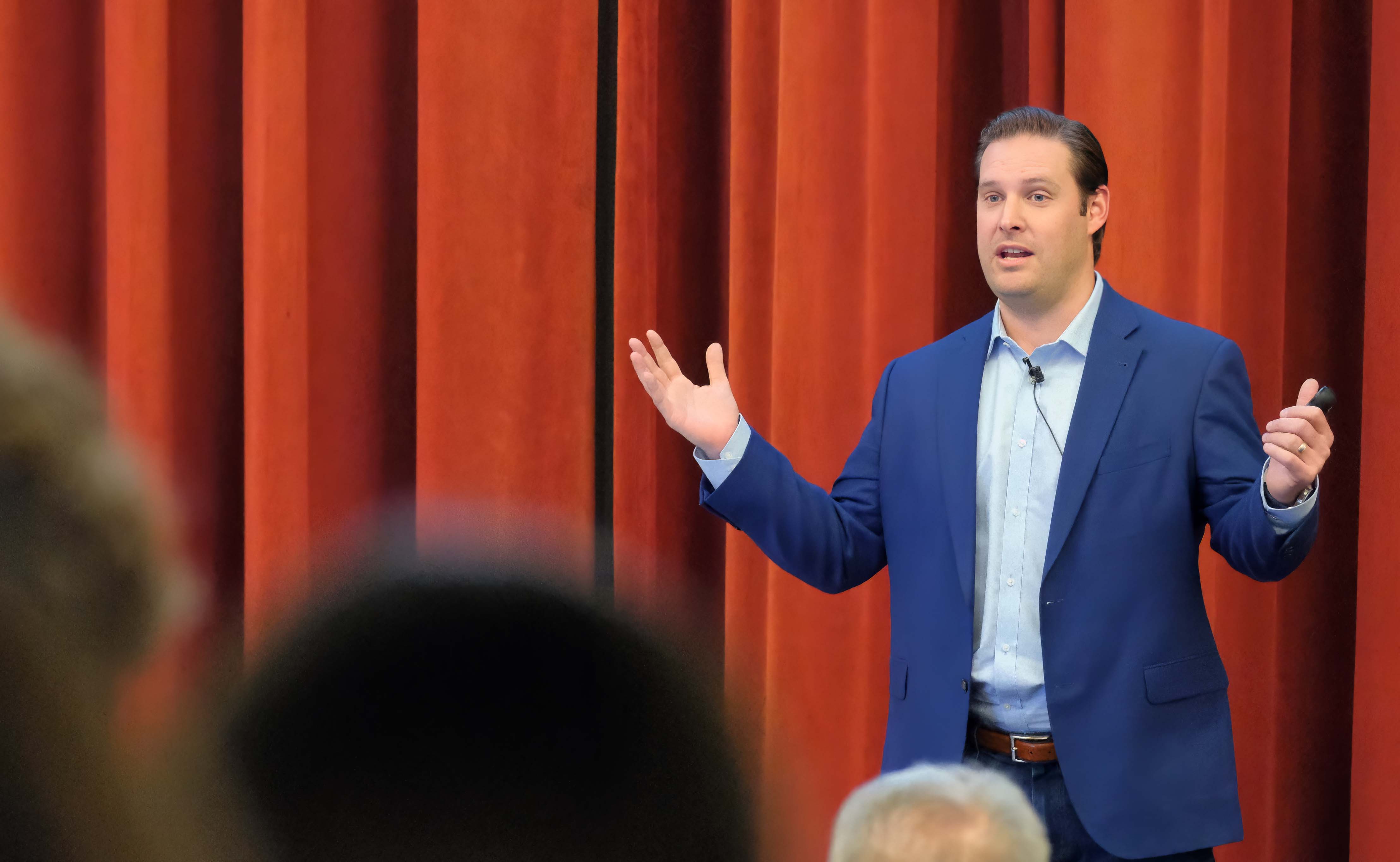 Ryan Soskin: Learning to build startups from the inside
Ryan Soskin says that during most of his career, he wasn't ready to create his own company, but he was always ready to jump into the first part of building one. "I've learned something about myself, that I really enjoy the early stage of building a company because there's just a sense of comradery when there's 15, 20, even 100 people. You're in the trenches together. And then you turn around and it's a thousand people -- it's a symptom of success," he said. "So you're glad that the company has gotten that big because it means you're doing something right, but it's not quite as fun."
Soskin, a 2008 Farmer School graduate, told students at his Executive Speaker Series talk about his unexpected career in the freight transportation industry. "I didn't leave Miami and think, 'Okay, I'm going to go work in trucking.' That was not the plan. I feel like most people that end up in freight also have a similar story," he said.
He started as a carrier sales manager at Coyote Logistics in 2010. Now a major freight broker, purchased by UPS for nearly $2 billion in 2015, Coyote was then one of those 100-odd employee firms that Soskin would grow to love working within. By the time of the purchase, Coyote had grown to more than 2,500 employees.
"At that point I was kind of looking around thinking, 'What's the next thing I'm going to do here?' I still had a good job there, no reason I had to leave, but sort of felt like I had ridden to the kind of pinnacle of the company," Soskin said. That's when he saw an interview about a startup named Convoy, which was looking to become "the Uber of trucking."
"I found the founder on LinkedIn, his name was Dan Lewis. And I sent him a message and just said, 'Hey Dan, congrats on this fundraise. Here's my background. Let me know if you think I can add value.' And to his credit, he reached back out to me 20 or 30 minutes later," Soskin said. "We jumped on a bunch of Zoom calls, I met the whole team, they flew me out to Seattle and I ended up moving out to Seattle as the 15th employee and first person from a supply chain or industry background."
In 2020, Soskin moved to Stord, another early-stage venture-backed tech firm, which then purchased a small freight firm, where Soskin became head of freight, building out a freight brokerage.
And then, he had a thought.
"I didn't really think I was going to jump into the founder seat, but I just thought, 'Okay, I had this idea. I feel like I've got the earned secrets. I've been up close and personal with the processes, with the systems,' and so I decided to build a pitch deck. Not thinking I was going to actually go pitch it, I just did it as a forcing function, trying to poke holes in the idea and figure out why hasn't this been done, why shouldn't I do this?" he said. "And the further I got, the more conviction I had that I should do it."
"It" became GoodShip, a cloud-based collaboration platform automating the manual tasks of procurement, carrier scorecarding and reporting, designed to ultimately promote supply chain stability by improving efficiency and resilience in middle mile logistics. "I knew that this was a huge pain point in a massive industry," Soskin said. "I thought about how to build a solution that could touch a bigger piece of the ecosystem and make a bigger impact, create value for more stakeholders in the industry than just servicing the freight, doing the physical logistics."
GoodShip announced $2.4 million in startup funding at the end of October, which the company will use for hiring and product development. Among the investors are the founders of some of his previous employers, places where Soskin said he learned how to become a founder.
"Even though I was building a team within the broader company, it really was a startup within a startup because the other parts of the organization were further along and more mature, and they sort of said, 'We're not freight experts. We just know it's a critical part of the 'cloud supply chain solution.' And you've been doing it for a long time.' And so they let me just build from scratch. I think that was a really great opportunity to sort of build my confidence, build something from scratch, own something almost end-to-end, or as close to it as you can without actually building your own company," he said.
Soskin told the students that his success might have come sooner if he'd used his time at Miami more effectively. "I wish I had taken better advantage of the opportunity here. I've been in you all's seat and after school is over, you look back and kind of want to make the most of the opportunity," he said. "I had a great time here, learned a ton, but probably could have learned a little more and been a little further along in my career had my priorities been in the right order."