'An excellent event that gets better every year' Venture Pitch Competition brings ideas to life
A semester of work comes down to minutes on a stage as team pitch their projects.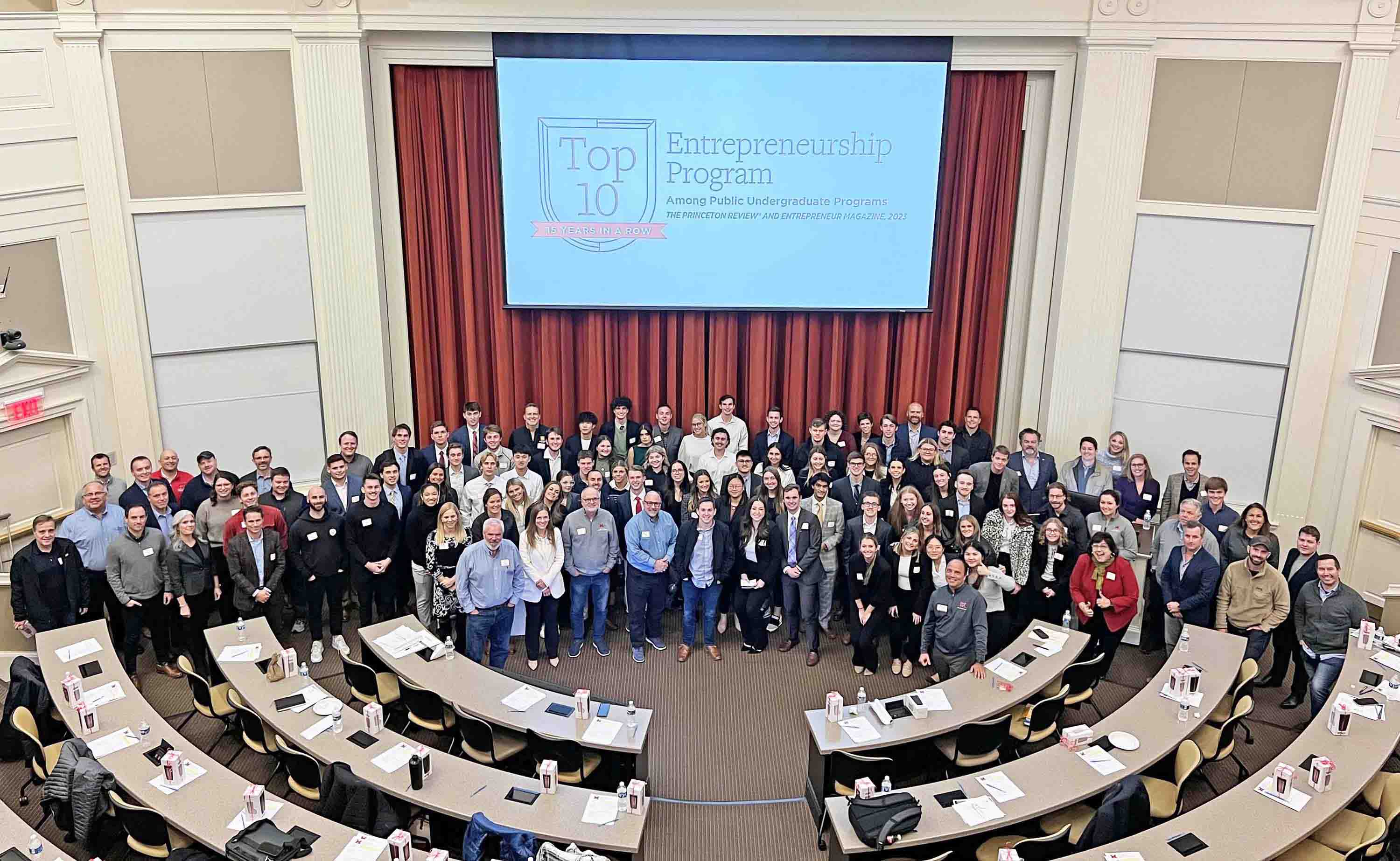 'An excellent event that gets better every year' Venture Pitch Competition brings ideas to life
"It was a great day at Miami. Congratulations to you and your team—it is an excellent event that gets better every year."
The 'event' High Alpha co-founder and managing partner Mike Fitzgerald referred to in his statement to Department of Entrepreneurship chair Tim Holcomb was the 17th RedHawk Venture Pitch Competition held earlier this month, in which more than 70 student-founders, all seniors from 27 majors across campus, pitched 17 high growth startups to more than 60 angel investors, venture capitalists, startup and social enterprise accelerators, and other startup and business ecosystem professionals.
The event is the culmination of two John W. Altman Institute for Entrepreneurship programs: the New Venture Capstone ESP 401 class, and the RedHawk Launch Accelerator. Both use a practice-based, immersive approach to provide undergraduates with "hands-on" experience at starting a company. "It's a great example of our 'learning by doing' philosophy at work. The competition is more than just the final step in the fall and spring semesters for student-founders that have worked on a high growth startup over 14 weeks; for some, it's an opportunity to test their scalable business idea or side hustle in a demo day format before deciding whether to pursue the startup beyond graduation," Holcomb said.
The winning teams were:
"I think that the experience is one of the most valuable that I have had at Farmer and at Miami. I can't think of another program that puts students in an environment that not only teaches them how to build a business from the ground up, but to actually pitch it to over 60 investors, and even generate real-world interest in the ideas beyond the classroom," Chudnovsky said. "Obviously the competition taught me plenty about VC investing and supply chain, but more than anything, it taught me how to build and utilize an effective network. I think we tend to overlook how much it benefits us to be students that are eager and excited to learn."
"In both rounds, our team went last and that made me so nervous because the other teams had such great ideas. I'm so thankful for such an awesome team because this last week we, especially Diana and Matt, kicked it into high gear and nailed it down," Cowell said.
"That was such a great program," Techstars senior director John Otten said. "Perhaps the best program I've seen a university run and so well-thought out by the students.  I hope that they continue to pursue these opportunities and build on them. You have built an incredible program at Miami."
"I am SO IMPRESSED with what you are doing at Miami. Great event, great faculty and staff, great students, and an amazing program," Julie Shields, President and CEO at United States Association of Small Business and Entrepreneurship, said.
Mike Venerable, CEO at CincyTech, said "I was inspired by each startup and each founder. Congratulations for leading such an amazing program."
"Our ideas were constantly challenged and mentored by people out in the industry. They not only validated our thoughts but corrected our course, and I think that that input specifically is what helped us stand out enough to win," Chudnovsky said. "Ultimately, the value of a great network is priceless, and all of that is made possible by the ESP department and our alums."
And as Holcomb noted, it could lead to another startup or two down the road. "Moving forward, all the founders agreed to join ESP 490, which is the start-up accelerator class, and we are going to try and make this idea a reality with the amazing support of Miami's Entrepreneurship Department," Cowell said.