ESP students go for extra bases to help MLB grow fan base
How can Major League Baseball get younger people into the sport? Miami students have some possible answers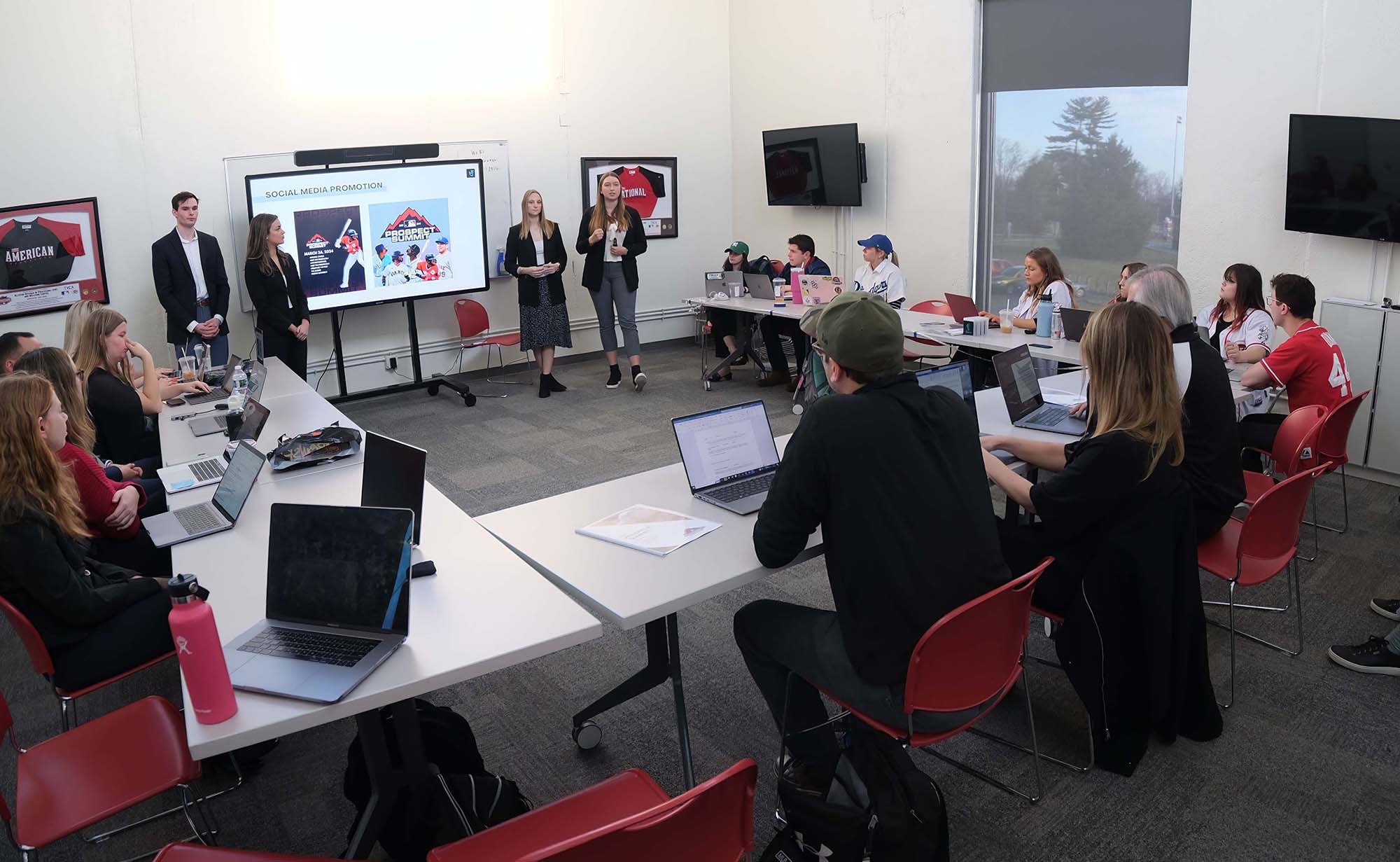 ESP students go for extra bases to help MLB grow fan base
"I was blown away. This is something that we desperately need. I'm so excited that a project like this is ongoing. I'm thrilled to see the connection between Miami and Major League Baseball," Charley Frank, Executive Director of the Reds Community Fund, said. "I was so impressed with the energy, with the creativity, with the professionalism. Baseball is very much in need of young ideas. So this was absolutely tremendous."
Imagine a 40,000-seat floating stadium where major leaguers play in front of European fans while cruising the Atlantic.
Imagine a theme park entirely dedicated to baseball.
Imagine an MLB prime time television event introducing the next superstars of baseball as they find out live that they are headed to the show.
These are some of the ideas that Entrepreneurship 461 students created during the winter term class this month as they worked on behalf of Major League Baseball to answer a question: "How can MLB reignite the love of and connection with baseball from a broader and more passionate fan base?"
For the students, it was an opportunity like few others. "This experience was one of the most fun classes I've ever taken at Miami, getting to spend weeks and weeks just indulging in one singular client was really a great experience," senior Communications and Entrepreneurship major Henry Nenni said. "I learned so much about the creative process along the way."
In the Entrepreneurial Consulting class, students work with corporate clients to generate fresh, innovative solutions to the challenges of their business and industry. But during the winter term course, the class adds a study away aspect as the students travel to San Francisco, where they meet with some of the world's leading creatives and most innovative companies to immerse them in new ways of thinking. "It gives you real world experience. We met so many amazing people through the process that I would've never gotten the chance to meet before," senior Marketing and Entrepreneurship major Grace Olding said. "We got to tour the San Francisco Giants stadium and the Golden State Warriors arena."
After a week out west, the students set up shop in empty Farmer School classrooms, working in teams to develop ideas that they would present to MLB. That meant thinking a lot about baseball. "We ate, slept, breathed baseball for literally 18 days. senior Social Work and Entrepreneurship major Amber Peskin said. "I literally had dreams about baseball."
"I think getting to fully immerse myself in a project was my favorite part, because you don't really get to do that through a whole semester," senior Strategic Communication and Entrepreneurship major Abby Zielsdorf said. "We were together probably close to 18 hours a day, maybe longer. It was just unlike anything you get to do throughout the rest of your school career."
At the end, the teams came to the P&G MLB Cincinnati Reds Youth Academy to present their ideas to MLB and Cincinnati Reds officials, including Ryan Taylor, director of tracking operations at Major League Baseball. "MLB has a lot of good people already thinking about these things, but it's always good to bring in fresh minds, people that might not be baseball fans or are part of younger generations," he said. "It was fun. We had a lot of good ideas, a lot of good research, looking forward toward driving the future of engagement in the game and they had some really good ideas."
"I hope this helps them grow, for their own careers, for whatever they're striving towards, whether it's baseball related or not," Taylor said. "These are good experiences, and even if you don't come in first, you can still learn from the process."