Farmer School team takes 2nd at VCIC Global Finals
For the second time since 2017, the Farmer School has won second place at the Venture Capital Investment Competition Global Finals.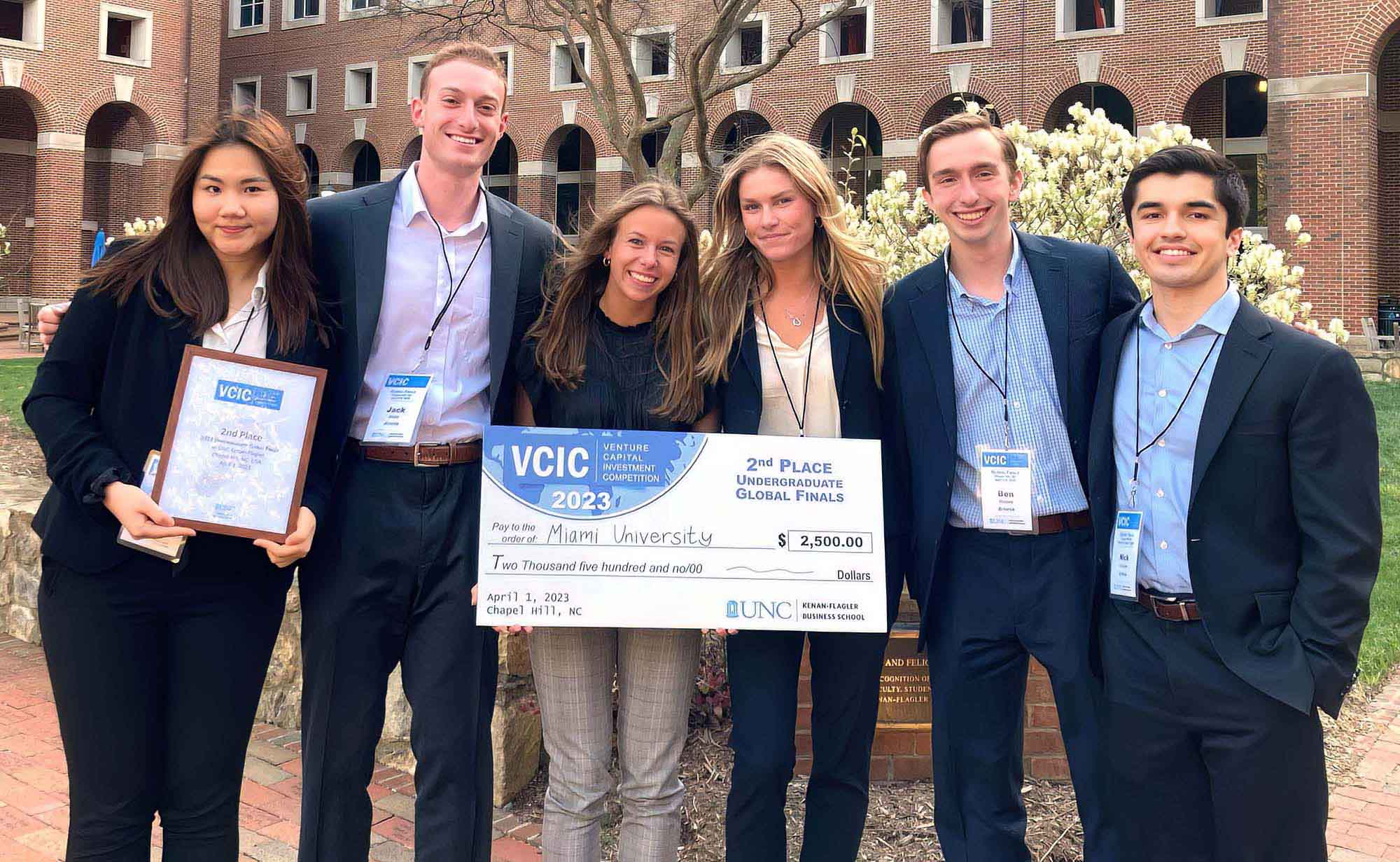 Farmer School team takes 2nd at VCIC Global Finals
The John W. Altman Institute for Entrepreneurship's venture capital investment team competed in the Global Finals of the 2023 Undergraduate Venture Capital Investment Competition (VCIC) for the seventh consecutive year, finishing second overall this weekend.
This is the sixth time a venture capital investment team from Miami University has finished in the Top 3 of the global finals since it began competing in 2017 and the second time Miami has finished as the runner-up in the finals.
The team of Jamie Nguyen (senior in Biology and Entrepreneurship), Jack Marks (junior in Honors Marketing and Business Analytics), Anna Thompson (sophomore in Finance and Entrepreneurship), Abigail Van Drunen (junior in Finance and Entrepreneurship), Ben Skapura (senior in Information Systems & Analytics and Finance), and Nick Corcoran (senior in Finance) traveled to the University of North Carolina -- Chapel Hill to compete against teams from Georgetown University, Boston University, the University of Michigan, the University of Nebraska, San Diego State University, Brigham Young University, and the University of Waterloo.
The finalists were the winners of regional competitions earlier this year. Farmer School teams have won their region every time they've competed and made the Global finals six times.
"Coming out of Regionals, we had more confidence in our overall process and built strong team bonds during our semester working together. This foundation enabled us to bring our A-game at Globals against very tough competition," Skapura said.
"VCIC was an exceptional experience for our team, not just for the venture capital immersion but also for the comprehensive learning outside the classroom that's driven by the quality and enthusiasm of the faculty," Corcoran said. "They drive these opportunities that present themselves so frequently to FSB students. Every time I'm asked, I say there's nowhere else I would rather be for my degree, and that's the reason why."
"We couldn't have done it without the mentoring and coaching of Theresa Sedlack. She has spent countless months designing the curriculum to prepare us along with connecting us to partners at prominent VC firms, lawyers to go over our term sheets, and various mentors from a wide variety of industries," Van Drunen said. "Along with Theresa, I was so lucky to be on a team with Anna, Jamie, Nick, Ben, and Jack. They are all incredibly driven, intelligent, and hardworking individuals whom I look up to immensely."
"As a team, getting to display what we learned in the Altman Institute's venture capital immersion program at VCIC is the epitome of experiential learning," Marks said. "The support of Professor Theresa Sedlack paired with the willingness of the FSB network to pour into our learning of VC concepts made the competition a transformational experience.
Students that participate in the VCIC are required to complete the Department of Entrepreneurship's 10 week Venture Capital Immersion program that immerses them in venture capital concepts, terminology, and practices. The program introduces students to the venture capital model, firm thesis and management structure, fund logic, funding rounds and stages, due diligence process, quantitative and qualitative deal analytics and valuation strategy, term and conditions, negotiating tactics, venture debt financing, equity crowdfunding, and the general implications of taking on outside funding
"Overall we worked really hard for the past couple of months and it was extremely rewarding to compete and place against our nation's top talent," Van Drunen said. "I would urge any student to consider the VCIC program. It is an opportunity unlike anything else."