From player and coach to leader and advocate: Cindy Cone talks about her path through the world of soccer
If you ever need to feel better about your first day on a job, ask Cindy Cone what she had to deal with on her first day as U.S. Soccer Federation president.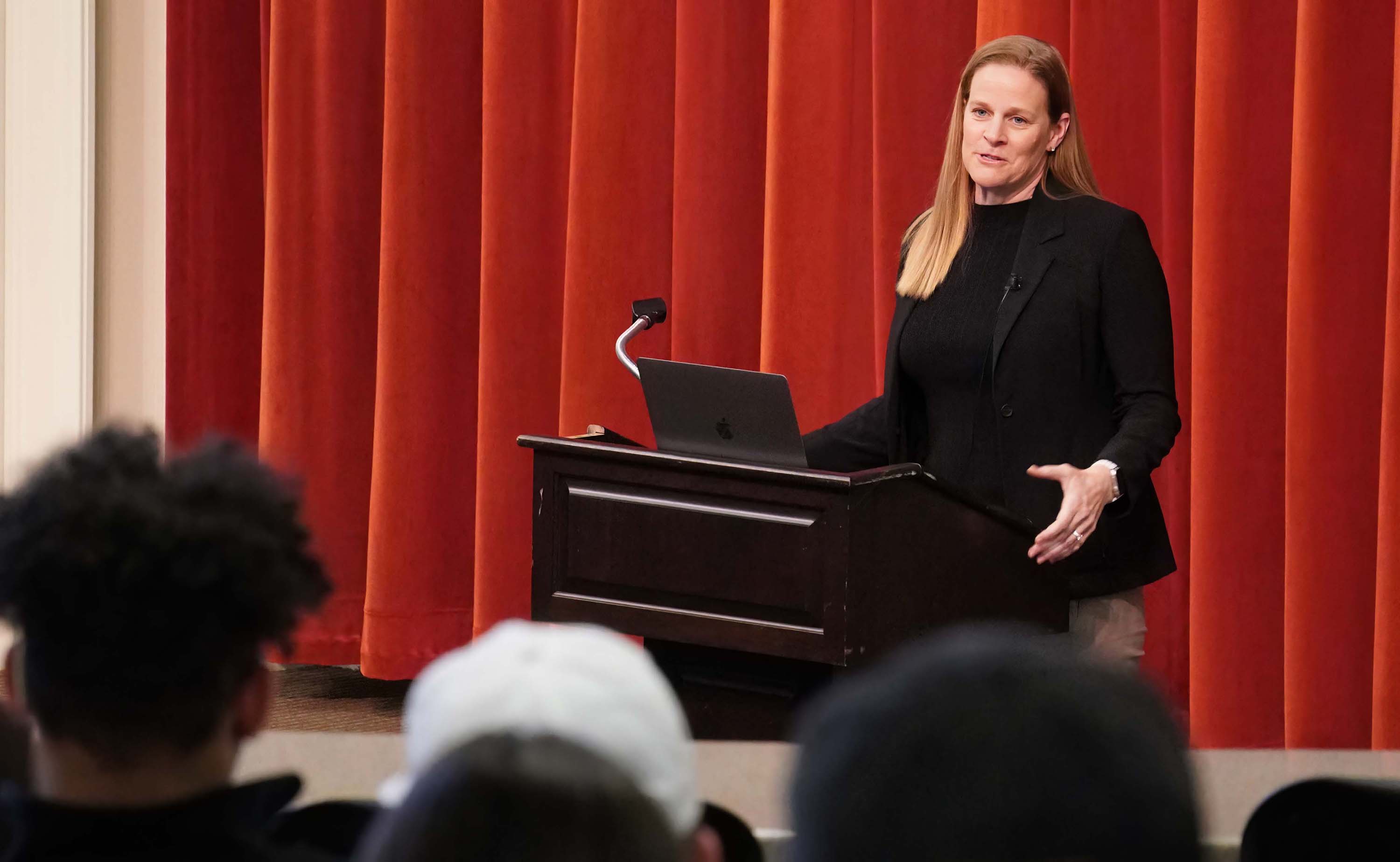 From player and coach to leader and advocate: Cindy Cone talks about her path through the world of soccer
Imagine for a moment that you have just become president of an organization that has managed to recently offend its sponsors and supporters, and that has just been publicly named as an unpleasant place to work, on the very day that the world shut down due to COVID-19.
Cindy Parlow Cone, president of the U.S. Soccer Federation, doesn't have to imagine it.
"I had no CEO at this time. I had no chief commercial officer. We had no line of sight on when we would bring revenues in, because we were very much an event-based business. And with COVID, events weren't happening. And then when they did start happening, they didn't have fans," she said. "I was literally thrown into the deep end at the worst part and the worst time in US soccer's history."
Cone, the Farmer School of Business Anderson Distinguished Lecture Series speaker for 2023, is a former member of the U.S. National Women's Soccer Team, a two-time World Cup champion, and a two-time Olympic gold medalist.
The desire to succeed goes back to the early days of Cone's life. "I grew up with three brothers, two older, one younger, and I literally wanted to be the best at everything. It didn't matter what it was. Academics, sports, I wanted to be the best. I always wanted to win," she said. "And to say that I was a little competitive would be quite the understatement. I made everything a competition, whether it was an UNO game or trying to beat my brothers to be first into the car."
That competitive spirit led her to leave high school early to play soccer for the University of North Carolina, in hopes of making the U.S. Olympic team – which she did. Cone told the audience that her time on the Olympic team and the U.S. National team helped shape her persona and her leadership style. "It was an important lesson for me to learn in leadership that no person on any team is more important than another," she said.
Cone retired from playing and turned to coaching, doing work with groups seeking to expand the reach of soccer, and volunteering as vice president of the U.S. Soccer Federation. Then, starting in late 2019, a lot happened in a short period of time, as she explained how she became president.
"They're probably already telling you guys to write your five-year plans and your goals.  Yeah, this wasn't even on the sheet of paper. This wasn't in my lifetime plan. I was vice president, showed up for four meetings a year, did a little things here and there, but not a huge time commitment. Not super engaged or involved. But then the president of U.S. Soccer resigned," Cone said. "U.S Soccer was engaged in women's national team litigation over equal pay. And U.S. Soccer had filed a very offensive legal brief, basically saying that the women players had lesser responsibilities, less skill and less physical abilities as compared to their male counterparts. So you can imagine the outrage that this caused with our sponsors, our players, women, anyone that cared about women. And I, as a former player, as vice president, couldn't have been more outraged myself."
"The day I became president was literally the day our world shut down due to COVID," she said. "And on top of this, a Glassdoor report came out that said we had a toxic culture among our staff at U.S. Soccer."
Cone said this is where all of her experiences as a player and coach helped her take charge when it was needed. "Once I settled down, I took the same approach I did as a player," she said. "When I joined the national team, I wasn't Mia Hamm, I wasn't Michelle Akers, I wasn't Veronica Scurry. Now I had to figure out 'What do I bring to this role as president and how am I going to help us be successful?'"
"The entire ecosystem in this moment needed someone with integrity, someone that they could trust, someone that they could believe in. I have a reputation for sometimes being brutally honest, which doesn't always make me the best politician, but I felt like in this moment it was really important. I'm a team player and a team builder. I had been doing it my entire life. The skills of running a business and putting a business team together aren't that different from skills a coach needs," Cone said. "I've always been a team player. I don't need to be on the front. I don't need the recognition. My only goal is to continue to move the sport forward. So what this allowed me to do is to put people that are way smarter than me and experts in various areas at the table and just empower them to go do their job, to help U.S. Soccer."
She pushed for more diversity and inclusion in U.S. Soccer. "Literally every decision we make, we make sure we're looking at a through a lens of DEI. My board is now one-third women and over 50% diverse, and our senior leadership is over 50% women," Cone said. "But more importantly than that is the inclusiveness of it. Our staff feel like they are valued and that can be their true authentic selves at work."
And through two years of work, Cone and others came together to resolve the player pay litigation, equalizing the money earned by male and female players. "To finally see it happening and to have played a small part in making it happen was just so freaking cool," she said. "Seriously, in this historic deal, I really feel like everyone won. And now we're seeing the ripple effect, not just in women's soccer, not just in women's sports, but in other industries as well."
As she now pushes to increase access and availability to soccer to as many children as possible, Cone said that people shouldn't think her story is unique, that only certain people can accomplish what she's done so far.
"I've found that every step of my career as an athlete, as a student, as a teammate, as a coach, has prepared me to lead in this moment. You know, when I was literally thrust into this leadership position, I had been preparing for it my entire life, even if I didn't know it," Cone said. "So I encourage you, as you travel through your journey, understand that what you are experiencing, all the knowledge that you are gaining, could be preparing you for your moment to step into leadership and possibly, just possibly, the ability to change the world."