Stock pitch competition broadens to include other universities this year
A calendar change became an opportunity for an annual competition to change itself this year.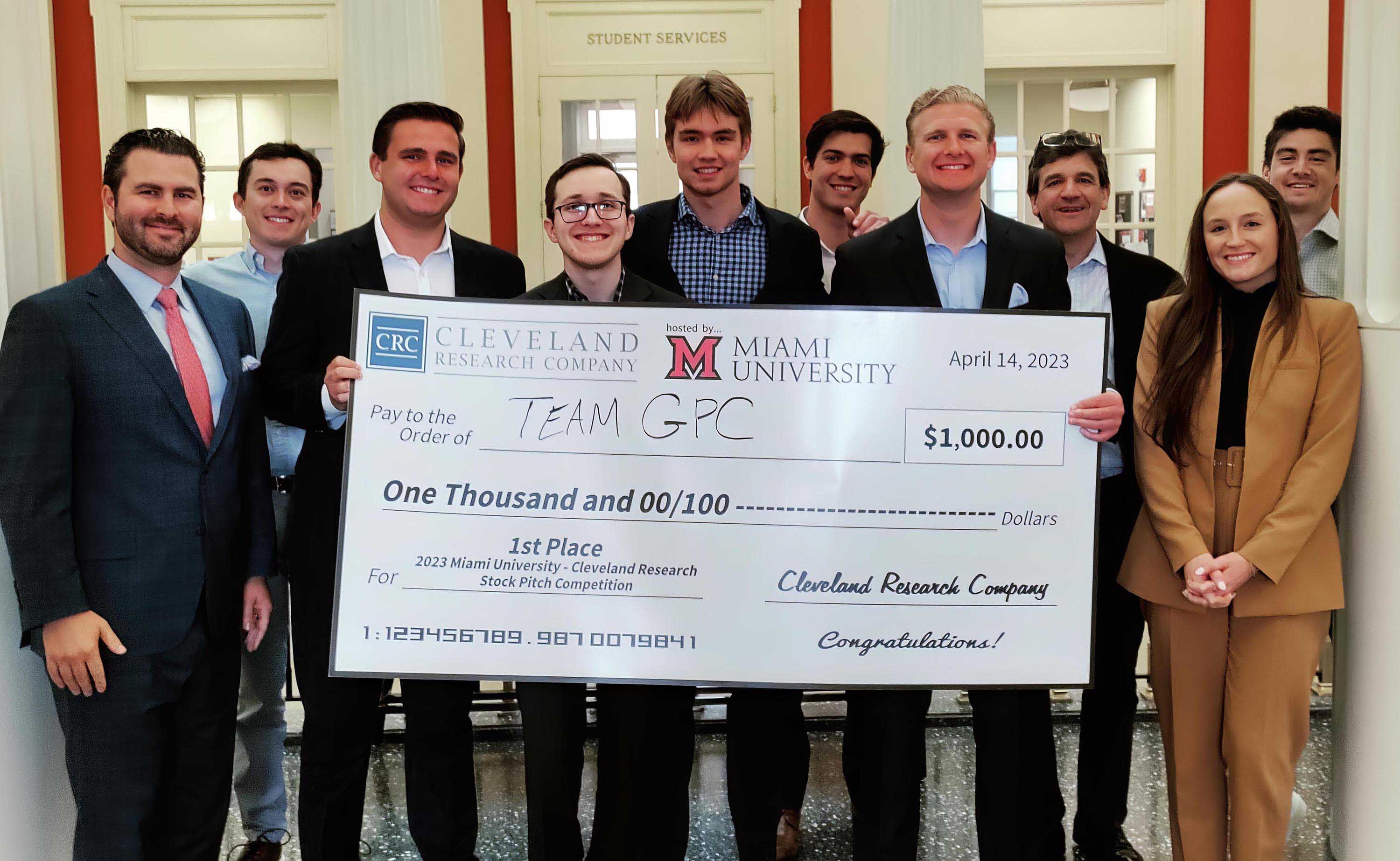 Stock pitch competition broadens to include other universities this year
In previous years, the Cleveland Research Company Miami University Stock Pitch Competition was a Farmer School-focused event to determine which team of Miami students would go to the ENGAGE Undergraduate Investment Conference competition the following fall.
But this year, the ENGAGE conference happened in February, not in the fall, which threw off the timeline of the competition.
"So, we decided to bring the competition to Miami instead," Finance professor Tom Boulton said. "We originally reached out to nearby schools, such as OSU, OU, Dayton, and Xavier, but received interest and submissions from students at other schools as well."
Last week, teams from Ohio University, Ohio State, and Dayton, along with a combined team from Indiana University and the University of Texas, joined three Farmer School teams in the finals at FSB, where they made their pitches in front of a group of CRC executives.
"Over the past 13 years of hosting the CRC stock pitch competition, we have seen a lot of impressive presentations, representative of the students' hard work, critical thinking, and teamwork. Picking a mispriced stock is challenging for students and investment professionals alike," CRC senior analyst and partner and FSB alum Vince Ciepiel said. "But that's just the math element. Students are then asked to tell the story, sell the idea, and make a compelling case for a series of events to unfold which will reveal that stock's actual worth in the next 9-12 months."
"The Cleveland Research Company stock pitch competition was an opportunity unlike any other, one in which I had the chance to network with some of the brightest minds in the industry," senior Finance major Ross Ziegler said. "Additionally, I was able to gain real experience crafting an investment thesis, building relationships in the channel, and defending why my team's chosen stock will appreciate in price in the near future."
Ziegler's team, which included Logan Ziegler, Dylan Forche, and David Staub, came in first in the competition, while the Ohio University team took second place.
"It was a great real-world learning experience where I was able to compete at a high level with my team. I was able to take away from it some great connections with CRC and stronger friendships with my team members," Forche said.
"Cleveland Research Company's emphasis on channel research provided me with a new approach to equity research," Logan Ziegler, a senior Finance major, explained. "Sure, developing an investment thesis and identifying why the market is wrong about my team's chosen stock was important, but learning from the channel partners themselves proved to be an invaluable experience."
"The thing I love about competitions like these is that there's no single correct answer," Staub said. "It's up to us to determine the direction of our research and ultimately tell a story that ties in everything we have learned. The process definitely builds upon what we learn in the classroom." 
And though the competition was different than previous years, Boulton and Ciepiel said it was a better experience for the students. "Broadening the competition to include other universities seemed to enhance all aspects of the process for students, raised the bar for competition, and created opportunity for networking," Ciepiel said.
"Because our students are in the same clubs and classes, their work often follows a similar pattern or template. Adding the other schools exposes our students, and the students from the other schools who competed, to new ideas and ways of thinking about a stock pitch," Boulton said. "It also gives them the opportunity to interact with some of the best and brightest students at other universities."