'You guys are rock stars!' FYIC students help client find competitive advantages
The First-Year Integrated Core spring 2023 cohort worked with a small business, meaning their ideas could have a bigger impact.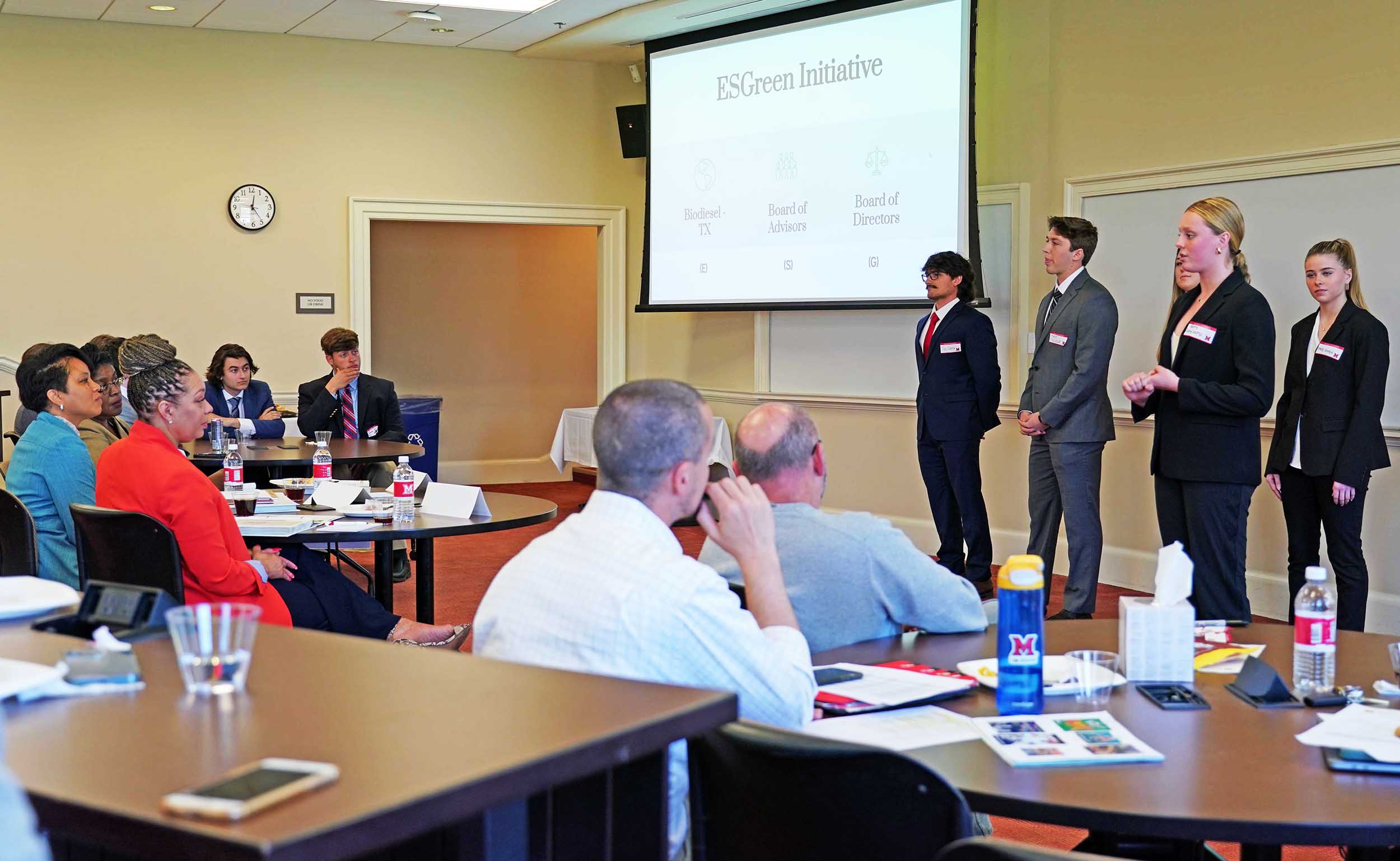 'You guys are rock stars!' FYIC students help client find competitive advantages
If there was one person at the First-Year Integrated Core Client Challenge who was most surprised by the ideas that came out of the final presentations, it might well be the client herself, Bernita McCann Hightower.
"I really did not know what to expect. This whole journey has been so rewarding for me. As an entrepreneur, I sit at my desk many times, always trying to figure out 'What should I do?' 'How should I implement it?' 'Am I thinking in the right direction?' 'Is it something that people want?' and 'Who's going to help me get there?' And you guys have just opened up so many possibilities," she said.
Each semester, FYIC students form teams and take on a challenge from a chosen client. Hightower, the president and CEO of Next Generation Fuel, had asked the FYIC students to "think about ways to have a competitive advantage around our peer and aspirational competitors regarding Environment, Social, and Governance (ESG) sustainability."
The students used the knowledge gained in their FYIC classes to come up with ideas that addressed the challenge. For the final presentations, six teams were chosen from more than 120 that performed semester-long research, development, and consulting roles for NextGenFuel.
"This has definitely been the most formative experience for me as a freshman in the business school. It's been a challenge, but I also think it's highlighted all the strengths that could not be highlighted in other programs," Nikki White said. "It's like something that's really unique to Miami and it's really made my freshman year experience and made me love the Farmer School even more."
"A lot of our ideas were kind of like coming together last minute, but that's something that was really interesting to see," Joe Garza said. "As we went, our ideas just kept building upon each other and continuing to grow in such a way that where we ended wasn't even close to where we started."
"It's been chaotic, but it's been a beautiful mess. It's been a journey. We started out with a marketing plan and then we started realizing that a conference would be the best solution," Brooklyn Chrisman said. "I had a lot of fun designing the pamphlet and designing the presentation, the slide deck and everything."
The ideas pitched ranged from forging biofuel partnerships with farmers and holding a conference/summit to adding railroad to the company's transportation plan and being an electric charger reseller.
Hightower, Yolanda Sherrer, Director of Human Resources, and Dr. Venita Kelley, Manager of Special Projects, chose the winning team – actually, two. "The decision was not easy, and I want to say each and every one of you guys are a winner. I wanted to pick all of you guys and I tried to pick three, but they gave me two," she said. "Each and every team touched on an aspect of where Next Generation Fuel will be headed."
The top team was A3 (Garza, Avery Catalano, Julia Waechter, Matthew MacLeod, and Emily Giorgio) for their plan to add an advisory board and a one-person board of directors to Next Generation Fuel. Team D4 (Tim Gibson, Spencer Blake, David Weber, Sam Pramenko, and Tyler Mann) earned honorable mention for their plan to create an online dashboard to track sustainability efforts.
The students said the experience helped them grow as business majors.
"I feel like the challenge here wasn't necessarily who was the smartest or who has the best grades or the strongest intellect, but it was so much more about which team could work together the best, who could ideate the strongest problems in the most creative solutions and deliver them in a novel way with some real research," White said.
"Right off the jump we're working with companies and communicating with their CEO. So I think what I take away the most is being able to communicate professionally and communicate my ideas in a way that people might actually agree with those ideas," Gibson said.
"Learning how to be on a team and learning how to deal with obstacles when people can't meet and when people aren't pulling their weight. Being able to balance that well with all the other classes that everyone's taking and extracurricular activities," Chrisman said. "I've definitely learned a lot from being able to network with people in my cohort and being able to have a close relationship with all of my faculty members."
"I loved how dynamic each and every one of you were. And I have chills right now because you knocked it right out of the park. I mean, you were better than professionals," Hightower said. "You guys are rock stars!"