'It's a life-changing scholarship:' New cohort of Ryan Family Scholars announced
A trio of Farmer School students are this year's members of the Ryan Family Scholars.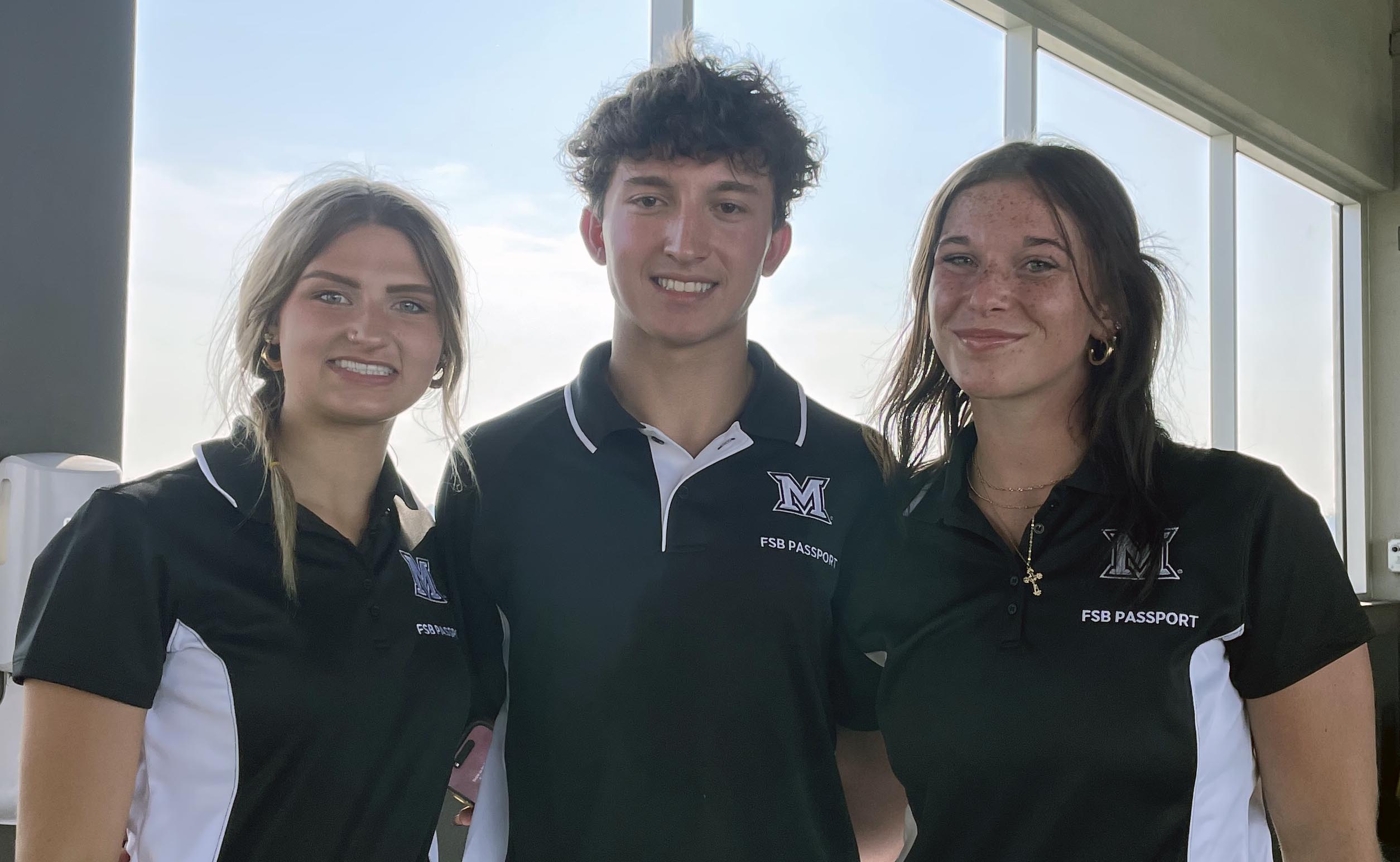 Lexi Keith, Noah Kruthaupt, and Savannah Grubbs
'It's a life-changing scholarship:' New cohort of Ryan Family Scholars announced
Lexi Keith, Noah Kruthaupt, and Savannah Grubbs
Three Farmer School first-year students have been named as the 2023-24 Ryan Family Scholars by the John W. Altman Institute for Entrepreneurship.
Funded by a $1 million gift from Jim Ryan '80 and his wife Michelle, the program takes a holistic approach to supporting student success. Recipients receive tuition, room & board and fees up to $20,000 annually. Students may major in any discipline, provided they are minoring or co-majoring in entrepreneurship.
This year's recipients are:
Lexi Keith, undecided business major
Noah Kruthaupt, marketing major
Savannah Grubbs, business analytics major
"When I got the news I was in the middle of a waitressing shift. I had answered a phone call from Michelle Thomas telling me I had received the Ryan family scholarship, and would be receiving a full ride," Keith said. "I was so in shock I dropped the food that I was holding and just burst into tears. I had never thought in a million years that I would have the honor of receiving such a marvelous gift!"
"I feel so blessed for being chosen and I'm so thankful to have been picked by the faculty and funded by the generous family that gave me the scholarship. My family wasn't going to be able to pay for my tuition because of a family tragedy that happened a few years back. I thought it was all on me to pay for my tuition so I started my own business to help pay for it, which became incredibly stressful, although a learning experience," Kruthaupt said. "After I got a phone call confirming the scholarship, it took so much stress off my shoulders. It has allowed me to be able to really focus on my classes and be less stressed about not being able to pay my tuition off, as members in my family are in their 40s and 50s and are still working off their debt. Everything has lined up and I can focus on my future more than ever. It's a life-changing scholarship and it's letting me really lock in on what is important to me."
"I had heard the news about receiving the Ryan scholarship while I was at the gym. Michelle Thomas first asked me if I had checked my email. It was the summer so of course I didn't. At first I was in a little shock when I heard the news. This was such a big opportunity. I was going to be able to attend college without the fear of not being able to afford it. I had tons of questions and concerns so then the nerves of this big decision had set in," Grubbs said. "I was terrified at the thought of leaving my friends and family. Michelle invited me to meet with her on campus and that's where she showed me around and answered a million of my questions. Since accepting the Ryan scholarship, I've started to feel like my hard work is paying off and I have become more confident in my college education. I've made new friends and created memories that will last a lifetime!"
"The Ryan Family Scholars program makes entrepreneurship education possible for students from underserved populations with high financial needs. In addition to earning a degree in entrepreneurship, the program provides each student the opportunity to participate in John W. Altman Institute for Entrepreneurship co-curricular programs like Techstars Startup Weekend Miami and Social Innovation Weekend and ensures a spot in the Altman Institute's Altman Summer Scholars Internship Program, a program that annually places more than fifty entrepreneurship co-majors and minors on internships at startups and social ventures, angel groups and venture capital firms, startup accelerators, and companies across the nation," Tim Holcomb, professor and director of the John W. Altman Institute for Entrepreneurship, said.
The program includes access to the Farmer School's unique Passport Program -- a high-touch student success program for first-year students that provides an assigned academic advisor to give them dedicated academic and career advising, as well as further expand upon skills related to transitioning to college, career development, time management, study skills, and degree planning. Scholarship awardees are also guaranteed an internship.
"The educational experience and success of Ryan Family Scholars like Riann Yates-Miller (1st cohort, MU '24 in Business Analytics and Entrepreneurship), Sam Adler (2nd cohort, MU '25 in HCML and Entrepreneurship), and Jack Isphording (3rd cohort, MU '26 in Organizational Leadership and Entrepreneurship) are evidence of the benefits students receive from Jim and Michelle's gift," Holcomb said.
"I used my first year to explore — with financial worries squared away by Jim and Michelle Ryan — I placed stress on more important things," Isphording said. "Exploring things I love, I now hold two club leadership positions, an internship, and two trips to DC under my belt, notably beginning my sophomore year as the Chief of Staff of the Associated Student Government."
"The privilege of being a Ryan Scholar is hard to describe with just words, as it is quite life-changing. It has given me the freedom to focus purely on my education and future without the burden of college loan debt. In addition to this, I have received a great amount of knowledge, mentors, and everlasting friends through my included "FSB Passport Program" admittance," Adler said. "With access to the Altman Internship Program leading into my senior year, as well as the preexisting network and learning through FSB, I can confidently state that I am thoroughly prepared for life post-grad and beyond as a result of becoming a Ryan Scholar."
"Having to not deal with the financial burden of 'Am I going to be able to pay for housing? Am I going to be able to eat this week?' has really allowed me to throw myself into academics, into social life, into clubs, and really enhance my experience at Miami to make the most of it," Yates-Miller said. "I get a lot of support, both academically and emotionally, and I think that's also really helped my college experience, for me to have a lot of growth in the past four years."