PFL founder Donn Davis: Five lessons for success in business and life
Donn Davis is a Farmer School alum with a long history of taking chances in business.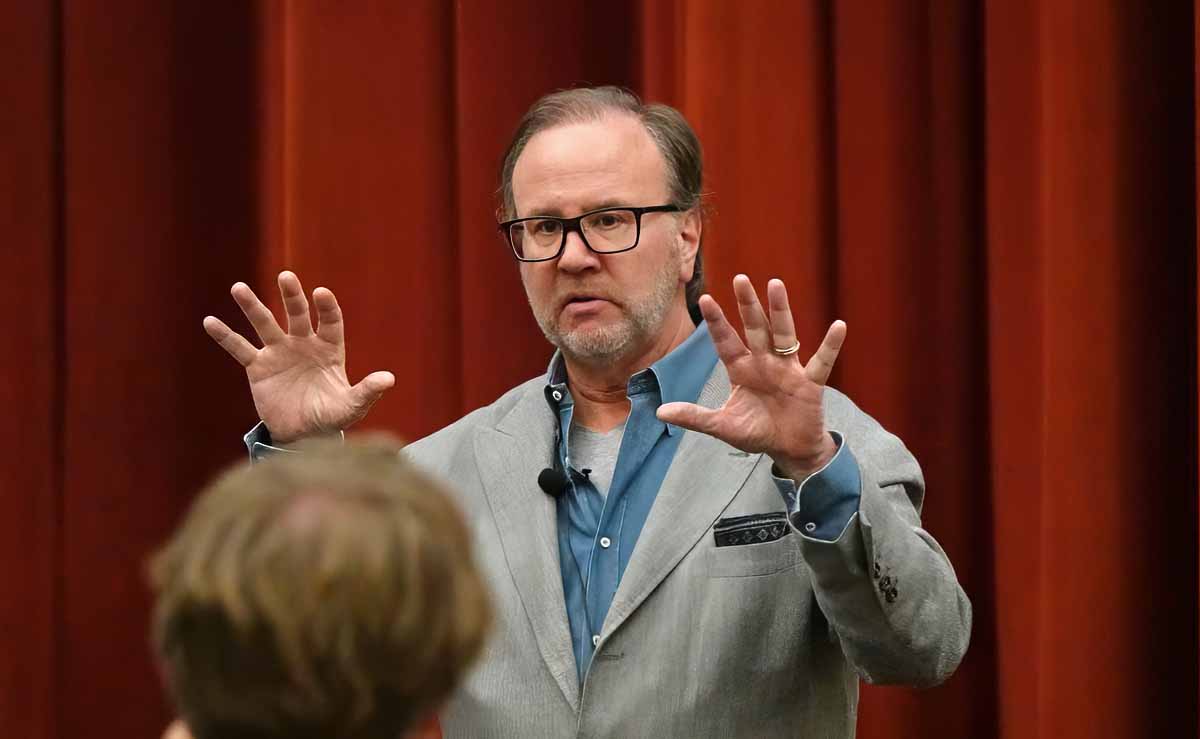 PFL founder Donn Davis: Five lessons for success in business and life
Donn Davis has had a long and varied career since graduating from the Farmer School in 1985. By 1992, he was the chief legal counsel for the Chicago Cubs. Three years later, he was the founder and president of Tribune Media Group's venture arm. In 1999, president and chief operating officer of the interactive properties group of AOL. Then a senior VP at Time Warner. President and CEO of a luxury resort chain. Founding partner of venture capital firm Revolution. Minority owner of an e-sports team.
Now, speaking to current Farmer School students in Taylor Auditorium, Davis is founder and chairman of the Professional Fighters League, a fast-growing mixed martial arts sports league.
"The most important thing to know is I'm just like you. When I used to come to these talks, from 1981 to 1985, I loved hearing from outside people because I wanted a shortcut. I wanted the answer key. I wanted the cheat sheet because I wanted to get ahead and I didn't know anybody. My parents weren't connected. I was just a finance major from Cincinnati. And I said, 'Well, how am I going to get ahead?'" Davis said. "The only thing that's standing between you and getting what you want is doing it."
It's not the first time he's been back at the Farmer School since he graduated. For almost a decade, Davis co-taught a class called "Real Business: 10 Principles to Happiness and Success." "It helped reinforce for me what I thought was important, and hopefully for the people we taught over a decade from the university, it's helped them," he said.
But for his Executive Speaker Series talk, he narrowed those 10 lessons to five.
The first was to build your own personal network – but not in the way social media might suggest. "People are always trying to get things from their network. 'What can I get? What can I take? What can I use?' You'll never have anything if that's how you approach your network. I didn't ask anything from my network till I was 55 years old," Davis said. "I didn't ask for anything. I gave. And the only thing you could do in terms of giving to your network is to help people."
"There are only two things you need in building your network. One, they need to know your name. And two, they have to attach positivity to your name. That's it. That's all you have to do for the next decade," he said. "Because what will happen then? Opportunities."
The second lesson? Whatever it is, get it done. "When you have no expertise, what do you have? You have the ability to get things done. Do not underestimate how few people do," Davis said. "You're going to be a person who gets it done and then they're going to give you more work. Now you're out of the pile. Now you're ahead of 10 other people at your company just because you got it done. It required no real brains, it required no real expertise. And you got it done."
He said he got the job as legal counsel at the Cubs because he was willing to do the work for free. "They had had a chief negotiator who messed up the Greg Maddox deal and Maddox left the Cubs to go to the Atlanta Braves. And I said, 'Hey, I'm already negotiating TV and newspaper deals for you. I could do these player deals for baseball. It's nothing. Those are smaller dollars than we're spending on TV and newspaper.'" Davis said. "They go, 'I don't really know.' And I go, 'You're paying that guy $150,000. I'm going to do it for nothing.' Guy says, 'I like that deal.' So I go to Wrigley Field Saturday and Sunday, I work my job in downtown Chicago Monday through Friday."
"I have no expertise but I'm reading, I'm getting it done. I'm doing other deals for them. You will have these opportunities. So don't feel like 'I don't know how to do it. I don't have expertise, I don't have abilities,' because most of the abilities are communication, timeliness, availability, responsiveness, clarity, great writing, great formatting, the kind of things that everyone here, 100% of you, can do," he said.
Davis' third lesson is that people need to be willing to pay the price. He said that when he took his first job at AOL, it was a big risk with potential for big reward. "Big opportunity to get ahead. Big opportunity to make money I haven't made before. Big opportunity to be formative of the internet. Big opportunity to have an operating job which I'd never had before. All these things that could happen, but it could also go to complete crap," Davis said. "You will have these opportunities and when you paint all the bad things that can happen, you're not going to do them."
"What will you do in your mind to be able to say 'Yes, I'm going to pay that price of what seems like risk, pain, uncertainty, dislocation.' What's going to get you to say yes when there's all these things that seem scary?" he asked.
Lesson four is that everything is sales. "The higher you go in life, the more important your job is, the higher the percentages of sales. Most CEOs, maybe 80% of their job is sales. So the more you're going up, the more you're selling," Davis said. "What I really have done for the last 15 years, five years at Professional Fighters League, 10 years at Revolution, is just sales. That's all I've done. It's insane. When you're a venture capitalist, there's two sales you have to make. And they're really the only two things you do. You raise money and you deploy money, and both require you to sell."
"I know a lot of people are interested in being an entrepreneur and pitching. A lot of people are interested in being a venture capitalist. Both sides of these equations are very sales oriented," he said. "What's important to remember is it's not about us, it's about them. What do they want? If you go through a company, it's the same thing. Your boss, you need to sell them on your idea, your initiative, your proposal. How do they think? What are their concerns? What's in their mind? The more you think about that, the closer you are to yes, and the closer you are to yes, the closer you are already to getting what you want."
Finally, David said, lesson five is to think big and have no fear. "I would encourage you to push hard, figure out how to deal with the stress, go a little bit further in terms of intensity than you thought you wanted to, because it might bring you more enjoyment than you think. It might bring you more pride and satisfaction than you think. And if you want to ease off, if career's less important, if it's not bringing you the satisfaction or happiness, if it's bringing you too much stress, then you can decide that later," he said. "You can leave the amusement park of the career at any time, right? Hard to get a readmission. You can get off the ride at any time, but it's hard to get back on."
"I would encourage you not to chill out too soon, because you might be surprised how many cool things there are to do in business, how many interesting impacts there are to do in business and how fun you may find it."