FSB marketing alumni become children's book authors in their spare time
A pair of Miami University and Farmer School graduates have written and illustrated a pair of children's books.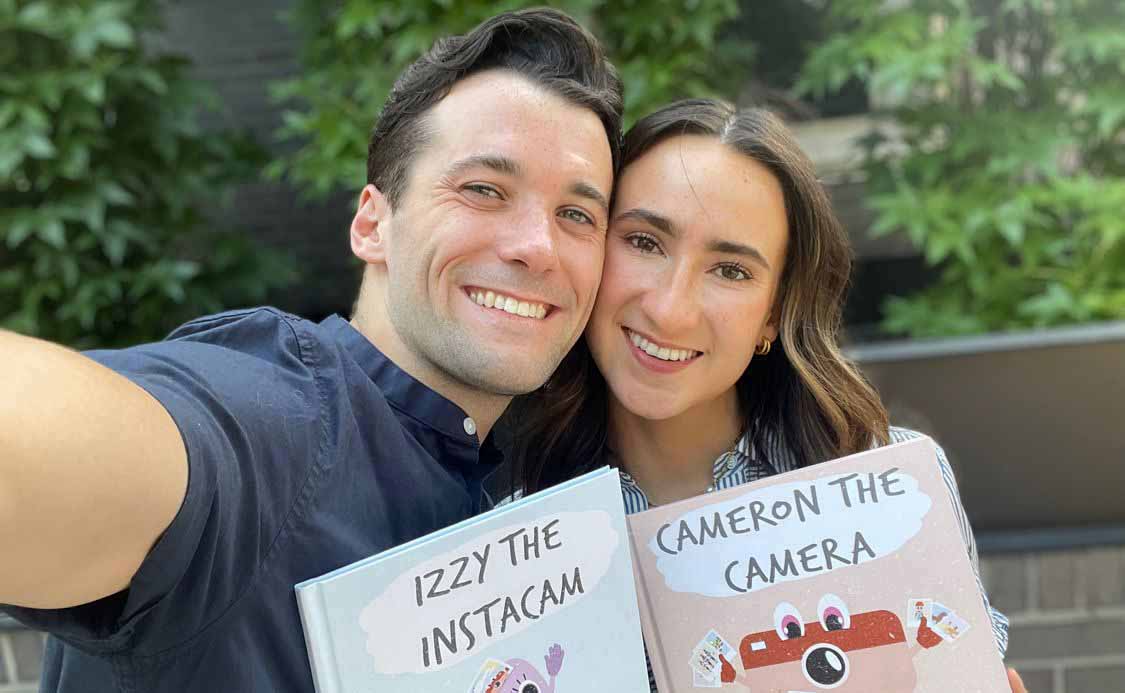 Nathan Fleischer and Caroline Hoffman
FSB marketing alumni become children's book authors in their spare time
Nathan Fleischer and Caroline Hoffman
When the COVID-19 pandemic swept the world in 2020, Farmer School alumni Caroline Hoffman and Nathan Fleischer were living and working in Chicago, stuck at home as their jobs became remote.
And they were bored.
"I had an idea and I decided, 'I'm just going to create my own little project,'" Fleischer said.
"He was very keen on trying to find something to fill out our time and it was actually pretty productive," Hoffman noted.
Fleischer and Hoffman are both marketing graduates, 2018 and 2017, respectively, and Hoffman also has a journalism degree. Fleischer also has a minor in interactive media studies. So they decided that the "little project" would be a children's book – something that might bring in a little extra income -- and definitely would fill out their time.
"It took a lot of research to figure out 'How do you even do that? How do you become a self-published author?' YouTube became my best friend for figuring out how other people did it," Fleischer said.
The couple decided that the book's protagonist would be a much-loved camera named Cameron who loves taking picture of the other toys. But when her owner brings home the printed photos, Cameron is saddened to realize that she can't be in any of the images. (We won't spoil the ending here.)
"He developed the unfolding tale, the underlying moral, and how things would transpire. And then he wrote an initial draft outline of the pages and sequential stanzas," Hoffman said. "Once he did that, I expanded the story to include other toys to make it a little bit more dynamic and colorful."
Hoffman also read the story out loud repeatedly, perfecting the tempo and working with Fleischer to make sure the book would be easy for an adult to read to a child. "I've always preferred nursery rhymes because they seem more engaging and more exciting for parents to read to their children," she said. "I think children grow familiar with the story faster and subsequently pick it up more often because they find comfort with that tempo."
Within a week or so, the couple had a completed story. Then it was up to Fleischer and his graphic design training to bring it to life in pictures. "I took a lot of inspiration from imagery that I liked when I was a kid," he said. "It takes many iterations and experimentation. I would create four or five different designs that I thought of, and then once those were done, I would narrow the designs to my favorite one and refine the details a little bit more."
"If there's three things that are happening in a stanza, I would center the focus on one single action or detail and just really try to blow that up. I like simplicity with designs - so I really tried my best to do that for each page," Fleischer said.
That process took another six months. Then came the actual creation of the physical book and getting it into stores and online. "It required a couple of different printing iterations because especially with a picture book, you have to make sure that the binding and seams don't cut off the picture in a compromising way," Hoffman said. "We had that problem a couple times. We had to adjust things. So it's a lot of trial and error the first time around. We had to figure out how to make it look as polished as possible."
"There's a lot of administrative work that you must be aware of as well. And if you want your books in libraries, what is the protocol there? How do you get that done? There are several tasks necessary to make sure that it's coded properly within the retail space," Fleischer said.
In September 2021, "Cameron the Camera" was released. "I've been pitching it to the parents of my workplace, and when I posted it on LinkedIn and Facebook, so many people supported it, which was really great," Fleischer said.
"We have a lot of friends who are a few years into their teaching careers with younger classrooms, so they've all been excited to incorporate the book into their classroom libraries. It's nice to hear that the kids take turns, bringing the books home and checking them out for the week," Hoffman said. "We have family who are having children for the first time, so they've been passing the books around. Baby showers are becoming more frequent at our age so people like buying them for those book stacks that you would provide to many expecting mothers."
A year or so later, the pair decided to create another book, "Izzy the Instacam," based on an instant film-type camera. It debuted in September 2023. "The second one was completed a lot faster," Fleischer said.
"A lot faster," Hoffman chimed in.
Hoffman and Fleischer said their time at Miami and the Farmer School of Business prepared them not only for their professional careers, but also for their newly-discovered author roles. "We took a lot of creativity and marketing classes, learning how to campaign, launch, and sell items that you want people to know about," Hoffman said.
"I took numerous entrepreneurship classes when I was at Miami and was taught the importance of "niching down," and that lesson definitely applies to this product," Fleischer said. "You're pitching parents because they're the buyers, and while you want kids to love it, the conversion decision lies with parents who want to share it with them. So I think Farmer taught me to think outside the box."
With two books under their belts, the couple said they're content to step back from book creation for a little while, at least until inspiration strikes again. "We have full time careers that we both prioritize, but we will move forward with another project once we are confident with a new storyline," Fleischer said.
"We've tossed around some different concepts that could be different from the cameras, perhaps just a completely new topic in general," Hoffman said.  "I really enjoy writing them. This is a really fun, creative outlet where we can do whatever we want."