Startup Weekend brings student ideas from paper to pitch
A very intensive weekend at the Farmer School brought new ideas to life.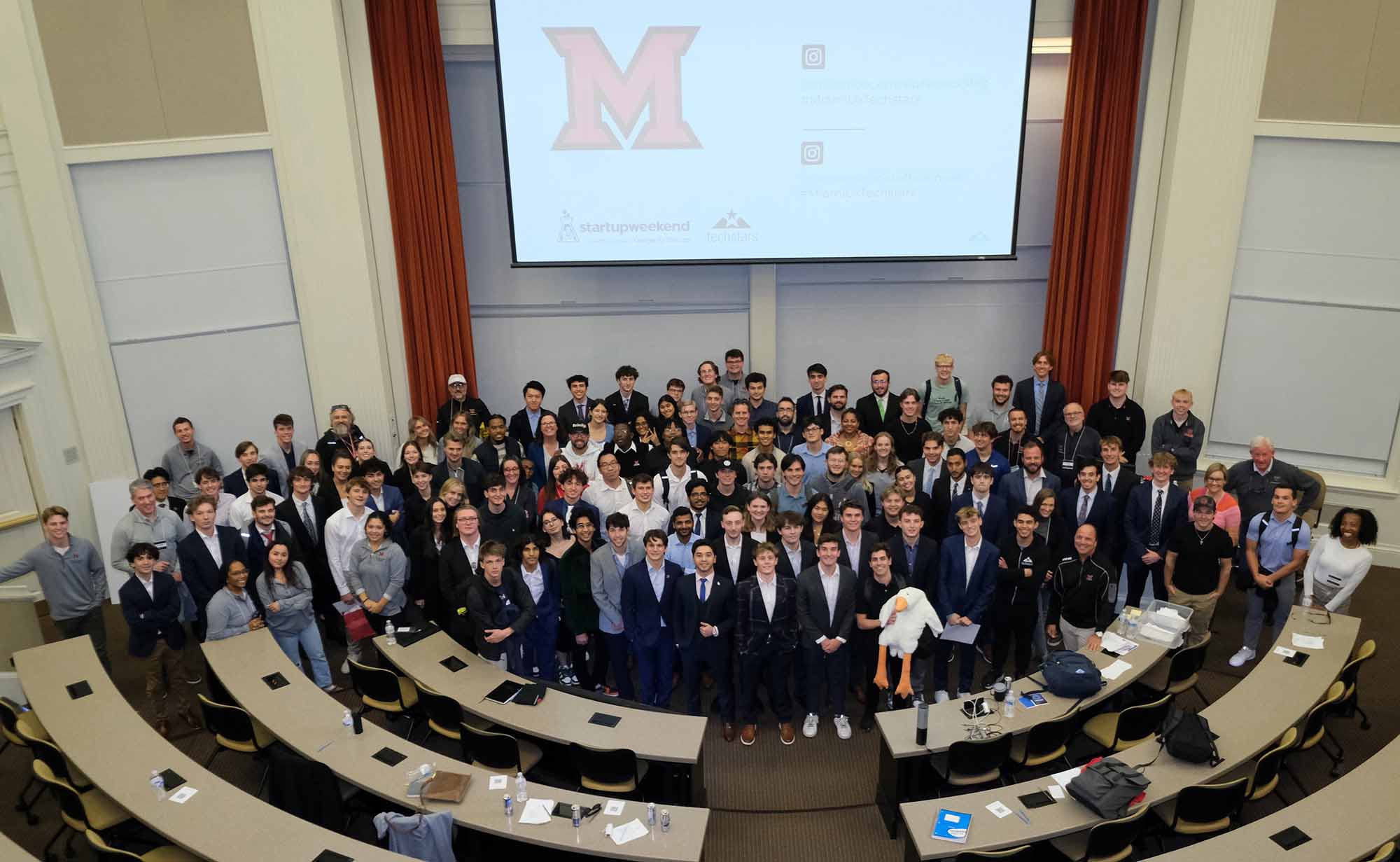 Startup Weekend brings student ideas from paper to pitch
Every fall, Miami University students gather in the Farmer School of Business for an entire weekend to put together and pitch an idea for a startup business at TechStars Startup Weekend. This year, more than 120 students pitched two dozen potential businesses to more than 60 mentors and judges from the venture capital, startup, and entrepreneurship ecosystems.
And this year, Betta Nies took part for the first time. "First Startup Weekend, first case-style competition, first anything like this," she said.
"I think that the biggest takeaway I had was what we're capable of when we are able to narrow our focus on one singular goal in a constrained timeframe and work as a team to achieve it," Gies said. "Even if there were a bunch of different variables and changing things, the goal was always consistent and the team was, too."
Leonard Dangerfield also took part in his first Startup Weekend. "This weekend was a great opportunity for me to get experience flushing out a business idea. As exhausting as this weekend was, the information I learned during it will be great knowledge to build on in the future upon the start of my career," he said.
"The mentorship of the student leadership team brought across parts of our potential company that we've beforehand hadn't even thought about," Dangerfield said. "Startup Weekend had a purpose of exposing us to the business world and atmosphere and I think it completely achieved that."
Those two dozen teams were narrowed to five for the final presentations:
First place went to Dash Co-Pilot (Nikki White, Jacob Didea, Colin O'Bryan, Evan Moody, Shree Chaturvedi, and Jack Ryder), an AI personal assistant.
Second place was Diasolve (Amanda Simeone, Paula Ambit Martinez, Ella Brayton, Zach Carlo, and Kelsey Gruber), a way to help Type-1 diabetics deal with low blood sugar episodes more quickly.
Mind over Matter (Katelyn Cox, Karissa Cox, Donnie Breckenridge, Shane Paton, and Alex Kondratick), a clothing line dedicated to supporting mental health, took third place.
"Working tirelessly with my team, we had many frustrating moments, where we had to stop and completely reroute. However, every second of this process was essential to reaching our final pitch. I was so lucky to have a great group of motivated individuals working tirelessly to create a solution," Simeone said. "With each individual's unique backgrounds and experiences, we collaborated to create something great, and I now have new knowledge and new friends whom I hope to soon call business partners. I also created new connections with many mentors who can help us move on with this product."
Dangerfield's team, Oxford Outfitters, took fifth place overall, which he said left him with some mixed emotions. "My biggest take away from this weekend is the feeling of defeat. Even though we came in fifth place, not being in first place hurt extremely because of how much time and dedication we put into our company," he said. "This was good because that defeat also sanctions some drive for success in the next venture, which I think is a great aspect to realize in business as well."
Gies was named the Startup Star of the weekend by the mentors. "I felt really honored. I feel like it was a really good cap to all the hard work that me and my team put in all weekend and definitely solidified it as a super positive experience."
Many of the mentors who come to FSB to help participants each year are Farmer School alumni themselves. "I love coming back every year, not only to see the students, because they change so much every year, but getting to meet a lot of new mentors," Jordyn Zahoransky said. "I always want to come back, see the professors that have had such a big impact on me. And it's great to get to come together, help the students, and see the awesome work that the next generation is putting out."
"I'm here because I love just the exposure and the contagious nature of the human innovation here for the weekend and love to give back to students," Kevin Kushman said. "I love the environment that's just creates this unfiltered opportunity to create and build and then test things out. Video after the creation is born and get that real-time feedback."
"We were so lucky to have so many business professionals with expertise in different areas to assist us. Whether we needed help with financing, patents, marketing, expertise in the area, or even just someone to give feedback, we could have them in our room in under 5 minutes, which is something super unique to this experience," Simeone said.
"I loved it. It was so fun. Exhilarating, exhausting. I thought that the team did a phenomenal job of making it a really memorable experience. I would definitely do it again and definitely have been recommending it to my friends," Gies said.