Advising Appointments
Advising appointments are meetings with your assigned academic advisor, 30 minutes in length.
When Should I Schedule an Advising Appointment?
Plan Ahead!
During peak advising periods (October-November and March-April), you should schedule your advising appointment 2 or more weeks ahead.
What topics are discussed?
Exploring major and minor options
Clarifying academic requirements
Discussing your academic goals
Discussing study abroad, careers, etc.
Degree completion planning
When should I meet with my Advisor?
Once per semester and in advance of your registration day/time
When you have complex questions/concerns regarding any of the above topics
How to Schedule an Appointment in Navigate
Instructions for students wanting to make an appointment with their assigned advisor:
Login to Navigate
In the left side navigation panel find the Appointments option and click it

This will bring you to the Appointments Center, where you can schedule new appointments, see upcoming scheduled appointments, and see any requests from advisors asking you to schedule an appointment

Find the My Team tab and click on it to see the advisor assigned to you in Navigate

Click on your advisor's name to schedule an appointment directly with them

Next you will choose your Appointment Type from the drop-down menu; select Oxford – Academic Advising
You will be asked to select a service; make sure you are under the Farmer School of Business and choose Meet with My Advisor
This will bring up the available appointment times for your advisor; choose your appointment time by clicking one of the blue bubbles

You then need to select how you would like to meet - virtually or in-person -which you can do from the pull-down menu

You can share any additional information, such as topics you would like to discuss, questions you may have, or anything else you would like the advisor to know before your meeting. This really helps your advisor prepare for your appointment

Select what type of reminders you would like sent prior to your appointment

Finally, click on the blue Schedule
After scheduling the appointment, you will receive an email confirmation that will include additional information and instructions.
Drop-In Meetings
Normal FSB Drop-In Advising hours will resume on Monday, August 28th. You will receive an error if you attempt to sign in to drop-in advising before they are available at 1:00pm EST Contact your Academic Advisor with questions. Non-FSB majors should email FSBStudentServices@miamioh.edu. 10 minutes in length Meetings are first-come, first-served with any FSB Academic Advisor.
When Should I Schedule a Drop-In Meeting?
Note: You will receive an error if you attempt to sign in to drop-in advising before they are available at 1:00pm EST
Virtual: 

a Zoom link will be emailed to you to meet with an advisor. Please join the Zoom link within 5 minutes.

In-Person: W

ait in the 1022 FSB lobby. An advisor will come to the lobby to greet you.
What's discussed?
Any quick questions, typically 10 minute appointments
Planning for upcoming semester courses
Clarifying academic requirements or policies
Discussing FSB Admission or exploring FSB minors
Non-Business students should attend drop-in advising for any questions related to business.
How to Check-In for Drop-In Advising
Drop-in advising will be conducted virtually or in-person. You will have the option to choose the appointment type that works best for you.
Drop-in hours are for quick questions that can be answered in 10 minutes or less. If you have questions or concerns that may take longer, please schedule an appointment with your assigned academic advisor.
There are typically multiple advisors available during drop-in advising and students are met with on a first-come, first-served basis. Wait times may vary. During peak registration periods, wait times can exceed 30 minutes. 
How to Schedule a Drop-In Meeting
1. Login to Navigate
If your home screen does not say Student Home, click the triangle drop-down menu and select Student Home.

2. Click Get Assistance.


3. From this page you will want to click View Drop-In Times under "Other Appointment Options" on the right side of the page.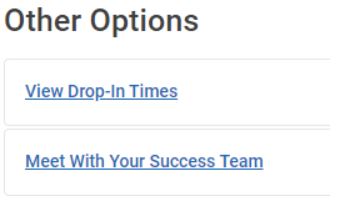 4. Under "Service" click either In-Person Drop-in or Virtual Drop-in under Oxford - FSB - Academic Advising Drop-In. Then click Find Available Time.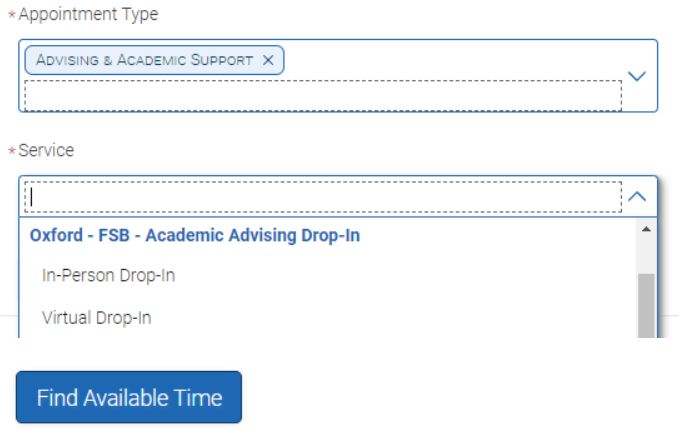 5. You'll then need to click Farmer School of Business Advising - FSB 1022. 

6. You'll then click 
Check-in with first available
. 

If Drop-Ins are unavailable, it will be noted.