Angel Luo receives Ohio International Student Award
Yonglin 'Angel' Luo has been named as undergraduate winner for the OIC 2023 Outstanding International Student Award.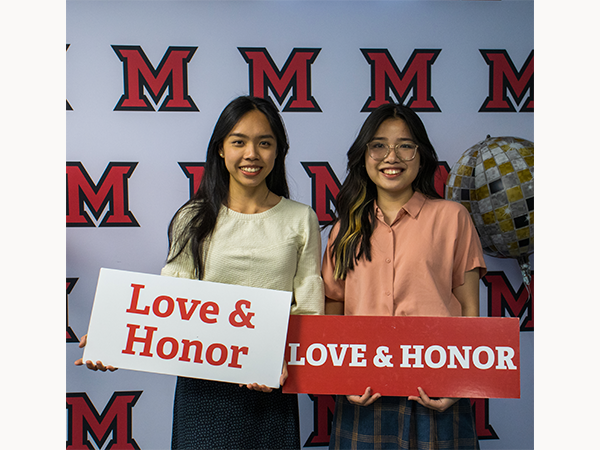 Angel Luo (at left) celebrates 2023 Commencement with roommate Kim Ha
Angel Luo receives Ohio International Student Award
Angel Luo (at left) celebrates 2023 Commencement with roommate Kim Ha
Yonglin 'Angel' Luo (Class of 2023) was selected as the undergraduate winner for 2023 Outstanding International Student Award, presented by the Ohio International Consortium (OIC). This is the second year in a row that a Miami student was selected for this award.
The OIC developed the Outstanding International Student Awards as a way to recognize international students who have become assets to the State of Ohio. These awards uniquely symbolize the spirit of Ohio's New Americans initiative by rewarding students who have succeeded academically and successfully integrated into the fabric of their campuses and surrounding communities. Two awards are given annually, one for an undergraduate student and one for a graduate student. The awards carry a cash value of $1,500.
In her application, Luo recalled her first year in the Honors College, where she was introduced to the term citizen scholars: people who honor their education and strive to enhance the common good of our society. "I view global citizenship as part of my identity, but also my responsibility and goal to utilize what I have learned to give back to the community that provided me with ample resources and support to grow," she said. "Working as a student associate for both Global Initiatives and the Office of International Admission, I became more confident in communicating with others with different cultural backgrounds and I found myself the happiest when I am able to help others with my experiences and skills."
At Miami, Luo majored in Marketing and Emerging Technology in Business and Design, with minors in Human Capital Management & Leadership and in Digital Marketing. Currently completing a marketing internship in Guangzhou, she will return to the U.S. for her graduate program in New York City this fall.
Dan Sinetar, assistant director of International Student and Scholar Services, is looking forward to hearing more about Luo's continued success. "For three years, Angel has been a part of our Global Initiatives team working as an International Peer Orientation Leader and working as a student associate, supporting projects related to marketing, graphic design, video production, translation, social media management, program development, and event operations. This well-deserved honor for Angel is a testament to her diligence, responsibility and dedication to develop herself personally, professionally and academically AND to grow the community around her."