Our Top 5 Reads for What You Need to Know NOW to Teach Online During COVID-19 Response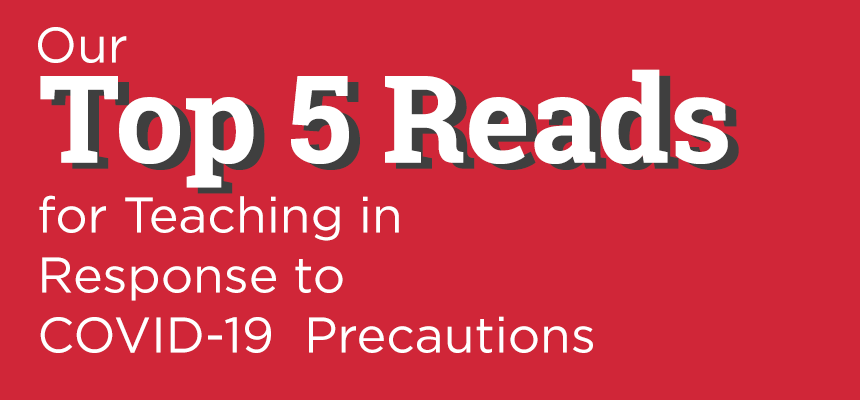 The HCWE team has compiled some of the best and most useful resources currently available for teachers abruptly faced with remote delivery and/or online instruction of their classes. Here are our top 5:
Other Resources
Of course, not everything made our top 5. The following are other resources that are lower on our shelves and lists but might still come in handy as teachers transition their courses to remote delivery.
Books and Articles on Online Teaching
Borgman, Jessie, & McArdle, Casey. (2019). Personal, Accessible, Responsive, Strategic: Resources and Strategies for Online Writing Instructors. Practices & Possibilities. The WAC Clearinghouse; University Press of Colorado.
Bourelle, Tiffany, Rankins-Robertson, Sherry, Bourelle, Andrew, Roen, Duane. (2013). Assessing learning in redesigned online first-year composition courses. In McKee, Heidi A. & DeVoss, Danielle N. (Eds.), Digital writing assessment & evaluation. Computers and Composition Digital Press/Utah State University Press.
Hewett, Beth L., and DePew, Kevin Eric (Eds.). (2015). Foundational Practices of Online Writing Instruction. Perspectives on Writing. The WAC Clearinghouse; Parlor Press.
Litterio, L. M. (2018). Uncovering student perceptions of a first-year online writing course. Computers and Composition, 47, 1–13.
Rendahl, M., & Breuch, L.-A. K. (2013). Toward a complexity of online learning: Learners in online first-year writing. Computers and Composition, 30(4), 297–314.
Warnock, Scott. (2009). Teaching writing online: How and why. National Council of Teachers of English.
Podcasts on Online Teaching
Other Online Teaching Resources