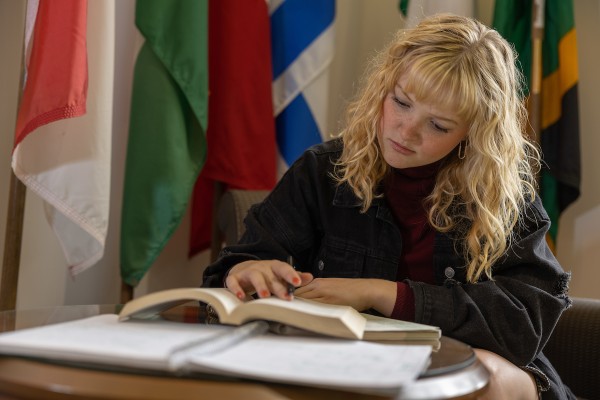 From Miami Student to Miami Honors Student
By joining the Honors College you will be given exclusive access to learning experiences both in the classroom through honors courses and course extensions; and outside of the classroom through leadership, teaching, study abroad, internships, and research. Take advantage of the opportunity to engage in an interdisciplinary and research-oriented curriculum that will empower you to take on great challenges, such as the year-long Honors Senior Project.
To be considered for admission to the Honors College as a current Miami student, you must:
have completed at least one full-time semester as a degree-seeking student at Miami University,
have at least a 3.25 cumulative GPA,
have at least four semesters remaining before earning your bachelor's degree, and
have a nomination from a Miami Faculty or Staff Member that speaks to your ability to pursue the year-long, intensive Honors Senior Project.
Process and Timeline
The admission process starts with a nomination from a Miami University faculty or staff member who is familiar with the student's work.
The Honors College Current Student Admission Committee reviews the nomination and the student's eligibility for the Honors College.
Students who meet eligibility requirements are invited to complete an application for the Honors College. The application focuses on the student's interest in and experience with research or scholarly work and will be reviewed by the admission committee.
Students may also be asked to participate in an interview.
The Current Student Admission committee will notify the student of their decision regarding admission into the Honors College.
Assuming the student is eligible for admission at the time of nomination, this entire process will take 8-10 weeks from nomination to final decision. For students nominated during their first semester, this process will likely conclude within the first month of the following semester. We utilize a rolling deadline and continuously accept nominations.
Interested students can share the online nomination form with the Miami University faculty or staff member they would like to nominate them for admission. Students do not need more than one nomination.
Miami University Faculty
Miami faculty members are encouraged to nominate outstanding students with the interest, motivation, and ability to pursue scholarly activity and research. The online nomination form asks faculty to comment on the student's ability to pursue the Honors Senior Project, described below.
Points to Note Before Applying
Miami University Regional students should consult the CLAAS Divisional Honors Program for more information about that program.
Students nominated before their first semester is complete will be considered at the end of that semester.
Any student who declines admission into the Honors College directly from high school but still attends Miami University is automatically ineligible to apply for admission into the Honors College through our current student admission process.
Ask Application Questions
Questions about the current student application process should be directed to Teresa Radomski-Bomba, associate director of the Honors College, at radomstm@MiamiOH.edu.
Honors Requirements To Remember After You're Admitted
In addition to the coursework required of all Miami students, current Miami students who are admitted to the Honors College must also complete at least two honors experiences and the Honors Senior Project by the end of their undergraduate studies. You will meet with your Honors advisor to plan your honors experiences after your admittance into the Honors College.
Honors Senior Project
All students admitted to the Honors College complete an Honors Senior Project, which is a year-long intensive project involving research, scholarly work, or application of scholarly work to a real-life setting. In many cases, this project can overlap with departmental honors work, or may connect with a student's capstone, student teaching, senior design project, or other culminating course in their major. Take a look at what graduates have accomplished with the support of the Honors College. Honors Senior Project