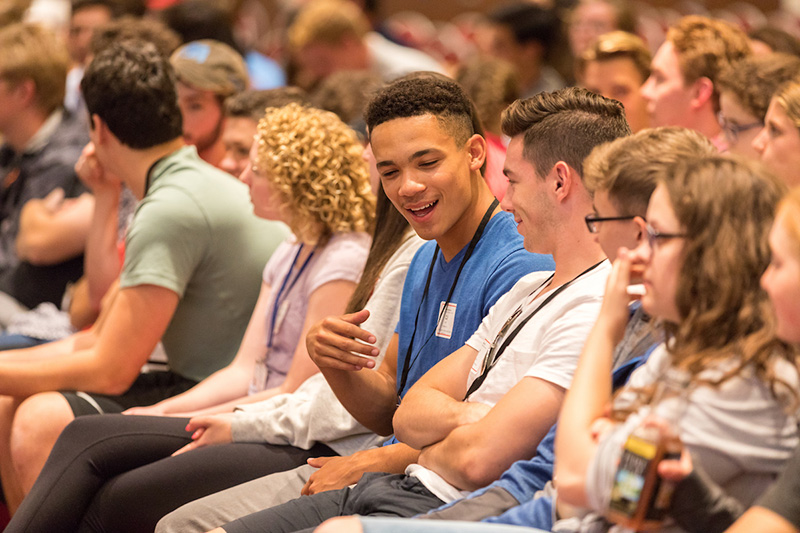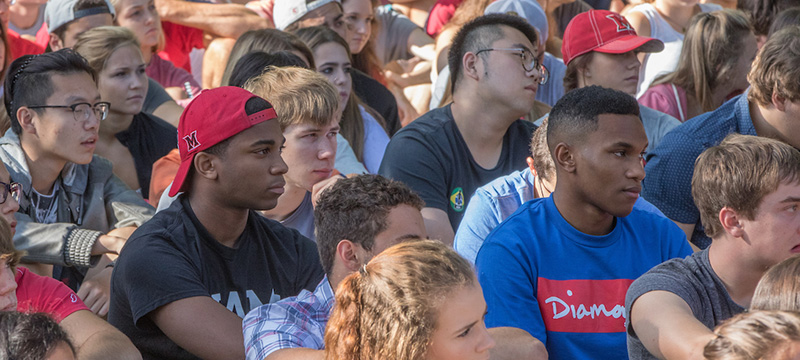 Students of the Class of 2021 were selected from a record number of 30,255 applicants. A group of students listen to a previous year's convocation speaker. Convocation 2017 is Friday, Aug. 25.
Photo: Scott Kissell
Aug 23, 2017
Not to be "eclipsed," Class of 2021 is strong in numbers, academics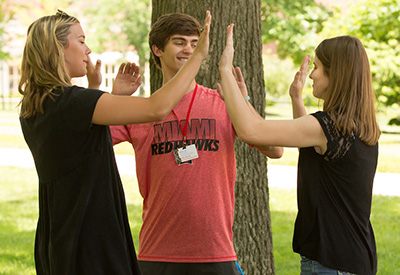 During summer orientation, students begin the process of interacting with new classmates.
By Carole Johnson, university news and communications
Miami University welcomes 3,864 members of the Class of 2021, the largest class in its history. More than half come from Ohio, with classmates enrolling from 43 other states and 18 countries.
This year's incoming class was selected from a record number of 30,255 applicants featuring high academic achievement.
The Class of 2021 comes to campus with an average ACT score of 28.3.
This year's cohort has the largest percentage (16.9) and number (652) of domestic students of color in Miami's 208-year history. In addition, 15.2 percent of the incoming class are first-generation college students and 8.4 percent are international students. This is the largest class of international students in number at 325.
"Miami's ability to attract this number of such accomplished and diverse students speaks to the national and global reputation of a Miami degree," said Susan Schaurer, assistant vice president for enrollment management and student success and director of admission.
"Students and families are recognizing the outcomes associated with a Miami degree and its reputation as a Public Ivy whose alumni are consistently recruited by the nation's top employers and graduate and professional school programs," she said.

Incoming students will participate in Welcome Weekend and the First 50 Days, a seven-week steady merge into college life and the community.
Convocation, Welcome Weekend and the First 50 Days
President Greg Crawford presides during Convocation 2017, which kicks off the academic year. Stephen T. Williams, mayor of Huntington, West Virginia, named "America's Best Community," is the keynote speaker for convocation at 9 a.m. Friday, Aug. 25.
Williams spearheaded revitalization projects in Huntington to combat issues similar to those highlighted in the summer reading book Hillbilly Elegy: A Memoir of a Family and Culture in Crisis by Middletown native J.D. Vance. The book is required reading for all incoming first-year students.
The Welcome Weekend and the First 50 Days program for the incoming class is a seven-week merge into college life and the community.
Programming focuses on what it takes to be a successful student and includes a menu of events that highlight resources from academic to wellness and all things Miami. See full schedule online.

Who says moving in is hard work? This year's incoming students had all kinds of help. View more photos of Miami's move-in day and other back-to-school programs.

New at Miami
Miami continues to create new learning opportunities and renovate living and meeting spaces so students feel at home.
A new diversity and inclusion website showcases Miami University community members working together to create an inclusive culture. The website collects information about and encourages the sharing of diverse and inclusive best practices and research.
The east wing of Armstrong Student Center is open and houses the Center for Career Exploration and Success and more dining options and meeting spaces for students, including the Joslin Student Senate Chamber.
Miami's Mail & Package Center moved to Shriver Center. The renovated space in the east end of Shriver's lower level houses a full-service post office and package center.
Dining services changes for fall 2017 include new concepts, menu improvements and an allergen-friendly environment. In an effort to provide a safer environment for all dining guests, nuts have been removed from all recipes and locations preparing food for service.
Renovations this summer created Maplestreet Commons to provide continuous service from 7:30 a.m.-8 p.m. Menus feature pizza, paninis, custom stir-fry, pasta, burgers and allergen-friendly options.
Reopening this fall after significant renovations are Clawson Hall and Hamilton Hall.
The arts quad between Shriver and Performing Arts centers is receiving landscape renovations, most of which will be ready by the start of classes.
A new three-way stop at the intersection of Maple and Spring streets and a new raised table provide improved pedestrian safety at the intersection.
A pedestrian crossing and small safety island were installed on Patterson Ave. from the east lot of Shriver Center to near Western Drive.
In June, some research space moved temporarily from Pearson Hall to the second floor of Hughes while renovation occurs in Pearson. Additional space for the College of Engineering and Computing on the west wing of Hughes' fourth floor is complete.

Follow #MiamiOHNews on Twitter.