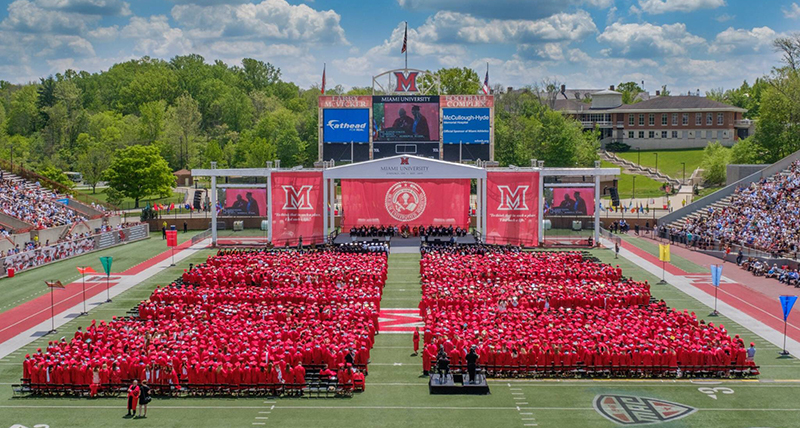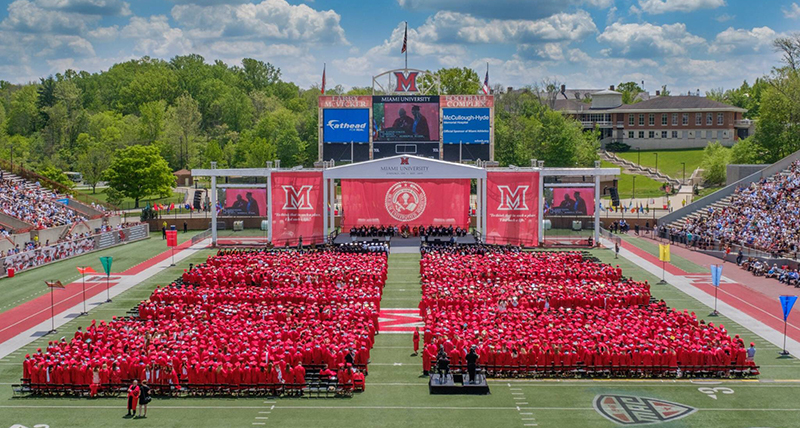 Members of the 2017-2018 Miami graduates report high employment results.
May 13, 2019
Nearly 4,500 graduates face a promising outlook; Last year's grads report job and grad school successes
Jeff Pegues, CBS News correspondent to give commencement address
Miami University celebrates its 2019 graduates during its 180th commencement ceremony at 1:30 p.m. Saturday, May 18, at Yager Stadium. Three-time Emmy Award winner and CBS News correspondent Jeff Pegues (Miami '92) will give the commencement address.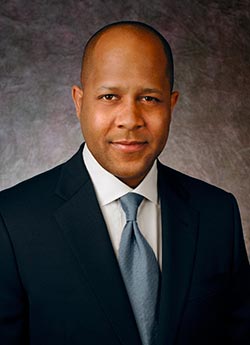 Jeff Pegues
Pegues has nearly three decades of reporting experience covering stories of national and international importance — most recently as the chief justice and homeland security correspondent for CBS. He was part of the CBS News team that earned the Edward R. Murrow Award in 2017 for overall excellence as well as for continuing coverage, investigative reporting and other categories.
Degrees to be awarded
President Gregory Crawford presides over the ceremony. Degrees to be awarded include 105 certificates, 92 associates, 3,904 bachelor's, 381 master's and 16 doctorates, for a total of 4,498.
High employment results
The class of 2019 has a promising outlook based on survey results of 2017-2018 Miami graduates who report high employment results.

Success rates include all students who are employed (including military), re-enrolling in school, or engaged in volunteer/service programs (e.g., Peace Corps, VISTA).
Oxford bachelor's: 95.8% success rate.
Regional bachelor's: 95.7% success rate.
Master's degree recipients: 98.2% success rate.
Doctoral degree recipients: 97.7% success rate.
Details of the ceremony
Information on bag checks, parking and more can be found online at MiamiOH.edu/commencement. Commencement is held rain or shine at Yager Stadium. Information on the status of the ceremony in case of severe weather can be found at www.miamioh.edu or at 88.5 FM and 91.7 FM.
Divisional ceremonies
University divisions also will hold recognition ceremonies May 18 and 19. Ceremonies and speakers are:

Saturday, May 18
10:30 a.m., Graduate-level Speech Pathology & Audiology ceremony,152 Shideler Hall, Laura Kelly, associate professor who retired in May 2018 after nearly 30 years at Miami in the department of speech pathology and audiology.
11 a.m., University Honors Program reception, Millett West Concourse.
7 p.m., College of Engineering and Computing, Goggin Ice Center, Provost Phyllis Callahan
7 p.m., College of Arts and Science, Millett Hall, Rebecca Messina (Miami '94), global chief marketing officer of Uber.
Sunday, May 19