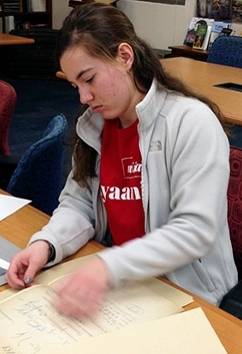 May 16, 2019
Miami engineering and computing students collaborate with Myaamia Center to develop digital archives
By Margo Kissell, university news and communications
Miami University engineering and computing students have been helping the Myaamia Center develop digital archives that allow analysis of extensive language documents as well the recording of land ownership and plants important to the Miami Tribe of Oklahoma.
The Myaamia Center — a research-focused collaboration between the two Miamis — has been leading a language and cultural revitalization effort, resulting in the first generation in nearly 100 years learning to speak the Myaamia language.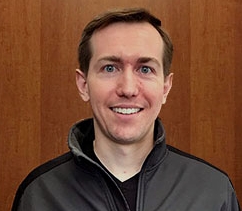 Chris Anderson
Chris Anderson, who graduates Saturday with a master's degree in computer science, worked with the Myaamia Center and National Breath of Life Archival Institute to design the new Indigenous Languages Digital Archive (ILDA). It's the only available software that allows for the organization, storage and retrieval of digital copies of linguist archival materials for language revitalization.
ILDA is an updated 2.0 version to Miami-Illinois Digital Archive (MIDA), developed in 2012 by engineering and computing students for Miami Tribe researchers.
Software to debut at summer workshop for researchers
ILDA is set to launch this summer in conjunction with the first of two workshops for Native American community researchers offered by the National Breath of Life. The first workshop will run from July 15-19 at the Myaamia Center on Miami's Oxford campus.
"The software is designed to hopefully give a bit of flexibility to languages that aren't so similar to Myaamia," said Anderson, who enjoyed working on the project that will benefit tribal communities.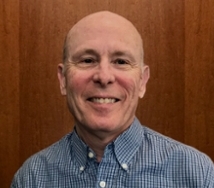 Doug Troy
"The classroom aspect of CS (computer science) is generally fairly theoretical and to pair it up with something that is very pragmatic and application-focused is really a great fusion of a total educational experience," said Anderson, who has been hired as a software developer for Gaslight, a Cincinnati company where he interned.
Anderson's adviser, Doug Troy, professor emeritus who is director of both the College of Engineering and Computing's graduate programs and Socially Engaged Engineering and Computer Initiatives, said the interdisciplinary collaboration benefits the tribe as well as students learning new skills for their careers.
"For me, it's a fulfilling experience to be contributing both to the students and to the Myaamia Center moving forward with their research," said Troy, technical specialist at the Myaamia Center who is the Alumni Association's 2019 recipient of the William Holmes McGuffey Award (formerly known as the Effective Educator Award.)
Undergraduate research also assists tribe
Two groups of undergraduate students, also advised by Troy, showed their senior capstone projects involving the Myaamia Center at the recent Undergraduate Research Forum.
The Myaamia Center was awarded a $177,007 grant by the National Endowment for the Humanities (NEH) for "aacimwahkionkonci: Stories from the Land" project. It helped fund the prototype database of its historical land ownership.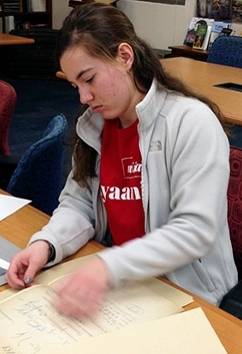 Megan Mooney (Miami '18) researched Myaamia language documents at the National Anthropological Archives in Suitland, Md. (Myaamia Center archives)
Garrett Andrews, a senior majoring in computer science, said he wasn't sure if they were going to help create a research tool or a social media site where tribe citizens could store stories and communicate with each other.
"What we really created was a little bit of both where they can upload the stories and share with the whole tribe, and they can use it to research all the data they have from all the years," he said.
The Myaamia Center hopes this project will benefit researchers, the tribal community and the general public in understanding the history of Myaamia people and their territories.
"Stories are the means by which we continue to tell our family and community narratives," said Daryl Baldwin, Myaamia Center director and principal investigator of the NEH-funded project. "This project fills a significant gap in the historical narrative of displacement and survival."
Senior Alex Oladele, a software engineering major, worked on mahkihkiwa, an ethnobotanical database of plants important to the tribe. He learned about the software development process as well and the Myaamia language.
"It was learning a lot about history, too, the Myaamia Center and the tribe," said Oladele, who will be moving to Raleigh, N.C., after graduation to do software development for IBM.
Senior Jack Bulan, a computer science major, said it was "nice to see it all come together" before graduation but noted the projects will continue as works in progress that other students can build on going forward.
Myaamia language at your finger tips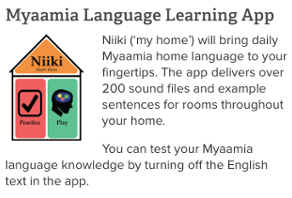 The Myaamia Center has two mobile apps advancing its goals that can be found on its Digital Resources page. Previous Miami students helped create them.
The Myaamia Language Learning App delivers more than 200 sound files and example sentences for rooms throughout your home.
myaamiaatawaakani — The Myaamia Dictionary app is able to search for any term in English or myaamia, browse the entire dictionary alphabetically and submit requests for terms that might be missing. It is currently available for iOS and Android devices. 
Download the apps from Apple's App store or the Google Play store.