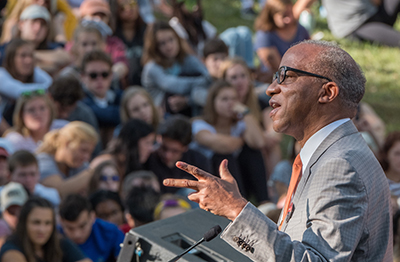 Sep 12, 2019
Wil Haygood finalist for Dayton Literary Peace Prize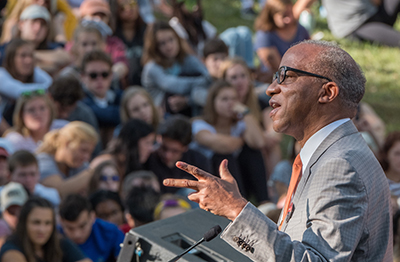 Wil Haygood gave the 2018 Convocation address. Tigerland was the summer reading book for first-year students.
By Ryan McSheffrey, university news and communications intern
Miami University's Wil Haygood is a finalist for the 2019 Dayton Literary Peace Prize for best nonfiction work, for Tigerland.

The Dayton Literary Peace Prize Foundation honors writers whose work uses the power of literature to foster peace, social justice, and global understanding. Inspired by the 1995 Dayton Peace Accords that ended the war in Bosnia, The Dayton Literary Peace Prize is the only international literary peace prize awarded in the United States.

Tigerland: 1968-1969, A City Divided, a Nation Torn Apart, and a Magical Season of Healing, published in 2018, is among six nonfiction finalists.

"These books remind us that, as the planet grows ever more interconnected, violence can have far-reaching repercussions – but so can peace, and every individual effort toward healing, whatever the circumstances, can go a long way toward making the world a better place," said Sharon Rab, chair of the foundation.

Haygood, Boadway Distinguished Professor in Miami's department of media, journalism and film, was also a finalist for his book Showdown: Thurgood Marshall and the Supreme Court Nomination That Changed America, in 2016.

The winner and runner-up will be announced Sept. 17.
Award-winning author
Tigerland was Miami's summer reading book in 2018, making its publication debut. Haygood received the 2019 Ohioana Award for best book about Ohio or and Ohioan.

The book tells the story of two high school sports teams in Columbus, in 1968-1969. That year, despite great odds, both the baseball and basketball teams at the segregated, all-black East High School won the state championships—an unprecedented feat in Class AA Ohio athletic history.
Tigerland is one of 28 books about race recently listed on the Read it Forward blog.

A former writer for The Boston Globe and The Washington Post, Haygood penned the story "A Butler Well Served by this Election" for The Post. It became the basis for the award-winning 2013 film "The Butler" and for Haygood's New York Times' best-selling book of the same name.