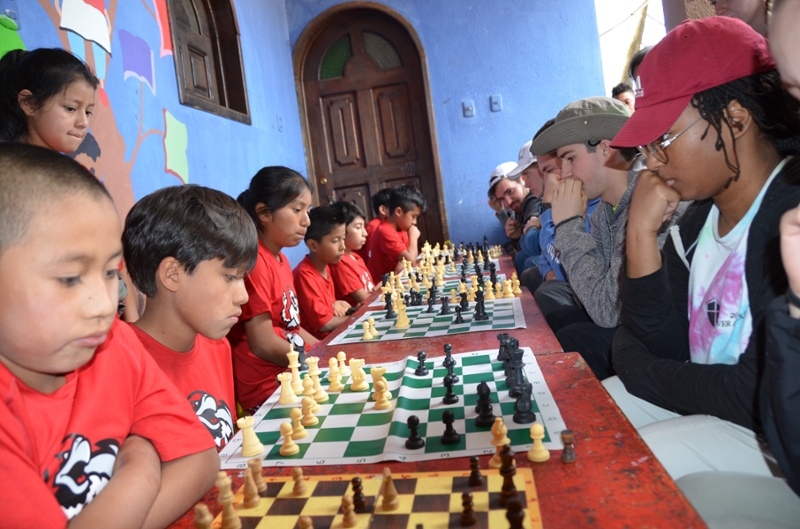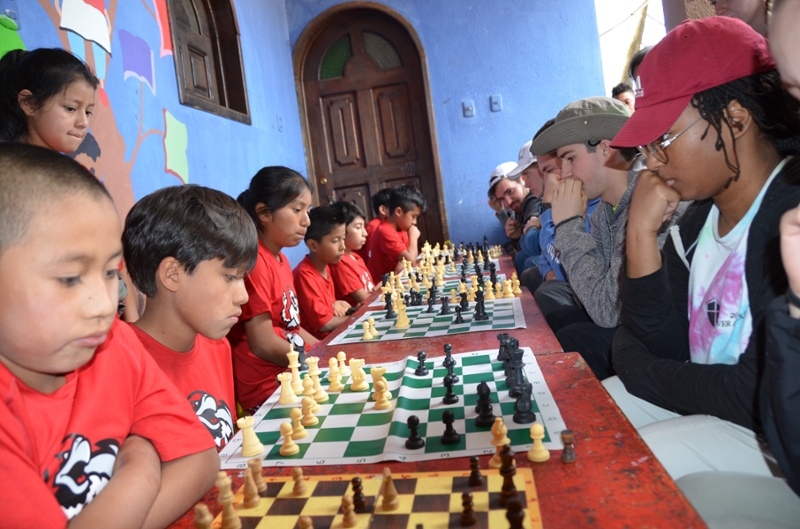 To engage with the Centro Explorativo, a volunteer-run school in Guatemala, Miami University engineering students participated in a grand chess tournament with the young students. Graduate student Michael Larson is fourth down the row in the white ball cap.
Photo: Clark Kelly
Nov 14, 2019
National award spotlights Miami's focus on international education
Miami's strengths in internationalization, from Cheryl Young's perspective
• Global Miami Plan — general education requirements that have global and intercultural perspectives embedded in them, so every undergraduate has an internationalized experience at Miami whether they study abroad or not. 
• Miami University John E. Dolibois European Center — the rich, deep history of the Luxembourg program going back 50 years. 
• Faculty-led study abroad — Miami has about 155 faculty-led study abroad programs, which Young believes is among the largest in the U.S. 
• Strong support for international students through the American Culture & English (ACE) program, Howe Writing Center English Laboratory and the English Language Center on the Middletown campus, as well as the core of advisers and program managers in International Student & Scholars Services. 
• Centers such as Miami's Havighurst Center for Russian and Post-Soviet Studies and partnerships such as the Global Partner Summer School (brings international students to Oxford in the summer for short-term cultural and academic experience) and the U.S. Department of State's Partnership 2020 educational initiative grant with India's Christ University.
Ways to celebrate International Education Week (IEW) Nov. 14-22
Attend an event
• Study Abroad is for Me Showcase + IEW Contest awards Friday, Nov. 15, 3-5 p.m. in 152 Shideler Hall
• Global Dance Party Friday, Nov. 15, 8-11 p.m. Armstrong Student Center, Donald W. Fritz Pavilion A/B
• International Student and Scholar Services Thanksgiving Dinner Thursday, Nov. 21, 5:30-7 p.m. Shriver Center, John E. Dolibois Room
To discover other ways to celebrate International Education Week, check out Global Initiatives' list of Ways to Celebrate.
By Margo Kissell, university news and communications
When Miami University officials launched a strategic plan in 2011 to better integrate international, global and intercultural perspectives into Miami's mission, they added a final, ambitious goal: earn the Simon Award.
Next week, President Greg Crawford will travel to the nation's capital to accept the prestigious honor.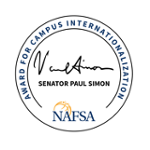 As Miami officials embark on a new strategic vision, here is a closer look at what this award means, how Miami got here and what's next.
For Michael Larson (Miami '19), a graduate student in mechanical engineering, his experiences of traveling to Guatemala twice as an undergrad with the College of Engineering and Computing (CEC) were unforgettable. Larson returned home from the winter term service-learning opportunities with a new perspective.
"I located myself within the world," he said.
The Simon Award explained
The 2019 Senator Paul Simon Award for Campus Internationalization is awarded by NAFSA: Association of International Educators. Named for the late U.S. senator from Illinois, the award recognizes outstanding innovation and accomplishment in campus internationalization.
"The award represents the strong commitment of our community of educators, staff, students and alumni at Miami University who collaborate to embed international, global and intercultural perspectives and dimensions into our university mission and vision," said Cheryl Young, assistant provost for Global Initiatives and eLearning.
Young will join the president and other Miami officials at the awards ceremony on Thursday, Nov. 21, that coincides with International Education Week. Crawford will participate in a presidential panel representing award-winning schools that will be streamed online via live webcast at 4 p.m. that day.
The Simon Award's two categories reflect the broad array of approaches used to effectively internationalize campuses.
Miami is one of five institutions to receive the Simon Award for Comprehensive Internationalization, which distinguishes excellence in integrating international education throughout all facets of university and college campuses. It's become part of the fabric of Miami.
"What I always say is Miami University and Oxford are not in the middle of nowhere," Young said. "We're in the middle of everywhere."
More opportunities for students
Miami is home to 3,177 international undergraduate and graduate students in Oxford and at the regional campuses — the second largest number of international students yet.
Education abroad is thriving. Statistics show 1,958 Miami students studied abroad for credit in 2017-2018.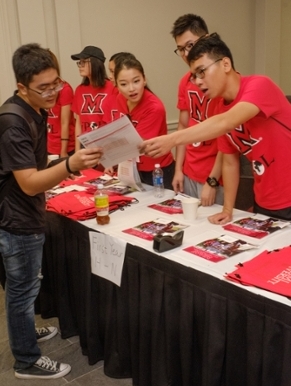 Miami students assist first-year students during international student orientation.
Young said more students are doing internships abroad. The Miami University John E. Dolibois European Center offers an internship option. Next spring, Miami students also will be able to earn credit at the new Digital Innovation Center in Luxembourg, mirroring centers in Cincinnati and San Francisco.
Service-learning opportunities are growing as well.
The CEC's Guatemala trips were organized through ProjectX, the purpose company, which social entrepreneur Greg Van Kirk (Miami '91) co-founded.
In Guatemala, Larson worked on a rainwater catchment and storage system his first year. He built a PVC water hand pump during the second visit.
"These hydrodynamic projects helped my studies by introducing me to conventional flow characteristics and behavior in a design/experimental setting," Larson said, adding that it applied toward his senior design project of building a pico-hydroelectric generator for waterside rural communities in Laos.
Larson graduated last May with a bachelor's in mechanical engineering and minors in humanitarian engineering and computing and music performance (bassoon).
Aligning strategic focus in 2011
Centralizing internationalization efforts was key under Conrado "Bobby" Gempesaw, Miami's then-provost and executive vice president for academic affairs. It provided a better use of resources and it "aligned strategic focus," Young said.
Already in place was the Global Miami Plan, which set a strong foundation, and study abroad was entrenched in Miami's mission thanks to the Western College for Women, now Miami's Western campus.
"Those women were studying abroad every summer in the 1950s," she said. "I believe that rich tradition of international students coming to Oxford and study abroad comes from our Western tradition."
Miami now offers a Global Readiness Certificate designed for students who want to "position themselves strategically for employment in today's increasingly competitive, diverse and global workforce."
What's next?
Officials are now focusing on a new strategic plan and trying to do more virtual learning, which Young calls "internationalization at home." It would offer more opportunities for students who are unable to study abroad.
At the Miami Regionals, they are finalizing details for a Collaborative Online International Learning (COIL) pilot course to be offered this spring between students in the College of Liberal Arts and Applied Sciences on the Middletown campus and Erbil Polytechnic University in Kurdistan, Iraq. The CMR244: Global Business course will use video-conference technology such as Skype and Google Hangouts.
"The students will work on small group projects with the goal of presenting a potential real-world solution to a real-world problem while practicing and building global competencies necessary to compete in a global business environment," said Jerry Martin, regional director of Regional Campuses Global Programs.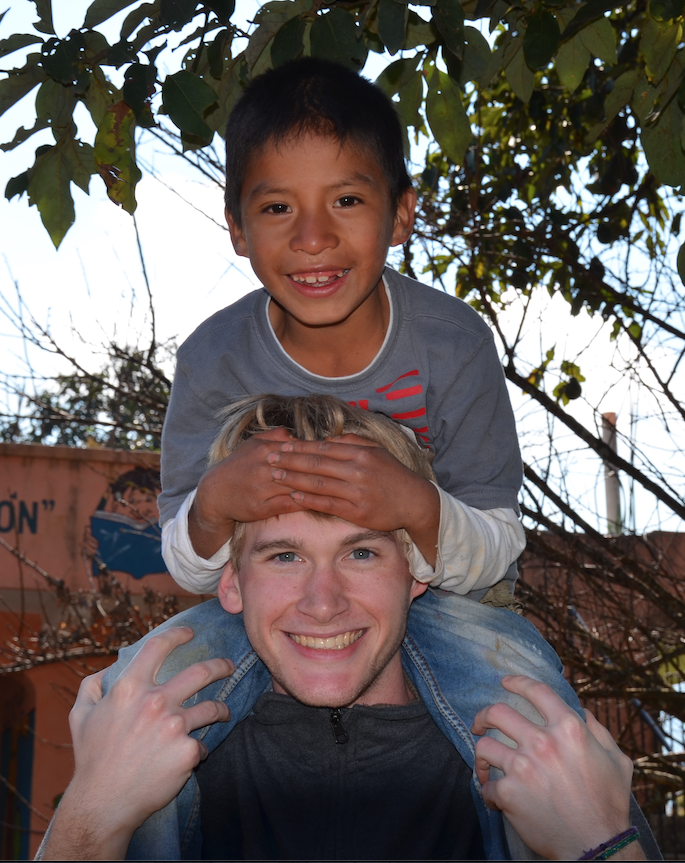 Michael Larson with a young Guatemalan friend (submitted photo)
Young said their overall strategic goals include:
• Connecting students to global experiences through technology.
• Mapping research efforts to understand Miami's global footprint.
• Increasing global mobility for underrepresented students.
• Increasing collaborative partnerships with universities abroad as well as business, industry and innovation toward internships for students and faculty exchanges.
"In general, it's getting more faculty, staff and students involved in a global experience," she said.
As for Larson, he learned much from his experiences in Guatemala.
"I saw firsthand and for the first time how big and different and amazing the world could be," he said.
"People that looked, talked and lived differently than me cared for me and took interest in my life. Even though those key items were dissimilar, I still found commonalities through the differences. Those commonalities defined what humanism could mean and taught me patience, understanding and relatability."