Returning Former Miami Students
Welcome back to Miami University! We look forward to supporting you as you re-enroll. 
You are a returning former student if you have previously enrolled as a degree-seeking student at any Miami campus including our online E-Campus. If you never enrolled in classes but have applied to Miami Regionals before, contact the Office of Admission in Hamilton or Middletown to complete a re-application.
How Do I Re-Enroll at Miami?
You must complete the Re-Enrollment Application if you are a returning former degree-seeking student. This application must be submitted 30 days prior to the start of the semester.
Applications are processed within 5-7 business days. 
International Students should submit applications 3-4 months prior to the start of the semester to allow time for visa processing. Refer questions to the International Student and Scholar Office at International@MiamiOH.edu.
Re-Enrollment Checklist
Submit your Re-Enrollment Application
If you are planning to use financial aid for payment, apply for Financial Aid at FAFSA.gov
School Code: 003007
Contact the One Stop with any questions regarding your re-enrollment application or holds on your account that may prevent registration. 
How will you pay your tuition?
Financial Aid
refers to any number of ways to help finance your education. It can include scholarships, grants, and loans. Miami also offers payment plans
that allow families to budget each semester's bill over a period of three or four months. 
Learn more
about these different options to help you invest in your future.
Clear any holds on your account that may prevent registration
A variety of holds may be placed on your record that will restrict registration. To view holds on your record, log in to the One Stop from any page on the One Stop website. * Hold alerts and instructions for clearing the hold will appear at the top of the page after you log in.
*A "Log in" link is available in the left margin and at the top right corner of every page. Once logged in, a "My One Stop" feature will appear in the right margin or at the top of the page if you are using a mobile device. If you are already logged in to another Miami service, the "My One Stop" feature will appear automatically when you visit the One Stop Website.
Meeting with your Academic Advisor
Academic Advisors
are knowledgeable resources for helping you make decisions about your major/minor/thematic sequence, for checking your degree programs, and for identifying ways to use course selections to enhance career options.
If you have taken courses at any university since you last attended Miami, have your official transcripts sent directly to your campus of enrollment.
Miami University Hamilton
1601 University Blvd
Hamilton, OH 45011
Miami University Middletown
4200 University Blvd
Middletown, OH 45042
Contact Us
Hamilton Campus
102 Mosler Hall
1601 University Blvd.
Hamilton, OH 45011
Middletown Campus
114 Johnston Hall
4200 N. University Blvd.
Middletown, OH 45042
RegOneStop@MiamiOH.edu
Phone: 513-217-4111
Fax: 513-727-3427
ECampus@MiamiOH.edu
513-217-4003
Miami Regionals E-Campus online courses and degrees are designed to offer students the richness of a premier education and the flexibility of learning at the location of their choice. Balance your course load with a mix of face-to-face and online classes, or re-enroll into one of our fully-online degrees. 
---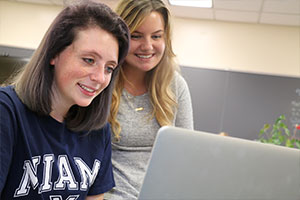 Academics