History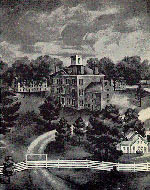 Miami University is one of the oldest public universities in the country, made possible by an ordinance signed by President George Washington in 1795. Chartered in 1809, Miami welcomed its first students in 1824. Miami's reputation grew as quickly as its enrollment, and it became known as the "Yale of the West" for its ambitious liberal arts curriculum. Today, Miami consistently ranks among the nation's top public universities for the quality of teaching and overall student experience.
One of Miami University's most famous graduates was Benjamin Harrison, who later became a President of the United States. Professor William Holmes McGuffey revolutionized the education of generations of Americans when he conducted research for his Eclectic Readers series while teaching at Miami from 1826 to 1836. The "mother of fraternities," Miami was the founding site of four national fraternities: Beta Theta Pi, Phi Delta Theta, Sigma Chi, and Phi Kappa Tau; as well as Delta Zeta sorority.
Traditions
Tradition is an important part of life at Miami, and learning what makes Miami unique helps new students gain a sense of belonging in the campus community. (Any upperclass student can tell you why you should NOT step on the seal!)
Discover Miami Traditions.