Once a Student, Always Our Student
Whether you are a current student or a graduate of our gerontology programs, you are always a part of the family. And we love to showcase the stories and successes of our students, past and present. See what some of our current students are doing as a part of their program experience–view some of our Current Student Spotlights. Want to know what some of our alumni are doing with their degrees or what they have to say about the programs? Check out our Alumni Spotlights.
International Student Perspectives
Students: Why study gerontology?
Alumni Spotlights
Takashi Yamashita, PhD '11
The Scripps Gerontology Center is pleased to announce that Dr. Takashi Yamashita is the recipient of the 2020 W. Fred Cottrell Distinguished Alumni award. 
Julie Kaminski, MGS '00
"That is one thing that I remember working with Suzanne Kunkel on a couple of research projects and her saying, 'challenge what it looks like on the surface and dig in a little bit deeper.' So I think being curious and not accepting things at face value. We need more curious people in this field. When our curiosity is tapped that innovation starts to happen and we can see things a little bit differently."
– Julie Kaminski, MGS '00

Julie Kaminski, (MGS '00) shares the story of her experience as an MGS student, career path, and offers advice to students.
Heather Menne, MGS '01
".... the MGS program ... really felt to me like a place to grow in my areas of interest. I don't remember feeling dissuaded from going down a path that not many were going down. Faculty were supportive in the area of my interest, but they also exposed me to complimentary topics, issues, and methodologies."
– Heather Menne, MGS '01
Heather Menne, (MGS '01) shares the story of her academic and career path and offers advice to students.
Quanhong "Cho" Qiu, MGS '01
"I wouldn't have today's success without the wonderful education and support I've received from Scripps. It has enabled me to successfully launch Compassionate Community Care (CCC) and keep it growing to serve many people in the San Francisco Bay Area."
– Quanhong "Cho" Qiu, MGS '01
Quanhong "Cho" Qiu (MGS '01) discussed her career in gerontology with us and shared advice to current students who are studying gerontology.
Marisa Scala-Foley, MGS '95
"Where Miami really stands out is the ability to work directly with some of the top leaders in the field."
– Marisa Scala-Foley, MGS '95
Marisa Scala-Foley (MGS '95) explains why Miami was her top choice for her masters in gerontology. Marisa is the Director for the Office of Policy Analysis & Development at the Administration for Community Living.
Student Spotlight
The Graduate Practicum Experience
Be prepared for a great learning experience.  This could be the time that students find their niche.    
— Hannah Thompson
Each summer, first-year gerontology master's students are sent out into the field for a practicum. And each fall, they return with experiences that shape their studies and careers. Hear more about their practicum experience.
The PhD Experience
"All of the faculty are eager to work with PhD students"–Anthony Bardo, MGS '10
In this short interview, Anthony describes his gerontology graduate experience at Miami University.
Combining Education & Research
We value the skills that our students bring with them and provide them with opportunities to expand their skills through assistantships. As a first year PhD student, Jennifer explains her assistantship work as the project manager on a grant looking at innovative caregiver respite strategies.
Empowering students with hands-on opportunities is an important part of the education process. Here are a few places our master's students recently engaged in a practicum:
Northwest Ohio Chapter Alzheimer's Association
–Toledo, OH
The Benjamin Rose Institute
–Cleveland, OH
Johns Hopkins Bayview Medical Center
–Baltimore, MD
The Knolls of Oxford
–Oxford, OH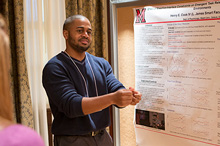 All application materials are submitted online. To get started, go to the Miami University Graduate Studies Application Page.
Do you have questions about our programs or application process? 
Contact The Scripps Gerontology Center for assistance at:
Or request info from the Graduate School: