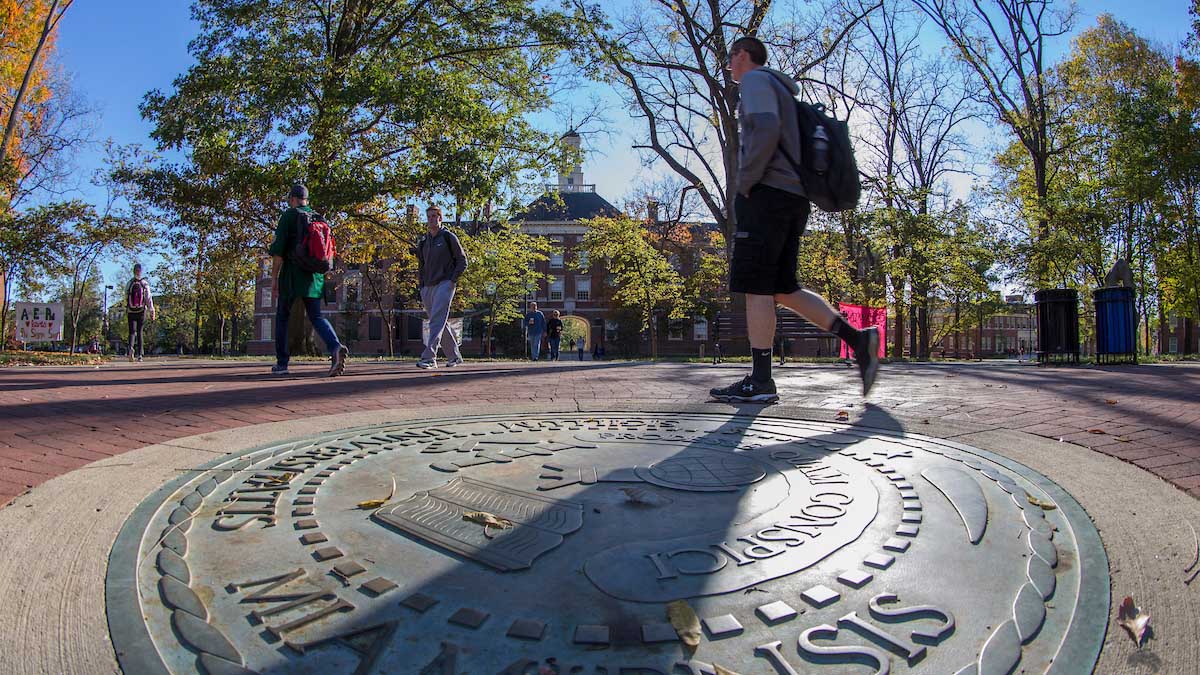 Admitted Students Next Steps - Fall
You're almost a RedHawk! Pack your bags and get ready to join our community of leaders, scholars, colleagues, and friends! Below, find everything you need here to make a smooth transition to university life. Before you do anything else, make sure to accept your offer of admission so that we can begin sending you important updates and information about the upcoming semester.
Get Ready for Fall Enrollment
You'll complete most of the steps below after you accept your offer of admission, but you can apply for financial aid (U.S. students) and check out transferable credit before accepting.
Apply for and Accept Financial Aid
The 2024-2025 FAFSA will be available December 31, 2023. Please visit the FAFSA Simplification page for more information about recent changes to this year's form.
Applying for Financial Aid
To be considered for need-based aid, you must submit the FAFSA online using Miami's federal school code 003077. If you have questions about need-based financial aid or merit-based scholarships, please visit One Stop or call 513-529-0001.
First-year students who file a FAFSA by February 1 will have their financial aid offer by late March.
Although international students are considered for merit scholarships, most are not eligible for need-based aid and should not file a FAFSA.
Accepting Financial Aid
If you have received a financial aid offer, you will need to accept or decline your aid online. Visit the One Stop for more information on finalizing your financial aid, including where to accept or decline your aid offer and completing Entrance Counseling and the Master Promissory Note (MPN) for first-time loan borrowers.
Choose Your Housing and Dining Plans
Most first- and second-year students are required to live in university housing (see exceptions below). You'll be able to start working on your housing contract roughly 24 hours after accepting your admission offer. On the online housing contract, you will identify residence hall, dining, roommate, and other preferences. First-year students may also choose a living-learning community through the housing contract process.
First-year students admitted for fall should submit the contract for university housing by May 2.
Transfer students should complete the contract for university housing and select their meal plan options as soon as possible after accepting their admission offer.
Students are not required to live on campus if they:
Are at least 21 years old by the first day of classes
Live with a parent, legal guardian, spouse, or dependent child(ren)
Have been a full-time student at another college, university, or Miami Regional campus for two years or more
Students who are not required to live in university housing may use Miami's Off-Campus Outreach website for help finding off-campus housing.
Learn more about university housing
Register for and Attend Orientation
A requirement for enrollment, student orientation provides a solid foundation for success at Miami. Through orientation, new students will:
Build important connections with student leaders, faculty and staff, and the Miami community
Learn about their academic curriculum and important resources and opportunities
Set goals
Register for fall classes
Registration for fall first-year orientation opens in mid-March; registration for fall transfer orientation opens in mid-April. Please visit your myMiami portal to sign up for orientation once you've accepted your offer of admission from Miami.
International student orientation details are available on the International Student and Scholar Services website.
Take Placement Tests
Miami uses placement tests to inform academic advising and course registration.
ACT or SAT math sub-scores are used for course placement in academic areas such as chemistry, computer science and software engineering, information systems and analytics, mathematics, physics, and statistics, among others. If these test scores are not provided, students must complete Miami's math assessment at least one week before their academic advising appointment at orientation. Students receive information about the Miami math assessment via email. The test is timed (90 minutes) and students may not use a calculator. The test does not award academic credit.
Domestic Students
Domestic students for whom foreign language coursework is included in their Miami curriculum are required to take foreign language placement tests and should complete the testing no later than one week before their scheduled orientation session. More information about foreign language testing is available on the Orientation and Transition Programs website.
International Students
Most international students are required to take English writing and speaking placement tests and may be required to take a Miami-specific math placement assessment. More information about placement testing for international students is available on the International Students and Scholars Services website. International students receive specific placement test information via email prior to their campus arrival.
Submit Portfolio for English Credit
First-year students can submit a portfolio of work they have done in high school or as part of other life experiences to earn credit for English 111.
Transfer Credits
To be considered for Miami credit for courses taken at another college or university, students must provide final, official transcripts from the college or university that administered the coursework. This includes college coursework taken as a high school student, such as in dual-enrollment programs like Ohio's College Credit Plus.
Domestic transfer students will receive a credit evaluation report before they register for courses.
For most international transfer students, assessment of previous coursework for possible Miami credit will occur during their first semester. Course descriptions and other supplemental information may be required for coursework completed outside the United States.
For first-year college students, previous college coursework will be evaluated and added to their academic records in myMiami before they are scheduled to register for courses.
Students also may earn credit through examinations such as Advance Placement (AP), International Baccalaureate (IB), and the College Level Examination Program (CLEP). If you have taken or will take any exams offered through these programs, be sure to have your official scores sent to Miami.
Learn more about transferable credit.
Establish Your myMiami Online Student Account
Establish your myMiami online student account. Set-up details are sent via email to students who have accepted their admission offer.
Learn how to activate DUO two-factor authentication process.
Submit Transcripts and Test Scores
Prior to enrolling at Miami, you must provide final, official transcripts.
First-Year College Student Transcripts
Ask your school counselor to submit your final transcript (with graduation date included) as soon as possible after graduation. Final high school transcripts are a requirement for enrollment. Students who, during high school, took courses from a college or university also must provide transcripts(s) from the institution that administered the coursework. This includes coursework that served as credit for high school curriculum requirements, including Ohio's College Credit Plus (CCP) program. Aug. 1 is the deadline to provide transcripts.
Transfer Student Transcripts
Provide final transcripts for all college coursework no later than Aug. 10.
Submit Official Test Scores
First-year college students who have taken an ACT and/or SAT, and haven't yet sent scores to Miami, should send them as soon as possible, even if the student was test-optional for Miami admission and scholarship purposes. They won't affect admission or scholarships but will help academic advisors determine math level preparation. Students without test scores may need to take a math assessment before course registration.
Provide Medical and Immunization Records
All students must provide immunization records through Miami's online medical portal by Aug. 1.
You gain access to the portal two weeks after accepting your offer of admission.
More information about required immunizations and record submission is available on the Student Health Service website.