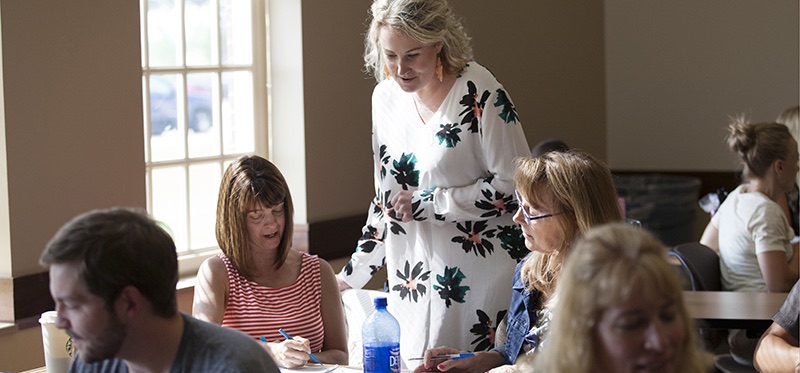 Professional Development
Staff Development: Reading and Writing
Customized Learning: OWP leaders work alongside administrators and teachers to custom-design professional learning packages based on specific goals and needs. OWP professional development sessions work toward student improvement in all areas of literacy and student success in college and career standards and consistently receive excellent ratings and results in classrooms and school districts throughout Ohio
Customized Structures

Whole school or cross grade and subject level
Department Sessions
Grade or Content Area Sessions
Small Group Consultation
Classroom Demo Lessons
Instructional Coaching
Guided Book Study
Lesson or Unit Studies
Professional Learning Communities
Early Release Series
Virtual PD Sessions
Guided Planning

Customized Topics

Analysis
Assessment and Grading
Content Area Literacy
Creating Text Sets
Grammar and Conventions
Literacy Standards
Mentor Texts
Narrative, Argument, Informative
Prompted Writing
Raising Writing Quality
Reading Strategies
Research 
Response to Literature
Teaching and Learning Online
Unit Planning
Vocabulary
Writing Craft/Revision
Writing or Reading Workshop
Staff Development Cost
On-site custom inservice: $1750 full day | $400 per hour 
Multi-year plan: Varies by design
Contracts of 5 days or more will include 3 summer workshop credits at no cost.
Participant Comments
"Our decades long partnership with the Ohio Writing Project has borne fruit not only in building a strong culture of literacy among our educators but more so in changing our practices that advance our students' learning and literacy skills. We consider the faculty of the Ohio Writing Project our trusted partners who have joined with us on our journey to make a significant and positive difference in the lives of each child we serve."
–Administrator, Oak Hills Local SD
"I wish we met more times a year because I get so much out of it, and it helps me grow as a teacher."
–Teacher, Sycamore Community SD
---
Staff Development: College, Career & Community Writers Program & Assessment
College, Career, Community Writers Program
OWP will lead professional development focused on NWP's nationally recognized College, Career, Community Writers Program (C3WP). In this PD, teachers participate in 30-45 hours of training around source-based argument writing instruction and civic discourse. This professional development includes year-long formative assessment structures, classroom teaching, and instructional resources for teachers and students. Available for Grades 4-12. 
Writing Assessment and Evaluation
OWP writing assessment workshops train teachers to use writing assessment as an instructional tool. They provide practical classroom strategies for evaluating student writing and improving student learning. Depending on the needs of the district, the focus can be on either formative or summative classroom assessment (i.e. formative assessment practices, assessment of writing, short cycle assessments, rubrics, portfolios or state tests.) 
Contact the Ohio Writing Project