McGuffey House Architecture: Windows and Doors
The front door and window transom also date to the 1860s renovation. However, if you look closely you can detect a few arched bricks below the door lintel. These bricks are most likely the voussoirs [Figure 3] remaining from the original Federal fanlight [Figure 4] that originally surmounted the entrance.
Figure 3: Voussoirs

Figure 4: Federal fanlight on former
Beta Theta Pi Headquarters
Stephen Gordon, Curator
Fall 2006
William Holmes McGuffey House and Museum
We aim to collect, preserve, interpret, and exhibit materials relating to the life of William Holmes McGuffey, the McGuffey Eclectic Reader series, the history of Miami University, and 19th-century domestic life and architecture of southwest Ohio.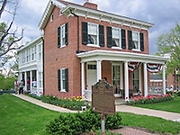 Contact Us
Hours of Operation
Thursday - Saturday
1:00pm - 5:00pm

McGuffey House and Museum observes Miami University closings and other special events.