Socially engaged art: sculpture students collaborate to help winterize mobile homes


Rod Northcutt (in vest) and his service learning sculpture classes helped lead a winterization project at the Miami Mobile Home Park in November. They installed vinyl skirting, an important factor in weatherizing, to the mobile homes (park photos by Jessica Dusing).
Feb 03, 2016
By Susan Meikle, News and Communications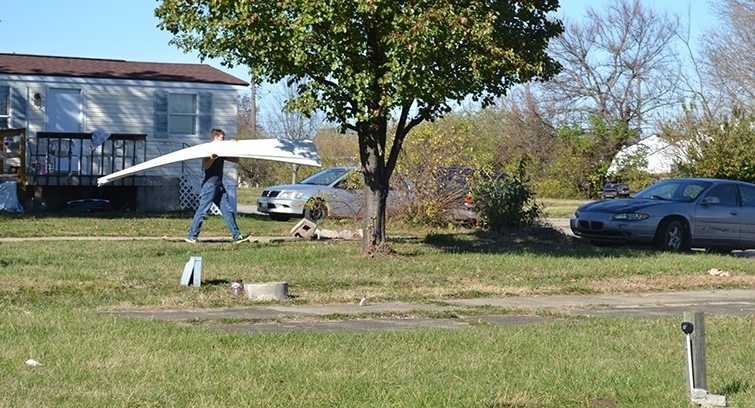 Sculpture students, skilled with rivet guns and vinyl skirting, worked with members of PUSH to install skirting on mobile homes as part of a service learning project.
The practice of socially engaged art (SEA) is gaining momentum in the field of sculpture, and students in Rod Northcutt's service learning sculpture classes are working to further its spread.
In SEA, collaborations are the norm and social interaction is prioritized over aesthetics, Northcutt explained. His students practice both through a service learning project that helps local community members in need. 
Last fall they collaborated with several community groups for a project that culminated in the winterizing of eight mobile homes at the Miami Mobile Home Park in Oxford. That class learned that winterization included skirting using a sheet product made of vinyl.
Students in Northcutt's 2015 beginning sculpture classes gained skills working with rivet guns and vinyl skirting while working on sculpture projects.
They also researched poverty and helped connect the services of local community members to others in need.
"When we work on community projects, we make important connections, said Northcutt, associate professor of art and co-director of MAKETANK, Inc.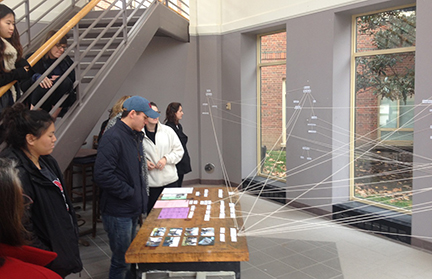 For her final project, Cassandra Pax interviewed the mobile home park's manager (in cap above) and created a map showing the interconnecting stories of the households that were assisted, the owners of the park, social service groups, law enforcement and PUSH.
"These hands-on community projects serve not only the local community who benefit from having more efficient heating bills, but also the individuals who participate in making a difference and connecting with each other for their future endeavors."
Jesse Behne, a junior graphic design and art major and interactive media design and sculpture double minor, said, "This class allowed me to view all walks of life through its service learning component. I hope to do more service learning in the future in order to expand understanding throughout our community."  
The winterization project involved 31 volunteers — 15 students, three faculty and 13 community members — who cut and installed new skirting for the homes. Skirting is an important factor in weatherizing a mobile home, Northcutt said.  
Students worked with members of the local nonprofit People United for Self Help (PUSH). The group provides assistance for essential repairs to eligible homeowners who, without such assistance, would be unable to make the repairs necessary for them to remain in their homes.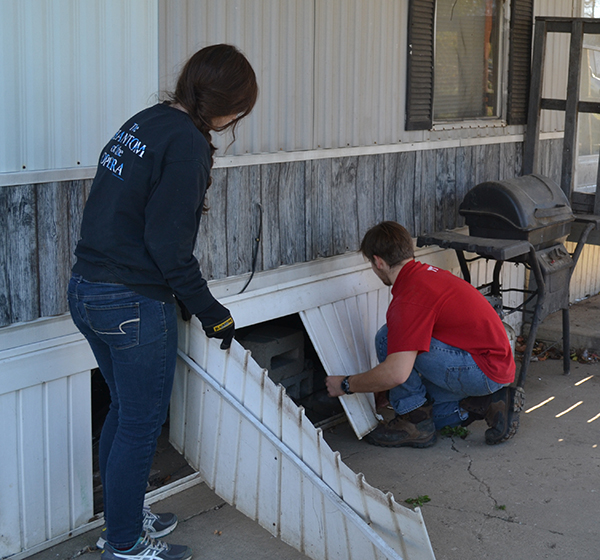 Skirting insulates and creates a pocket of air warmer than the outside temperatures to prevent water pipes under the home from freezing and keeps animals from getting under the units.
They met with residents of the Miami Mobile Home Park who earlier applied for grant assistance through an event that Northcutt's sculpture class created during the fall 2014 semester.
Other collaborators were Miami's office for community engagement and service  — which helps faculty with service learning designation, project planning and assessment — and River Valley Communities, LLC, the company that currently owns the Miami Mobile Home Park.
Students and volunteers connected with the mobile home park residents and with each other, Northcutt said. Some residents who were not receiving service saw the work and were curious. They were able to discuss their own needs with students, who helped them fill out applications for future work, Northcutt said.
Cassandra Pax, senior psychology major, said "Throughout our class' experience at the park we learned about the individuals there and how everything in the park is so interconnected." 
"I think it goes to show how connected we all are as a community, and I feel so grateful to have had the opportunity to experience that." 
As with all service learning classes, a debriefing was done in class and an assessment was carried out by the office of community engagement and service.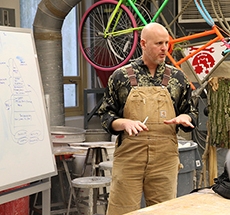 Rod Northcutt
Among other class assignments, Northcutt's students created projects that flanked the winterization event.
The first had the theme of "home" with the material constraint that students had to create projects with the materials they would work with at the mobile home park — vinyl or aluminum siding/skirting, dimensional lumber, screws and rivets.
After the event, students responded with projects in any way they thought appropriate, with an open material list and format. Some of the projects are highlighted below.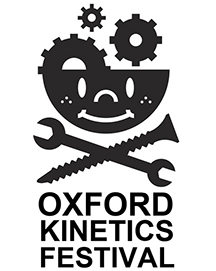 Northcutt's spring semester sculpture classes work on service learning projects related to the Oxford Kinetics Festival (OKF). The students connect with community members who may not have regular access to the innovative environment and creative learning that the OKF provides, Northcutt said. 


Left: Restoration of "Black Note" by Jesse Behne, junior graphic design and art double major and interactive media design and sculpture minor, and Brooke Adams, junior architecture major and sculpture minor.
The two students teamed up to tackle the idea of restoration and sculpture, two areas focused on in the class.
They first made a map of all sculptures on Miami's Oxford campus and created a condition report on them. They then restored the sculpture "Black Note" (1968, Michael Bigger, between the art building and the Center for Performing Arts) to remove rust and paint smudges. 
"Sculpture one is an amazing class; I only wish more people could experience it," Behne said.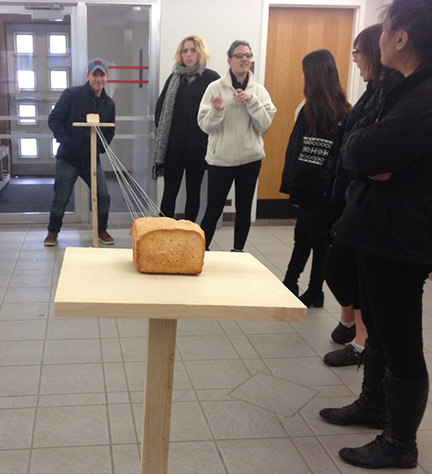 Right: Final response project by Yecheng (Nebular) Hou, senior art education major. Struck by the issues surrounding food at the park, she baked a loaf of bread and carefully stitched thread through.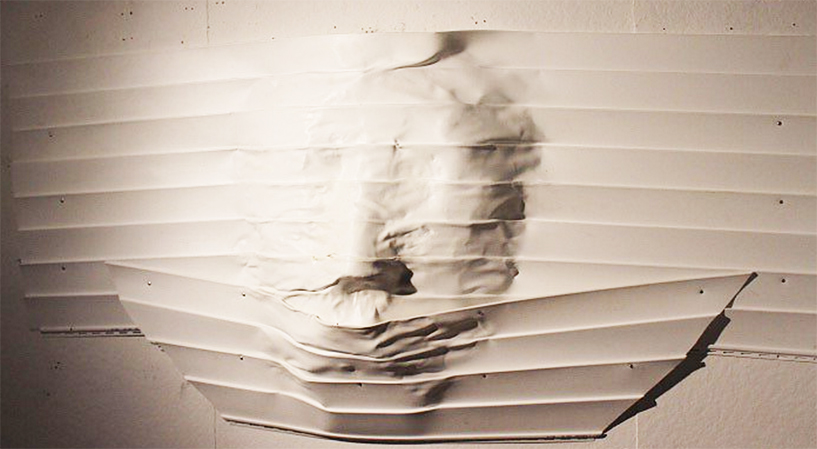 Left: "Mobile Home Project- Violence Study-The Face of Violence" by Benjamin Delano, sophomore art major.
Wanting to put a "face to the violence in mobile home parks," Delano used mobile home siding and a heat gun to melt a formed sheet of siding over a mold of a face that he carved. A separate strip over the mouth area represents the silence of some victims of violence.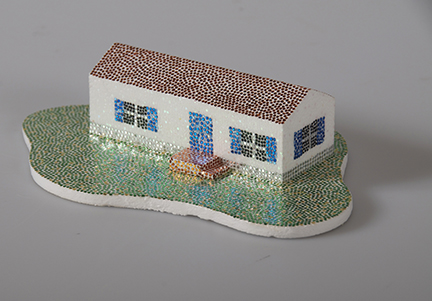 Right: Lauren Kiedaisch, senior art education major and art and architecture history minor, created a glittered 2.5 inch scale model of a mobile home.