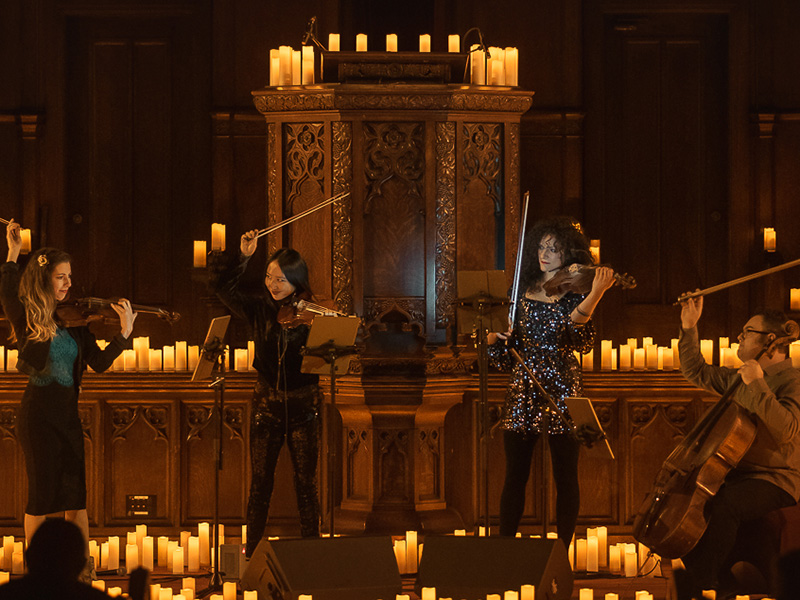 Vitamin String Quartet Plays the Music of Bridgerton
Vitamin String Quartet Biography
Long before Bridgerton broke the Netflix algorithm, Vitamin String Quartet helped establish classical crossover as a genuine force in the music industry.
Since the project's start in 1999, Vitamin String Quartet (VSQ) has helped establish classical crossover as a genuine force in contemporary music while accompanying countless listeners through their workday and late-night study sessions, scoring unforgettable film and TV moments, and helping couples around the world create their perfect wedding playlist. Fresh off high-profile placements in Netflix's smash Bridgerton and Universal's The King of Staten Island, VSQ has "reached a mainstream, global audience" (Variety) and "charmed the world with their classical covers" (Nylon). As such, they have become one of the most popular contemporary string ensembles in the world.

Across over 300 releases, VSQ has produced cutting-edge string renditions of a highly eclectic mix of artists, erasing boundaries between classical, dance, hip-hop, rock, and pop. From Cardi B to Björk, Studio Ghibli to goth metal, VSQ approaches their renditions with respect and care, breathing new life into music they already love.

Their longstanding VSQ Performs the Hits series has allowed them to transform the best hits pop has had to offer for the past eight years. Of the series, New York Observer wrote, "VSQ's atmospheric hits have made classical versions of pop music cool." The quartet also engages with select artists on a full-album basis. These artists have included visionaries such as Lana Del Rey, Björk, and Sigur Rós, as well as music from the films of Studio Ghibli.

To date, these heartfelt renditions have earned the ensemble over 1 billion streams, almost 4 million downloads, and over 1 million physical units sold. Seven of VSQ's albums have charted with Billboard, peaking at #4 in both the Classical and Classical Crossover categories. Most recently, the full-length album VSQ Performs Lana Del Rey was nominated for Best Classical Record in the 2021 Libera Awards.

VSQ's music has appeared in high-profile TV shows such as Netflix's Bridgerton, HBO's Westworld, Showtime's Shameless, and ABC's Modern Family. The ensemble appeared onscreen with 30 Seconds to Mars for an episode MTV Unplugged as well as in an episode of Gossip Girl. VSQ can also be heard alongside Danny Elfman, Plain White T's, Korn, and others in the official The Nightmare Before Christmas tribute album Nightmare Revisited.

Based in Los Angeles, VSQ features a rotating cast of musicians and producers and frequently collaborates with animators, creators, and like-minded artists. Their collaborations with ThatViolaKid, Simply Three, the Dutch Domino Team, and DoodleChaos have been major creative successes.

Their vast and eclectic catalog guarantees you'll find something you love and their most popular playlists (The VSQ Study Playlist, VSQ Loves Modern Hits, and Relax + Unwind) provide you with the tools necessary to soundtrack your day.
Performing Arts Series VIP Donors
We want to thank all our donors and partners who help keep the Performing Arts Series alive year after year. Please take a moment to read the list of names of these amazing people on our Support Us page linked below.
Patti Liberatore - Director
Gwenmarie Ewing - Assistant Director
Student Workers: 
Valerie Do
Mire 

Uwase
Thank You and Enjoy the Show!
Girls Like You - VSQ plays Maroon 5
Running Up That Hill (Deal with God) - VSQ plays Kate Bush