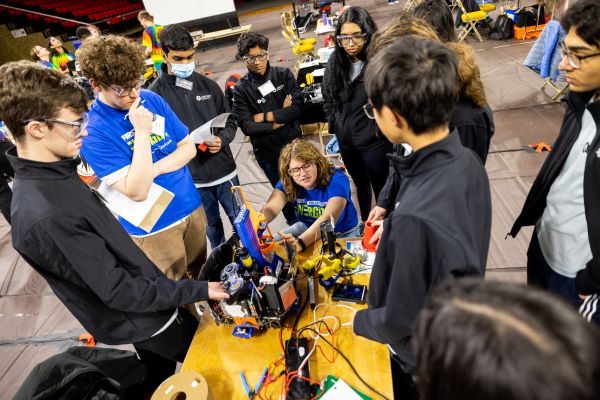 First Tech 2024
Miami's First Tech Tournament
February 3, 2024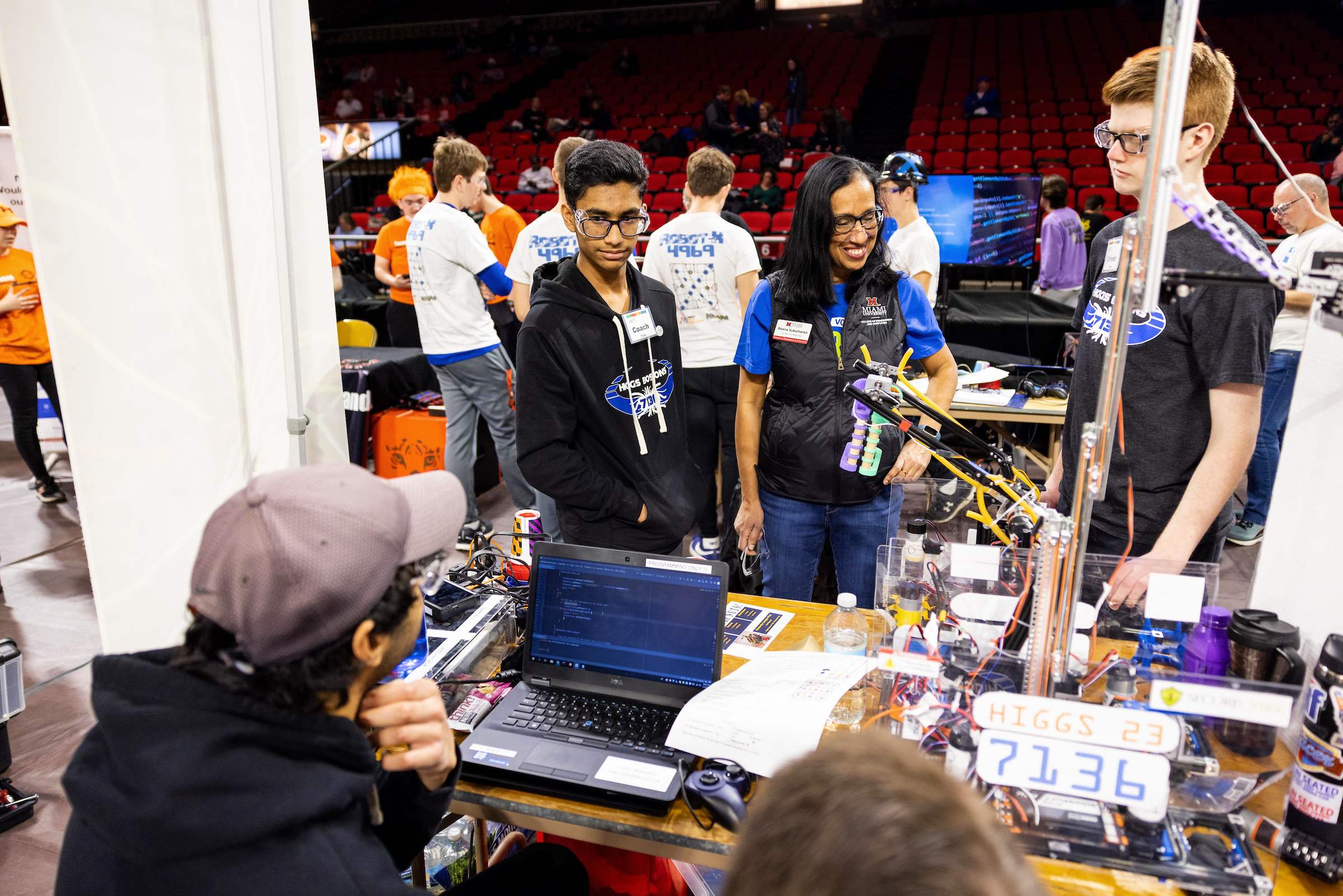 Location: Millett Hall, 500 E. Sycamore St., Oxford OH 45056
Tournament Contact:
Joanna Hohn  513-785-317-1010 (cell)
Scott Campbell 513-330-0230
Tournament Email: firsttechmiami@MiamiOH.edu
This event will conform as closely as possible to a regular tournament event to give the teams the tournament experience and practice. We have a great group of volunteers ready to work with the teams to provide a successful, fun, and safe event. 
Questions can be mailed to firsttechmiami@MiamiOH.edu.
What is the FIRST Tech Challenge?
It's way more than building robots. FIRST Tech Challenge teams (up to 15 team members, grades 7-12) are challenged to design, build, program, and operate robots to compete in a head-to-head challenge in an alliance format.
Guided by adult coaches and mentors, students develop STEM skills and practice engineering principles while realizing the value of hard work, innovation, and working as a team.
The robot kit is reusable from year to year and can be coded using a variety of levels of Java-based programming. Teams design and build robots, raise funds, design and market their team brand, and do community outreach to earn specific awards. Participants are eligible to apply for $80M+ in college scholarships.
First Tech 2024 Schedule:
5:00pm

Team Check-In
Turn in Team Roster /consent and release forms
Robot Inspections

6:30pm
8:00am - Check-In and Pits Open
8:15am - Robot Final Inspections or Re-Inspections
8:00am - Practice Fields Open
8:00am - Scrimmage for referee practice
10:00am - Drivers' Meeting with Head Referee
10:15am - Opening Ceremony (Open to the Public)
11:00am - Qualification Rounds Begin
11:30-12:15pm - Lunch Break
1:15pm - Resume Qualification Matches
2:30pm - Alliance Selection
3:45pm - Elimination Matches / Finals
5:00pm - Closing Ceremony and Awards
6:00pm - Team Load Out
Food Options
There will be a concession stand at Millett.  Please be aware this stand only accepts credit and debit cards (
visa, mastercard,samsung pay, apple pay, google pay, AMEX)
.
Cash is not accepted.
FAQ
Food and Hotel options are located above.
There are absolutely no resrictions on the number of team members one group can have.
Spectators are allowed per Miami's Policy.
This event is held in Millett, Miami's Basketball arena and there is ample room for everyone.
Yes, this event will be livestreamed for those who cannot join in person!
Yes, concession (cashless) will be available.
Food is permitted in the stands and on the concourse level but not on the main floor or the pit area.