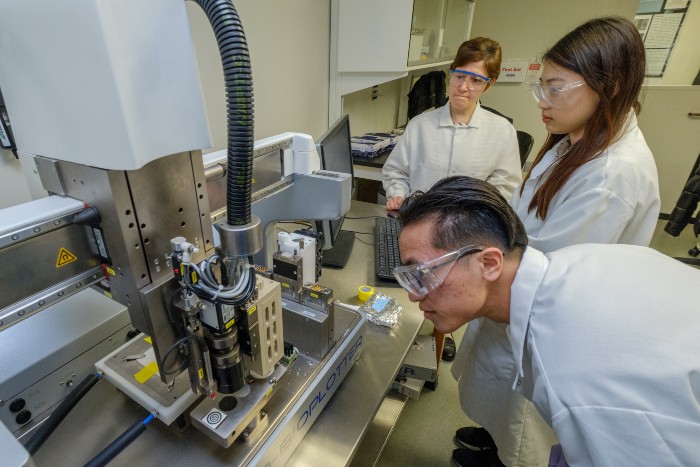 CPB Facilities
Instructional Labs
Hands-on and experiential learning are vital aspects of teaching and learning in Chemical, Paper, and Bioengineering Department (CPB). There are numerous labs housed within CPB which allow students to work closely with faculty for an interactive learning experience. These labs includes an engineering instructional lab, high bay area, paper testing lab, and a pilot paper machine. A summary of the purposes, facilities, and equipment associated with each is available in the navigation links.
The chemical engineering instructional laboratory is on the ground floor of the Engineering Building. In this laboratory, students acquire experimental data with lab and pilot-scale unit operations and subsequently analyze the data using engineering theory. Labs include experiments on material and energy balances, transport phenomena, environmental engineering, biochemical engineering, process control, paper making, and unit operations.
The biomedical and clinical engineering instructional laboratory is found on the second floor of the Engineering Building. This laboratory includes equipment to provide students with hands-on experience in hospital instrumentation, bioinstrumentation, biosignal processing, biomechanics, and tissue engineering.
Students can work on research or independent projects in the CPB maker space that includes a 3-D printer and laser cutter.
The process control laboratory provides students with hands-on experience in working with automation and process control. This lab was developed for use in the System Automation Springboard to Internships (SASI) program that links students with industry internships in process control and automation. More information on SASI can be found here.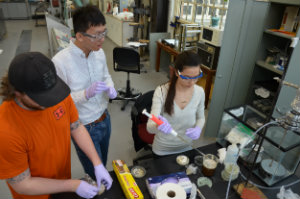 The high bay area has been newly renovated to significantly increase the bench space open to students for laboratory, research, and project work.   Each new bench is equipped with access to water, air, and vacuum.  Ample storage space is also available underneath the new benchtops in the high bay area.   The high bay area is a central laboratory of the department that also houses Miami's pilot paper machine.   Student labs and projects that require the use of equipment that is too large for the confines of the other laboratory facilities can be conducted in the high bay area.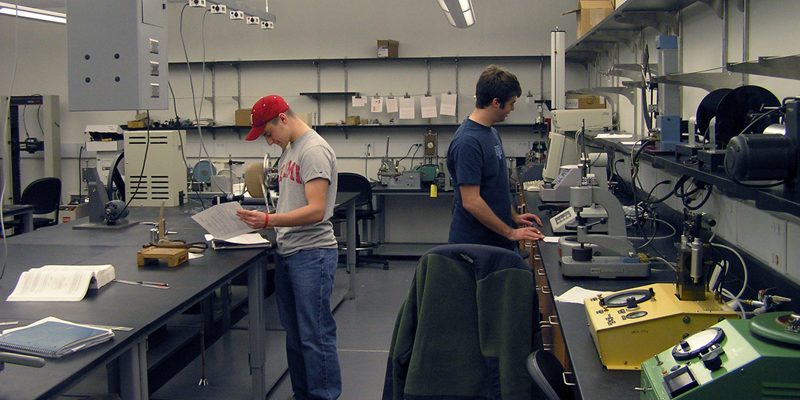 The paper testing laboratory is located on the ground floor of the Engineering Building.
The paper testing lab is contained in a room with controlled temperature and humidity for proper conditioning of paper and paperboard samples. The lab houses equipment that can be used to test the mechanical, optical and absorptive properties of paper and paperboard. The Paper Testing Lab equipment is well maintained and continually upgraded with the support of industry, the Paper Science and Engineering Foundation and Miami University.
Students and industrial scientists make use of these facilities. Several courses in the chemical engineering program focus on characterizing paper using standard testing methods, proper use of instruments and the interpretation of analytical results.
Instruments:
Taber
Elmendorf
Gurley
Mullen
Technidyne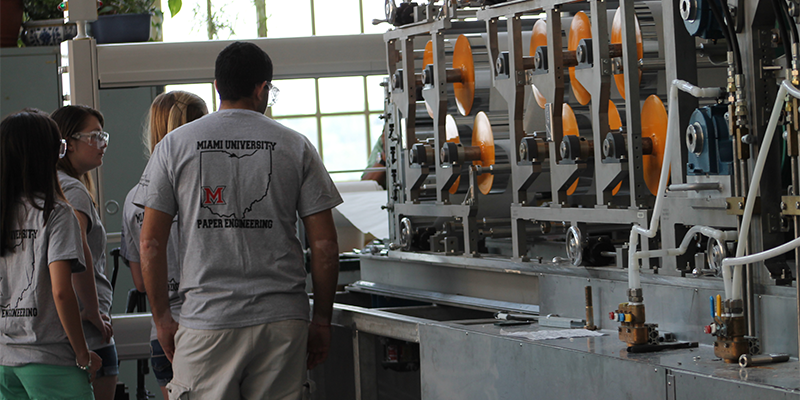 The Pilot Paper Machine includes all of the equipment needed to continuously manufacture paper at a rate of approximately 10 ft/min. This scale is small enough to monitor and control various aspects of the process and properties of the paper. The facilities include a pilot Fourdrinier paper machine with a 12" trim and stock preparation equipment, including storage tanks, blend chests and pumps to deliver the stock to the pilot machine. The pilot facility underwent a major rebuild with upgrade in 2007. In 2012, a state of the art Distributive Control System (DCS) was installed to control all aspects of the stock preparation and the paper machine processes.
Research Labs
Student research is an important aspect of learning in the Chemical, Paper, and Bioengineering Department (CPB). The CPB Department houses numerous research facilities which allow students to work closely with faculty for an interactive learning experience. These facilities include a biomedical reasearch lab, contract research lab, and faculty research lab. A summary of the purposes, facilities, and equipment associated with each is available in the navigation links.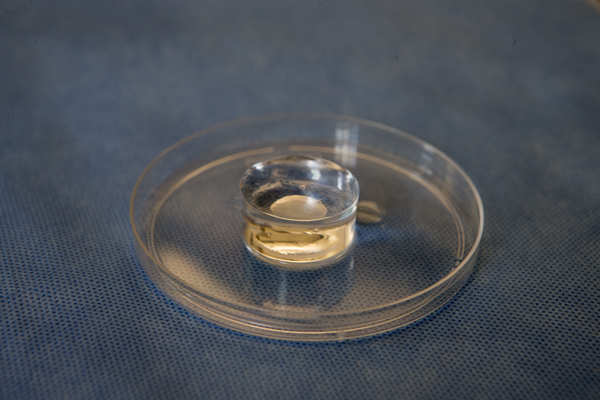 The biomedical research laboratories are located on the first floor of the Engineering Building and are used by various professors for their research.
Research areas include biomaterials, biomechanics, drug delivery systems, and mathematical modeling of transport phenomena in biomedical systems. Miami's cutting edge biomedical research is allowing students to work directly with faculty and obtain research experiences that enhance their traditional classroom education.
Resources available in the biomedical research laboratories include environmental chambers and 3-D printers for material fabrication, cell culture facilities, mechanical testing equipment, particle size analysis, HPLC, and other analytical equipment.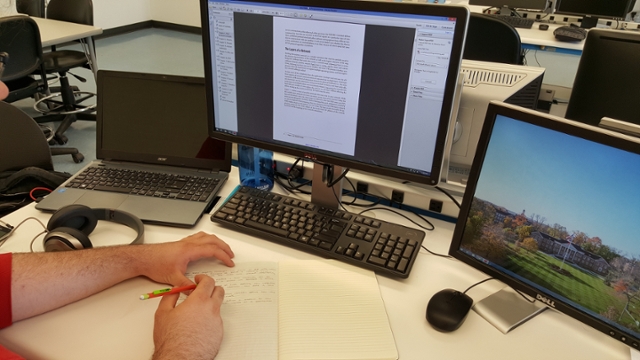 Trying out brand new ideas? Inventing whole new product applications? Need help in development or proof of practice? These are areas where we can help. We can sign a nondisclosure agreement to protect your intellectual property rights. We welcome an opportunity to discuss your needs and interests.
The contract research and testing program offers specialized services for a nominal fee to clients. Contract research has historically been exclusively for pulp and paper related tests.  Today, however, our capabilites have expanded to include not only pulp and paper research, but also materials characterization (BET surface area, pore size distribution, differential scanning calorimetry, thermal gravimetic analyses). 
Paper testing of both a specialized and routine nature is carried out in a Technical Association of Pulp and Paper Industry (TAPPI) standard temperature and humidity controlled room. Most of the traditional paper and paperboard tests can be conducted. Generally the turnaround time is short and often depends on the backlog of scheduled project work.
In addition to the above paper testing services, other tests related to the pulp and paper industry are available:
Pulping raw materials using pilot batch digesters
Deinking of waste paper
Repulpability studies
Pilot paper machine studies
Pilot coater/laminator studies
A pulp handsheet strength evaluation can be done with either a Valley Beater or PFI mill.
For further information, please contact laboratory technologist Doug Hart at 513-529-0778 or hartdw@MiamiOH.edu. Our FAX number is 513-529-0761.
Ship Samples to address:
Miami University
Chemical, Paper and Biomedical Engineering Department
Attention: Doug Hart
650 East High Street
63 Engineering Building
Oxford, Ohio 45056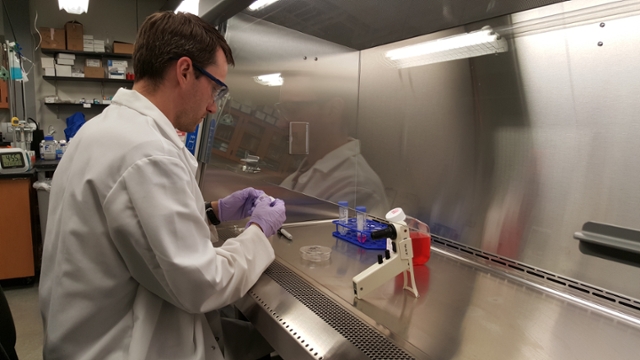 The Chemical, Paper, and Biomedical department has Faculty Research Labs that are well equipped to carry out cutting edge research in the areas of bioengineering, environmental engineering, materials science and engineering, and paper science and engineering.  Students are given opportunities to work in these labs with faculty mentors to enhance their experiential learning through research data acquisition, analysis, and communication.  
Department of Chemical, Paper, and Biomedical Engineering
Engineering Building, Room 64
650 E. High Street
Oxford, OH 45056