Miami Connections, named in the Presidential Service Award presented to Miami University, is an on-campus, half-day alternative school program that assists local ninth and tenth graders in their transition to high school. It provides a unique field placement for Miami education majors and meaningful volunteer opportunities for students in any major.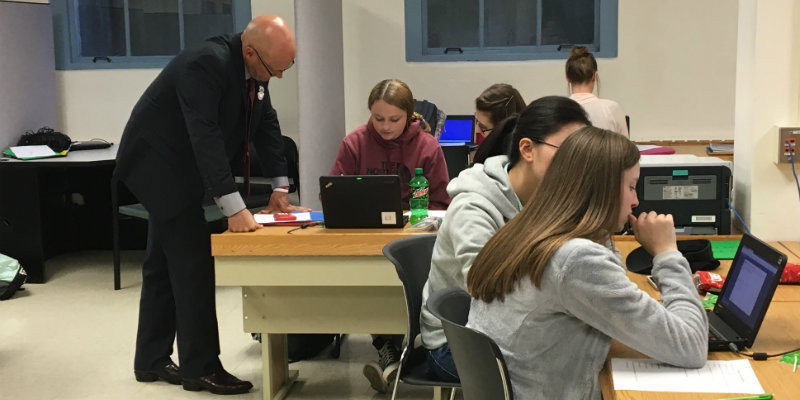 Talawanda High School students who are in Butler Tech, a county career and technical education program, take online courses guided by a veteran teacher.
The partnership with Butler Tech and Talawanda was launched in fall 2010. More than 30 Talawanda students are already involved and over 150 Miami students are providing tutoring and mentoring.
Miami Connections depends on students who want to make a difference.
Program
Miami Connections makes a difference in the lives of adolescents and in the lives of future teachers. Some of the aspects of the program that make it special and different include:
Online Learning - Miami Connections students take online courses through Butler Tech, guided by a Master Teacher.
Daily Tutoring - Multiple tutors are assigned throughout the day. Tutors are encouraged to sign up to tutor in their academic area of interest. Some time is set aside each day for intervention, so students can stay caught up in work from other classes.
Mentoring - Miami student volunteers are matched one-on-one to Miami Connections students based on interest. Interested students should register for EDP 351, a one-credit hour class that meets once monthly. A criminal background check will be required.
On-Campus Activities - Every Wednesday time is set aside to introduce Miami Connections students to campus. Sample activities include a trip to the art museum, a challenge course and skating at the Goggin Ice Center.
How To Get Involved
Miami Connections has immediate needs. We appreciate feedback about any special talents or ways you can contribute to our program. For example, we're looking for:
Students who can suggest free, fun, educational activities, anywhere on campus.
Students who can coordinate activities.
Funds to support Miami Connections and to help pay for transportation and extras such as visits to the rec center, ice arena, Outdoor Pursuit Center, etc.
Frequently Asked Questions
What makes Miami Connections unique? Miami Connections is unique because it is a Career and Technical Education (CTE) housed on a university campus. Few such school programs are housed on university campuses and those that do often charge tuition and/or do not provide transportation.
Who may tutor or mentor in Miami Connections? Tutoring and mentoring is open to all Miami students, regardless of major.
How do I sign up for mentoring? The mentoring class is EDP 450G (1 credit). Contact Dr. Leah Wasburn-Moses at wasburlh@miamioh.edu for further information. A criminal background check is required and a one-year commitment is preferred. However, there may be limited openings for spring semester. 
What if I miss my assigned tutoring time? If necessary, you may make up your time another day in the week (Monday, Tuesday, Thursday or Friday) at the same time.
Where can I learn more about Career and Technical Education (CTE) and/or Career-Based Intervention (CBI) programs? Miami Connections is a CBI program, which is a type of CTE program.
Learn More about Miami Connections Alternative School
Contact Miami Connections
The Miami Connections classroom is located in 030 Boyd Hall. Hours are 7:25 a.m.-2:25 p.m. Monday through Friday.
For information on mentoring and other Opportunities, contact:
Dr. Leah Wasburn-Moses
Project Manager and Professor
EDP 351
(513) 529-0409
Talawanda-Miami Partnership
Based on rigorously collaborative, mutually beneficial commitments and projects, the Partnership between Talawanda Schools and Miami University continues to thrive. Thousands of students, faculty members and community advocates from both sides work together to improve public education, enhance opportunities for college students to serve the wider educational community and to cultivate new possibilities in our work together.
The Partnership Committee, made up of members from the Talawanda and Miami communities, meets monthly throughout the school year to monitor activities within the partnership, to discuss new directions and to provide a forum for concerns. Over the years, the body has negotiated and established bylaws and works across multiple constituencies to continue the work of the partnership. 
EHS has worked to conceptualize and support the earliest iterations of an urban cohort in Tom Dutton's Over the Rhine Residency Program and in the current work being conducted by Tammy Schwartz to build a systematic connection for students interested in urban teaching into Miami's programs in teacher education and licensure. The school districts immediately partnering on the urban cohort project are Cincinnati, Hamilton, and Middletown.
The Urban Cohort is a community-based approach to teacher education. Miami faculty and Urban Cohort students collaborate with high-needs schools and community-based organizations to prepare teachers who are grounded in the life of the community.
—Miami University Director of The Urban Cohort, Tammy Schwartz
Community Partnerships
EHS works closely with area social service agencies and other institutions to offer support and programming across the region. The following entities have working affiliations with EHS:
Each year, among other projects, EHS and the Family Resource Center work with Talawanda Schools and the United Way to offer a Back to School Celebration during which all students on free and reduced lunch are offered school supplies to begin their year along with a new backpack.
EHS works each year on the Back to School Celebration and for the first time in 2009 The First Tee youth leadership program. First Tee uses the framework of the sport of golf to teach character and leadership. EHS sponsored scholarships and assisted in the planning of the weeklong program.
OCAC partners with Miami to sponsor the Sandy Hormell Book Celebration in its venue each fall and co-sponsors and delivers an After School Art program at its site for elementary students during the academic year.
Made up of the Oxford Rotary, Masons, Kiwanis and Lions Clubs, the OCSC conducts the Summer Harvest Food Drive each spring in association with Kiwanis Pancake Day. Citizens donated nearly $2,000 and food stuffs last year that were donated to the Oxford Community Choice Pantry.
EHS works with area service organizations to network services for individuals and groups throughout the Talawanda Region.
The largest benefactor of the Sandy Hormell book Celebration, The Friends organization is a longtime sponsor of and donor to youth educational activities.
Founded in 2005, the board of the affiliation works with both institutions to plan programs and to foster goodwill.
Founded in 2009, the board of the affiliation works with both institutions to plan programs and foster goodwill.
Poetter, T.S., & Eagle, J. (2009).  The Art and Science of Partnership: Catalytic Cases of School, University, and Community Renewal.  Lanham, MD: University Press of America.
Poetter, T.S., & Rotuno-Johnson, R. (2009).  Creating institutional memory for this journal: Opening calisthenics.  Education in a Democracy, 1 (October), pp. 7-14.
Poetter, T.S., & Eagle, J. (2008).  Getting down to the curriculum: Partnership interventions that impact school and university curricula.  The Journal of Scholarly Partnerships, 2(1), pp. 25-42.
Bueschel, E, & Poetter, T.  (2007).  Community engagement as catalyst for change in school-university partnerships.  Catalyst for Change, 35(1), pp.  22-25.