Master of Sport Analytics
Miami's Master of Sport Analytics program combines the academic strength of Sport Management and Business Analytics and equips you with cutting-edge analytics knowledge in both sport performance and sport business. Miami University is one of the first institutions in the country and the only university in Ohio to offer a Master of Sport Analytics and a Graduate Certificate in Sport Analytics.
Quick Degree Facts
9-12 Months
Complete the MSA Program in as little as 9 months
Rolling
Admission - Classes Start Each Semester
Designed with You In Mind
Gain cutting-edge analytics knowledge from Miami's Sport Leadership and Management Department and the Department of Information Systems and Analytics. A Graduate Certificate in Business Analytics from the Farmer School of Business is embedded in the Master's degree.
Targeted Careers
Professional teams, intercollegiate athletic departments, varsity teams, consulting firms, and corporate companies have an increasing demand for sport analytic talent. The U.S. Bureau of Labor Statistics predicts that job growth in sport analytics will grow faster than average through 2028.
Combined Program
The combined program allows highly qualified students to pursue a Bachelor's and Master's degree simultaneously. Students considering the combined option should seek advice from the MSA coordinator before the last undergraduate semester, ideally in the junior year. 
Miami students can double count up to 9 hours of coursework toward their Bachelor's and Master's degree.
A Master's degree can be completed in just two semesters (with 9 and 12 credits) after graduation with a Bachelor's degree.
A Degree That Holds Its Worth
$93k
National Average Salary for Sport Analytics Jobs
ZipRecruiter
98%
of Master's Graduates are Successfully Employed, Enrolled in Higher Education, or in a Volunteer/Service Program
Miami University Data
$62-$113k
Typical Salary Range for a Sports Data Analyst
Glassdoor.com
Curriculum

Our unique Master of Sport Analytics program provides a range of courses that allow you to develop your individualized curriculum plan.
Admissions Overview
Complete applications will be reviewed timely. Students typically will receive an admission decision within one month of submitting their application.
Application Requirements
Baccalaureate degree from an accredited institution (with a recommended 3.0-grade point average)
Undergraduate transcript
Resume/CV
Personal Statement
One letter of recommendation
Admission Prerequisites
A college-level course in introductory statistics
A college-level course (full semester) in predictive analytics

A college-level course that includes Structured Query Language and Programming (any language)

College-level mathematics in pre-calculus, matrix algebra, and calculus concepts
Prerequisites are offered online in the summer term prior to entering the MSA program through the Undergraduate Certificate in Foundations of Business Analytics. Prerequisites may be waived if you previously earned a C or better and a 3.0 GPA or higher. Prerequisites can also be taken at online educational platforms (e.g., Coursera and Udemy) with the approval of MSA faculty in advance.
1st
University in Ohio to offer a Master of Sport Analytics Degree
Sport Analytics Graduate Certificate
Interested in pursuing a career in sport analytics or adding data decision-making skills to your current career? With Miami University's Sport Analytics Graduate Certificate, you'll learn about database management, analysis, and data visualization in sport performance and sport business analytics.
Each spring semester, students have the flexibility to choose from fully online courses, in-person classes at Miami's Oxford campus, or a mix of both as their schedule demands. 
Evaluate and critique examples of structured and unstructured data to produce data sets for analytical purposes.
Exhibit an understanding of how to analyze, interpret, and make application of data analysis including descriptive, predictive, and prescriptive methods.
Effectively analyze and critically apply sport analytics knowledge and skills to address real-world sport performance and sport business issues.
Sport Leadership and Management
This program prepares students to succeed in leadership positions in the sport industry (recreational to professional, youth to adult) by providing them with knowledge and skills to critically analyze and innovatively engage in the business and culture of sport.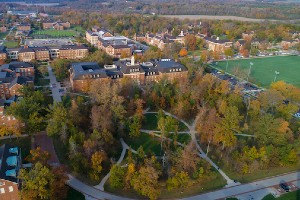 Contact Us
Director of Graduate Studies
118 Laws Hall
Miami University
Oxford, Ohio 45056
SLAMdept@MiamiOH.edu
513-529-7526
Related Links