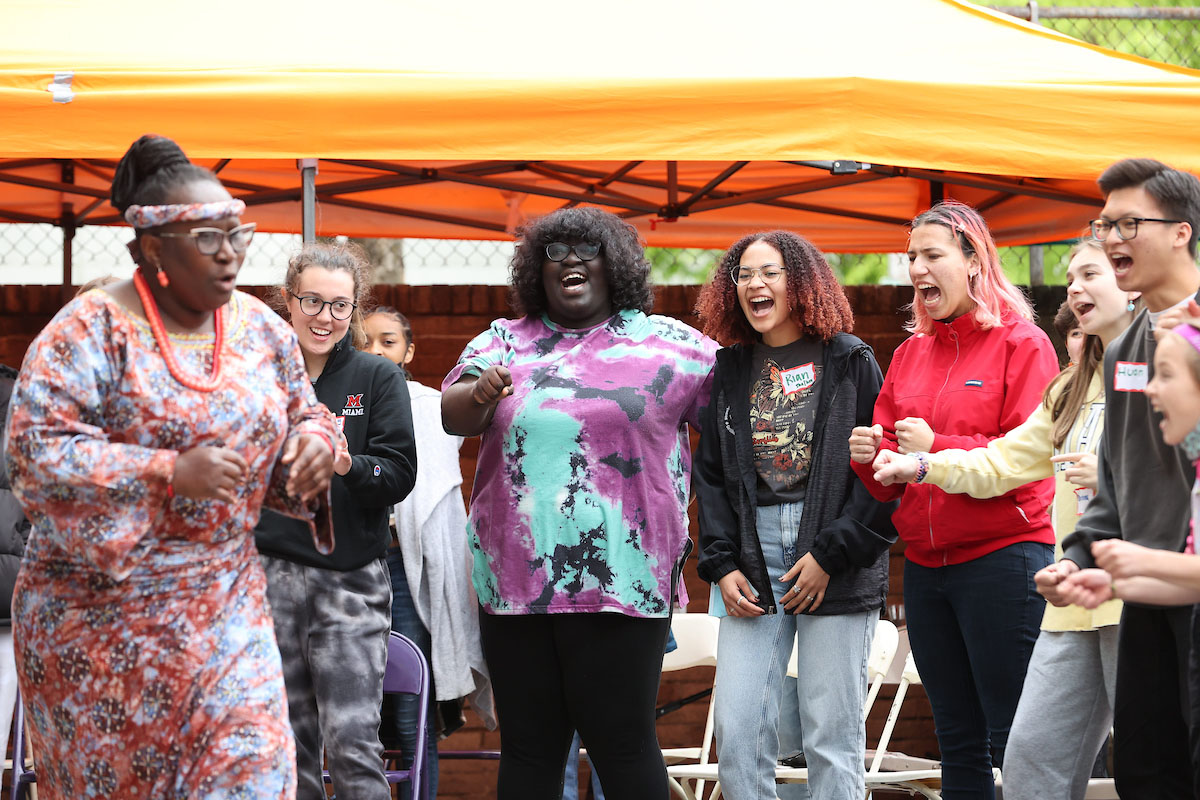 Making a difference for DEI, Together
After an insightful and disruptive community gathering in 2017 brought forward conversations about white supremacy and social justice in our work as educators, the Diversity Task Force (DTF) was formed. We are dedicated to providing continuous enrichment of the EHS teaching, learning, and culture, in addition to providing students, faculty, and staff with resources to foster diversity, equity, and inclusion. If you would like to join us, please contact Associate Dean Denise Taliaferro Baszile at taliafda@MiamiOH.edu.
Meet the Diversity Task Force
Denise Taliaferro Baszile, Chair, Educational Leadership
Callie Maddox, Sports Leadership and Management
Scott Sander, Teaching, Curriculum, and Educational Inquiry
Haley Shea, Educational Psychology
Sherrill Sellers, Family Science and Social Work
What does DEI mean to you?
Hear directly from students, faculty, and staff about the importance of DEI to Miami University.
Year of Focus: Tribal Sovereignty
Focus is a new university-wide initiative founded by the Humanities Center and co-sponsored by the Provost's Office and the Office for Institutional Diversity and Inclusion. This initiative coordinates activities across multiple groups and organizations to create a year-long exploration of an important and timely "big idea" topic from multiple disciplinary perspectives.
The 2022–2023 theme, tribal sovereignty, will focus on many aspects of sovereignty from different angles that cut across the University as well as the broader community. In the fall, FOCUS events and programs will highlight the relationship between the Miami Tribe of Oklahoma and Miami University. In the spring, we will turn our attention to the topic of sovereignty more specifically. As a part of this effort, the Myaamia Center and EHS are hosting a community of learning focused on Indigenizing the Curriculum.
Tune in to Educate 8:46
8 minutes and 46 seconds is the amount of time that officer Derek Chauvin had his knee on the neck of George Floyd. This image has forced this country and the world to reckon with how its history of anti-Black violence and racism continues to impact Black lives. While we certainly want justice and now, justice is not enough. The premise of Educate 8:46 is simple--what can we teach and learn in 8 minutes and 46 seconds that can support the struggle against white supremacy and anti-Blackness and all related inter-systemic injustices. Listen for drops of knowledge—short lessons, powerful revelations, controversial perspectives, strategies, and freedom dreams...all in 8 minutes and 46 seconds.