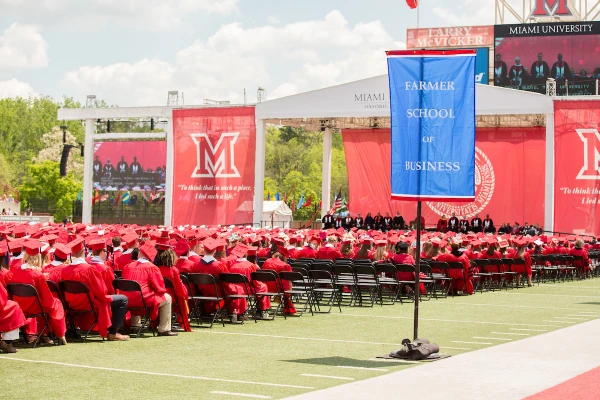 Business Honors Program
Miami University, the Farmer School of Business and the Honors College provide an environment that accomplishes two goals: It offers the structure necessary to facilitate the transition from high school to college, and it gives students the freedom to begin to explore their academic interests.
Set Yourself Apart...
Ms. Jan Taylor
Director - Business Honors Program
3103 FSB
513-529-1222
taylorje@miamioh.edu
The Farmer School of Business Honors Program is designed to complement the Honors College and includes both curricular and co-curricular experiences. Curricular experiences are incorporated throughout our four-year academic program and include required and elective courses. Co-curricular experiences follow a similar timeline and feature numerous opportunities such as participating in both the University's Undergraduate Associate Program and the University's Undergraduate Research Forum.
In addition to the curricular and co-curricular experiences, the Business Honors Program includes the following characteristics: smaller class sizes; a sense of community as your honors cohort remains together all four years; a rigorous, challenging, and demanding curriculum; a program of innovative, specialized courses; additional exposure to outside speakers; a mentorship program with faculty and upperclass students; independent research projects and special recognition at the Farmer School of Business commencement.
Business Honors students represent some of the most innovative, intelligent, and driven people I have ever met. We are not passive learners; our learning experience is defined by discussion and debate amongst each other. Above all else stands our unique friendship-a bond formed by frequent and stimulating interaction which, to this day, grows ever stronger.

Kurtis Ericson '06, Deloitte Consulting

The students in your Business Honors cohort form the foundation of your professional network. As a result of the program, you have studied with students from throughout one of the most highly ranked business schools in the country. You know these students very well and can reach out to them for advice as you begin your career.

Justine Lelchuk '06, Harvard Business School '11
Info
Farmer School of Business
800 East High Street
Suite 2053
Oxford, OH 45056