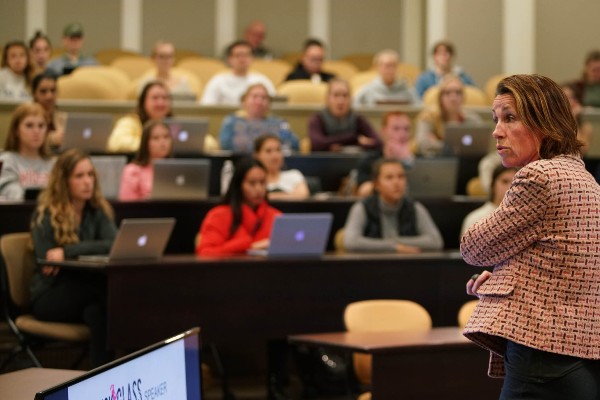 KICKGLASS CQ Leadership
The CQ LEADERSHIP program provides opportunities for "majority" students to become agents of social change through empowerment to use their voice, experiential learning within difference, and full immersion to understand the experience of minorities. The CQ LEADERSHIP PROGRAM will provide students and professionals with the opportunity to complete co-curricular credentials to develop their Cultural Leadership skills. The credentials will be designed to promote growth through CQ DRIVE, CQ KNOWLEDGE, CQ STRATEGY, and CQ ACTION. It will provide participants with programmatic development through the four CQ dimensions to performative CQ LEADERSHIP in the CQ ACTION stage. 
In each CQ stage, students will focus on self-awareness, perspective-taking, and skill-development to develop as open-minded leaders, of all identity intersectionalities, who enter the workforce with the tools to mitigate individual and structural bias and the empathy to include and unite. The credentials will develop Cultural Intelligence and Inclusion skills organized around the four CQ Dimensions to a variety of stakeholders. KICKGLASS CQ LEADERSHIP program will leverage the Farmer School of Business's decades of experience with delivering high-quality experiential learning opportunities to students and external participants. The Center for KICKGLASS Change will offer a variety of in-person and technologically-enabled remote credentials that will be available to all Miami students, faculty, and staff. They will also be extended outside the university for executive education and alumni learning.
Participants receive digital credentials which can be published on LinkedIn and social media to provide evidence of CQ development to employers, graduate schools, and customers. Each credential will consist of E-Learning and in-person workshops. Students can plan to earn all four credentials in one academic year. Each credential has a discounted fee of $199 for Miami students. 
KICKGLASS CQ Leadership Credentials
CQ DRIVE | CQ Foundations in BUS 101
Earned in BUS 101 by Farmer School of Business students
This credential will provide participants with an understanding of why cultural intelligence is important, an assessment of their current cultural intelligence, an opportunity for self-reflection, and the development of a personalized plan for CQ Growth.
CQ Assessment
: Students take the CQ Pro online self-assessment of their cultural assessment, administered by the 
Cultural Intelligence Center
,  to set a baseline for their growth at Miami University.  Each student receives a full assessment report that details their score on each of the four key dimensions and related sub-dimensions. They also see how they compare (low, moderate, high) to worldwide norms.
CQ Learning
: Students gain an understanding of the conceptualization and application of Cultural Intelligence through in-class and out-of-class learning, discussion, and application.
CQ Self-Reflection + Growth Plan

 
Students consider the takeaways of their CQ self-assessment and identify specific opportunities for personal growth. They then develop a personal CQ growth plan for their four years at Miami. Students build in curricular, co-curricular, and extra-curricular offerings that will develop CQ
Format

 

| Two hours of E-learning plus two 90-minute in-person workshops

Fee

 |  $199
---
KICKGLASS Dialogues Across Difference
The Center for KICKGLASS CHANGE will offer its first skills credential for Farmer School of Business students to continue to develop their Cultural Intelligence.
KICKGLASS DIALOGUES ACROSS DIFFERENCE is a 6-week workshop that is facilitated by the Center for American and World Cultures. Students will learn how to dialogue about gender and race, learn how to listen, and, hopefully, develop empathy for members of perceived "out-groups." Your trained co-facilitators are Miami students and Farmer School of Business students who capture the diversity among our students. 
This intergroup dialogue (IGD) program is designed specifically for Farmer School of Business students and is intended to support each student's personal development and professional readiness while advancing Inclusive Excellence on Miami's campuses. 
KICKGLASS DIALOGUES ACROSS DIFFERENCE engages peer cohorts of students in Intergroup Dialogues theory and praxis so that, through semi-structured and facilitated dialogue through the four IGD stages, participants can speak more honestly and seriously, seek understanding, and explore challenging issues without devolving into debate. 
KickGlass Timing 
Beginning the Monday after Spring Break, the KICKGLASS DIALOGUES ACROSS DIFFERENCE credential will be offered on six consecutive Mondays from 10:05 AM to 11:55 AM on these dates: March 28, April 4, April 11, April 18, April 25, May 2. 
KickGlass Skills Badges
Students will earn verified skills credentials at no cost through the Farmer School of Business' newly-established Center for KICKGLASS CHANGE.  These will be issued digitally from Badgr and can be added to your LinkedIN profile, social media, and your resume. 
No Cost with KickGlass Scholarships
These micro-credentials will be made available in the Spring semester to all Miami students and as Executive Education offerings for a $199 fee. Each student selected to participate in KICKGLASS DIALOGUES ACROSS DIFFERENCE this semester will receive a $199 scholarship from the Center for KickGlass Change to cover the registration fee for the credential.
KickGlass Growth
KICKGLASS DIALOGUES ACROSS DIFFERENCE is not a one-and-done encounter. Instead, participants continue in a dialogue cohort meeting regularly over seven weekly meetings, building trust, respect, and accountability. In the process, participants explore their own cultural values, biases, assumptions, and their impacts on others, while cultivating cognitive empathy, honing skills in intercultural communication and collaboration, and building confidence to lead others in doing likewise. Students who have completed this immersive experience report positive changes in communicating with people from other groups, confidence levels of taking self- and other-directed actions, confidence levels of intergroup collaboration, anticipated post-college involvement in redressing inequalities, involvement in social justice activities at Miami, and skills in dealing with conflict.
---
In a recent job interview I was asked about the entry on my resume for the 'KickGlass Dialogues Across Difference' program I had completed at Miami. When I described the intergroup dialogue skills I had gained from the program the employer's representative completely lit up. For most of the rest of the interview we talked about the importance of these skills on the job, and in life. I got the job!

Graduate Who Completed KICKGLASS Dialogues Across Difference as part of the KickGlass Marketing for Change Senior Capstone
Miami University Intergroup Dialogue Initiative
Participants will build on the CQ FOUNDATIONS credential to deep dive into the the four dimensions of Cultural Intelligence and begin to apply the CQ Framework to adapt to difference. 
The process of developing the Cultural Intelligence that will enable us to go out and thrive in different cultures starts by looking at ourselves.
Participants will identify their cultural values and understand how they relate to other cultural groups and individuals. Cultural Values are personal preferences that remain relatively stable over time. An understanding of one's preferences and learning about the typical preferences of others can help anticipate possible similarities and differences in the ways people approach life and work. Cultural Values can differ among individuals with similar cultural backgrounds and also between two individuals from different cultural backgrounds. Participants will gain an understanding of their own preferences in this area and compare them with typical norms for other groups to develop insights that can help understand other people's actions and improve interpersonal effectiveness.
Participants be introduced to the concepts of Cultural 'Core' and Cultural 'Flex'. Both help to define us as leaders, although they are quite different. Participants will identify their own Core and Flex based on their cultural values and their own cultural identity. They will learn how to work with conflict and intersectionalities when interacting with others. 
Finally, participants will explore the concept of cultural identity and consider how it relates to an individual's cultural power and/or cultural penalty. These concepts will be related to cultural well-being and the systemic cultural bias present in common organizational practices, processes, and policies. Research-based practices are embedded throughout. 
Format | Two hours of E-learning plus two 90-minute in-person workshops
Fee |  $199 - KICKGLASS SCHOLARSHIPS AVAILABLE
KICKGLASS CQ Leadership Scholarships
KICKGLASS CQ Leadership Scholarships are available for students with financial need and for under-represented talent. Under-represented talent in Leadership includes students of color, LGBTQ+ students, and female students in economics and finance.
For more information contact: Dr. Gillian Oakenfull, Director of the Center for KickGlass Change, oakenfg@MiamiOH.edu.
Center for KICKGLASS Change
800 East High Street
Suite 3038
Oxford, OH 45056