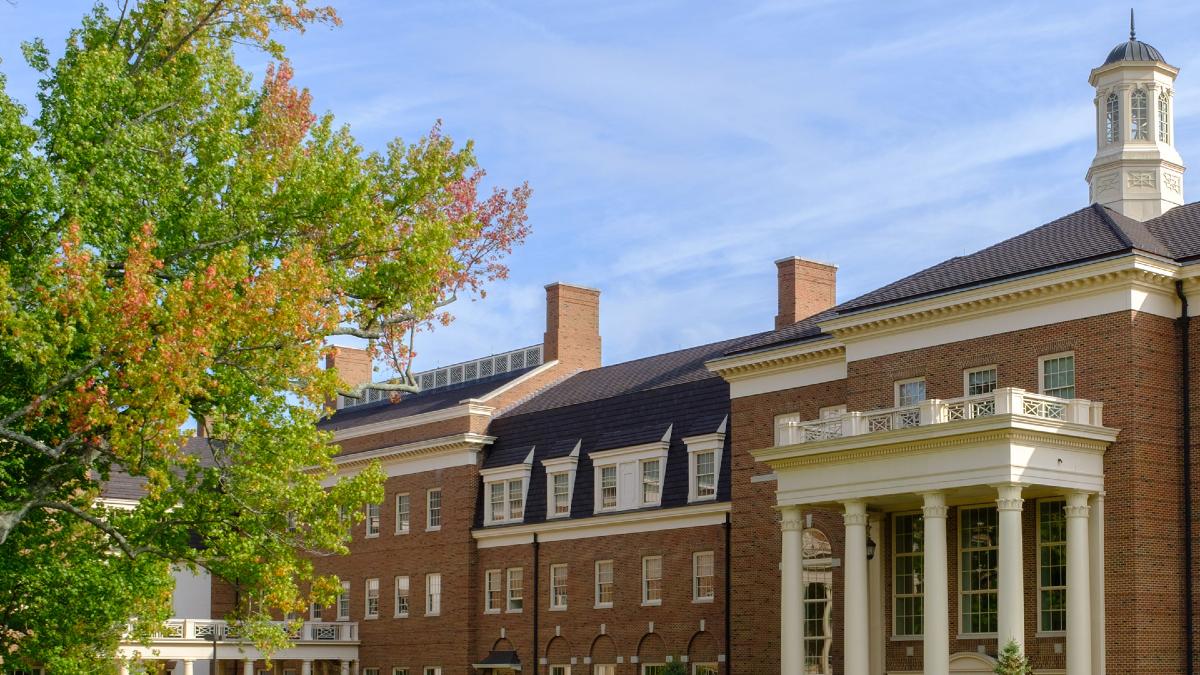 Whether you come from a qualitative economics program and are looking to "level up," or have graduated a few years ago and want to plug back in, the Miami University Master of Economics program will help you prepare for what's next.
Quick Degree Facts
12 Months
Program Duration
Feb. 1
Priority Consideration for Financial Assistance
June 1
Application Deadline
Top 3
Master of Economics Among Schools without Doctoral Programs
Innovation and Real World Application
Our program provides intensive, technical training in economics.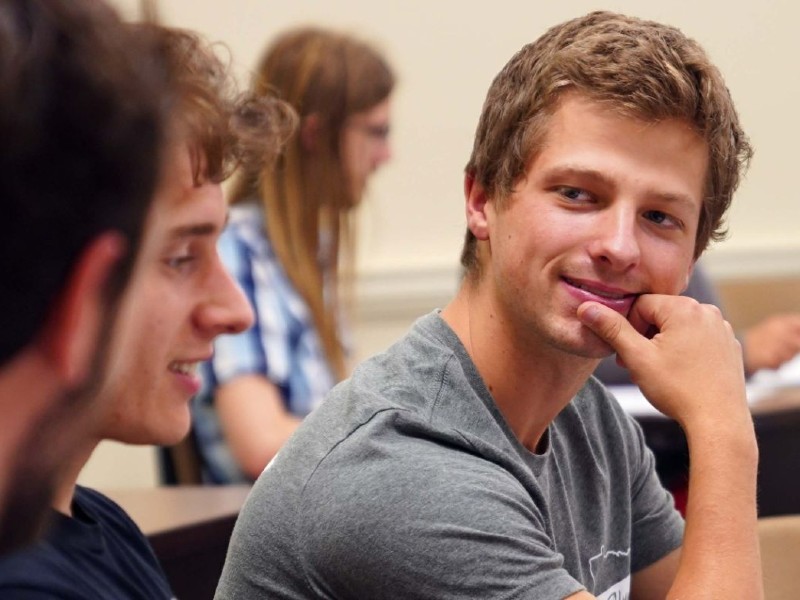 Focused on innovation and real-world application, after completing the program, you will be prepared to, frame and answer questions from unstructured situations, excel in economics or policy Ph.D. programs, and achieve success in quantitative tracks such as finance, analytics, and government.
In my role as a Data Scientist, I am constantly working with internal and external stakeholders across industries and the world. It's my responsibility to provide our clients with rigorous analysis that moves their business forward but also adheres to the rules of ever changing business environments.

Nathan Klyn, 2014

Oracle

First as a Research Assistant, and now as a Ph.D. student, I analyze large data sets to inform academic research and policy questions. Through the M.A. program, I learned how to analyze existing literature to look for contributions, think critically about methods and assumptions, and work with data to gain insight into economic questions. Writing a thesis sparked my passion for academic research, the challenging coursework gave me a strong foundation for graduate school, and the faculty mentorship helped me choose the optimal next step.

Becca Jorgenson, 2015

Board of Governors, UPenn Wharton

In my role with Worldpay, I have been responsible for the global integration of three lines of business into one following an $11B merger of rival payments companies. The integration work was fraught with challenges and yet fascinating and rewarding as we solved numerous complex problems to design a global sales process that accommodates a variety of unique requirements.

Charlotte Smith, 2016

Wordplay

In my profession I help large multinational companies navigate complex international tax laws that are everchanging. Daily I assist with a wide variety of projects such as audit defenses, tax planning, compliance and operational finance. There is no doubt that a large degree of my success comes from the preparation I received from Miami's rigorous M.A. program in Economics. The program teaches you how critically think quantitatively, a valuable skill for multiple career paths.

Sylviano Valdez, 2015

EY

Participating in the M.A. program at Miami uniquely prepared me for my current role as an analyst at the Federal Reserve's Board of Governors. Every day, I rely on my understanding of economic concepts, critical thinking, and technical skills to help provide answers to some of the most relevant research and policy questions. I wouldn't be able to succeed in this exciting work had it not been for skills I gained and connections I made as an M.A. student in Miami's Econ program.

Samuel Jerow, 2018

Board of Governors

I think the M.A. program at Miami gives you a really thorough and well-rounded foundation in graduate-level economics to pursue whatever you want to afterwards, whether it be a data-driven private sector career or a Ph.D. The 1st semester provides a great theoretical training, while the 2nd semester balances the 1st with a more applied focus, which gives you the best of both worlds. And in doing an exit paper at the end, you also get a taste of what it's like to do your own research and to go through a dissertation-like process.

Marc Punkay, 2012

Rand Corporation, UChicago Urban Labs
Admission and Financial Assistance
Application Requirements
Applicants should have completed, with a grade of C or better:

Intermediate-level courses in microeconomic and macroeconomic theory
At least one course in calculus
At least one course in statistics
Additional mathematics courses are strongly recommended

3.0 overall GPA
GRE General Test scores (GMAT scores accepted in extraordinary circumstances)
TOEFL score of 90 or higher (International Students)
3 letters of recommendation
Personal statement
Resume
Financial Assistance
Financial Assistance is awarded on a competitive basis.
Domestic and International Students: applications must be complete and submitted (including GRE/TOEFL) by February 1 for full consideration of financial aid.

The department awards two types of financial assistance:
Partial tuition waivers (scholarships)
Graduate assistantships that require the student to do part-time work (between 5-20 hours per week)
Diverse domestic students may qualify for aid through the Diversity Enhancement Pathway.

In addition to these awards, the university funds several loan programs for graduate students. Qualified students may obtain federally guaranteed student loans and participate in the federal College Work-Study Program. Small short-term loans, supported by funds donated by alumni, faculty, and friends of the university, are also available.
Program Overview and FAQ
This program prepares students for careers as professional economists, equipped to serve academia, government, and the business world. Accordingly, this program provides a background in economics that can serve as a terminal degree or preparation for further graduate study. Emphasis is on theoretical and statistical techniques used in the investigation of empirical problems.
Fall Semester
Spring Semester
Students can petition the graduate director to replace ECO 515/517 with advanced electives from ECO, ISA (Information Systems and Analytics), MTH, STAT, or FIN
Summer Semester
During the summer, students have two options:
Apply to write a thesis, or
Work in teams to complete a project supervised by a faculty member.
Students who write a thesis work closely with a professor who guides the project, helping the student gain in-depth knowledge about the chosen subject and experience in carrying out a research project using the tools of modern economic theory and econometrics.
Our faculty has research interests in many areas, and publish in leading journals such as the American Economic Review, the Review of Economics and Statistics, the Journal of Economic Behavior and Organization, Economic Theory, the Southern Economic Journal, the Journal of Economic History, Public Choice, the Journal of Money, Credit and Banking, and the International Journal of Money and Finance.
If you are interested in learning more, please browse this site for more information and application details. If you have any questions or would like to schedule a campus visit, please request information or contact us.
How many students apply? How large is the program?
The number of applications varies year to year, but we try to limit our class size to around 20 students total between the 3+1 and traditional programs.
Do applicants need recommendations?
Current Miami undergrads will need to obtain a FERPA release from the Economics department and fill it out in lieu of the letters, so the graduate director can talk to your economics professors. 
When can students start applying? When are applications due?
You may start applying to the program in the first week of September. For priority consideration, complete applications need to be in by February 1st. We still consider applications until Jun. 1.  For applications to be fully considered, they need to be complete (including test scores).
When are admission decisions made?
For applications that are complete by Feb. 1, decisions will try to be made by Feb. 15. This is a soft date whereas it could vary depending on the number of applicants. You will be notified separately of financial assistance.
What financial assistance is available?
We offer financial assistance in the form of partial and full tuition waivers, and graduate assistantships on a competitive basis.
Do I need to apply separately for a graduate assistantship?
No, everyone is considered for a graduate assistantship when they apply.
If admitted, how many are awarded assistantships?
The graduate committee considers all information in the application when making financial award decisions. Awards are made on a merit basis, with the most highly qualified students receiving awards first. On average, only about half of our students receive financial aid. Some students receive only partial waivers of tuition; others receive tuition waivers and stipends that require work within the department.
Do students need to take the GRE or GMAT? Is there a minimum score for any of the exams
Typically, all students need to take the GRE. In exceptional circumstances, the program will consider GMAT scores in place of GRE scores.  There is no minimum score for the program in regards to the GRE/GMAT. The program requires international applicants to provide a score of at least 90 on the TOEFL.
Does the program only begin in the fall?
We are a cohort-based, full-time program, so we don't allow students to start in the spring
Can work experience substitute for any classes?
In general, no, but individuals with specific requests should contact the graduate director.
Can this be a part-time program that is done in more than one year?
It is very difficult to complete the program as a part-time student due to course sequencing. It could be done, but would require more than 2 years to complete.
Can a student apply to the program before taking the GRE and/or TOEFL?
You may apply before you have taken these exams, however, your application is not considered complete until we have your test score(s).
How many credit hours will be taken each semester?
Typically, a student will take 13 credit hours in the fall, 12 credit hours in the spring, and will take 6 credit hours during the summer. The summer will be done in either an individual thesis option or a group project option.
Economics

Economics provides a unified framework to think about choices, their consequences and the ability of policy makers to change outcomes. Although our major provides specific skills in certain areas, such as econometrics, the key piece of intellectual capital acquired by our majors is a well-honed skill for critical thinking, especially with regard to problems that involve data and quantitative methods.

Meet the Faculty