'This was a really, really wonderful experience:' Startup Weekend 2022 brings ideas to life
It was a big weekend for big ideas to take shape at the Farmer School of Business.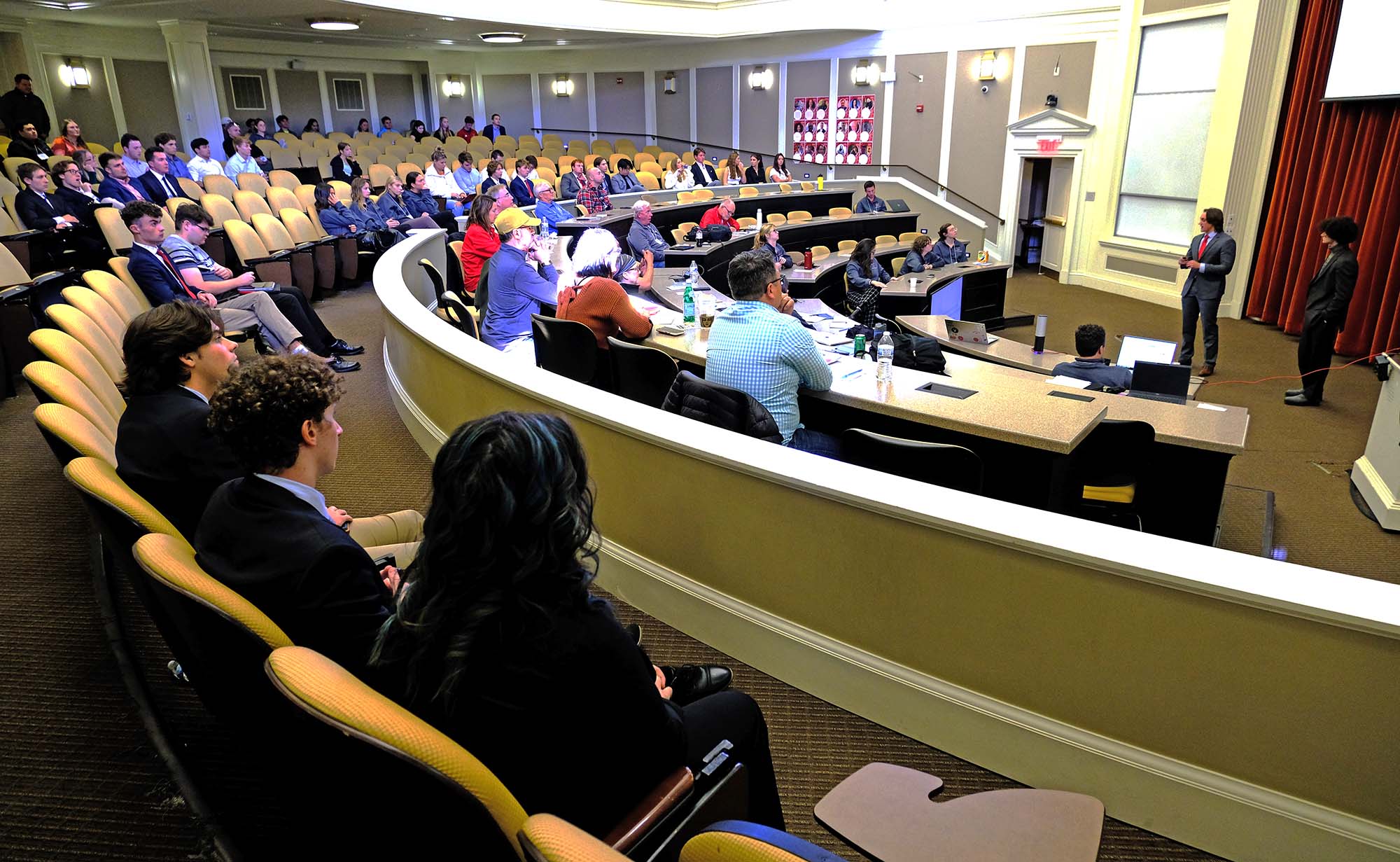 'This was a really, really wonderful experience:' Startup Weekend 2022 brings ideas to life
A portable shower head to warm residence hall water more quickly. A subscription service to deliver groceries to residence halls. A peer-to-peer internship matching service. A toothpaste made partially from eggshells. These were a few of the ideas pitched at the 2022 Miami University Techstars Startup Weekend on Friday evening, and two of them made the finals.
"Startup Weekend is a three-day event where students come together and work in teams to create startups that solve real-world business problems. They have the opportunity during the weekend to interact with subject matter experts, mentors, other founders, investors, and others from the entrepreneurial system here in Cincinnati and across the nation," John W. Altman Institute for Entrepreneurship director Tim Holcomb explained. "We believe that the best way for students to learn is by doing, and Startup Weekend is one of a number of co-curricular events that we sponsor through the Altman Institute that provides students the opportunity to get their hands dirty and to apply what they've learned in the classroom."
More than 100 students formed 16 teams on Friday that worked through the weekend to come up with an idea, validate that idea with potential customers, build a business plan, and present it to judges on Sunday morning.
"It definitely challenges you. Its 48 hours of constant critical thinking, ideating, and working with others," student organizer MariClaire Warnock said. "You learn a lot about yourself when you're kind of trapped in a room for a little bit."
New Mexico State University chair of entrepreneurship Beto Pallares came to be one of the 50+ mentors who worked with the students. "Most businesses in real life never go through this process. They go through the process of, 'Shoot, now I have to like do this and do that and do that, and now I have to make money.' And most businesses fail within three years," he said. "So what you're doing here is you're allowing students to be in the pressure cooker in a way that they walk out of this on Sunday afternoon feeling like they could tackle the world because they've been prepared. And ideally, they'll go through several of these iterations to build muscle and comfort around the uncertainty of launching businesses."
The 16 teams were narrowed to four finalists on Sunday morning, who presented to the full panel of judges on Sunday afternoon:
First place and $2,500 went to Seen-It, an app for helping viewers determine what to watch on streaming services (Finnley Brakke, Josef Arnold, Keshon Woods, Siddhant Karki, and Hayoung Cho)
Second place and $1,500 went to Sip Safer, a drink straw that can detect if date rape drugs are places in the drink (Caroline Bowman, Anna Gioia, Ashley Underwood, and Robert Wright)
Third place and $500 went to Ntrn, a service to help match business fraternities and businesses looking for short-term help from students. (Maggie Bowland, Hayden Erwin, Joey Schneider, Mason Stahl, and Kyle Neckar)
Fourth place and $500 went to Vite, the previously-mentioned eggshell toothpaste. (Jack Goudie, Ronnie Romanini, Nick Mittler, Megan Sparks, and Alex Pauer)
Vite also won the People's Choice award, voted on by the student participants, and Brakke was named the Startup Star by the mentors.
Cofounders of all four finalists will also receive a one year membership to COhatch to continue work on their startups.
"It was my first time ever doing this. I'm a College of Arts and Science major so I was really nervous coming into Farmer, but everybody was so supportive and I'm really, really happy with the result," Brakke said.
"I loved it. It was a great experience. I learned a lot. It taught me a lot about perseverance.  It taught me a lot about processes. I got to work with a lot of great mentors. I made great friends and my team was wonderful," Woods said.
"I didn't get a lot of sleep, but it's been so much fun. I think we are really excited about our idea and we want to see if we can develop it in the next few months," Bowland said. "This was a really, really wonderful experience."
"These undergraduates join more than 1,000 Miami undergraduate student-founders that have participated the previous 14 startup weekend events, each of whom are reaching for the success that so many of our recent graduates who started companies while students on campus have achieved, including:
Michael Markesbery and Rithvik Venna, cofounders of OROS
Tsavo Knott and Mack Myers, cofounders of Pieces.app
Austin Mace, cofounder of Subvrsive
Cristion Brown, founder of Hypernova Technologies
Blake Faulkner and Mason Williams, cofounders of Bloxsmith
Emil Barr, founder of Step Up Social
Natalie Brinkman, Abby Grone, Nicholas Nocevski, Aleia Nagle, Jamie Nguyen, and Hannah Schweitzer, cofounders of PIPS Snacks
Christie Currie, founder of Zandaland
Kamilah Dotson, founder of KCD Cosmetics
Ben Corwin, founder of Obscure Euro Parts
Sophia Blasi, founder of Urban Luxe
Emily Coyne, founder of emilyOandBows
Andre Farinazo Jr, cofounder of Virra
"Miami University is quickly developing a reputation for student-founded high-growth startups," Holcomb said.
Mentor and 2016 graduate Sarah Chapman told the students, "Entrepreneurship is a mindset. The world today needs creative thinkers, critical thinkers, and problem solvers. That's what you all did today. Take these skills with you, solve problems, be confident. You are going to do fine, and I'm just really excited to see what you do next."