FSB entrepreneurship department honored with Miami University President's Medal
For the first time, an entire department at Miami University received the President's Medal.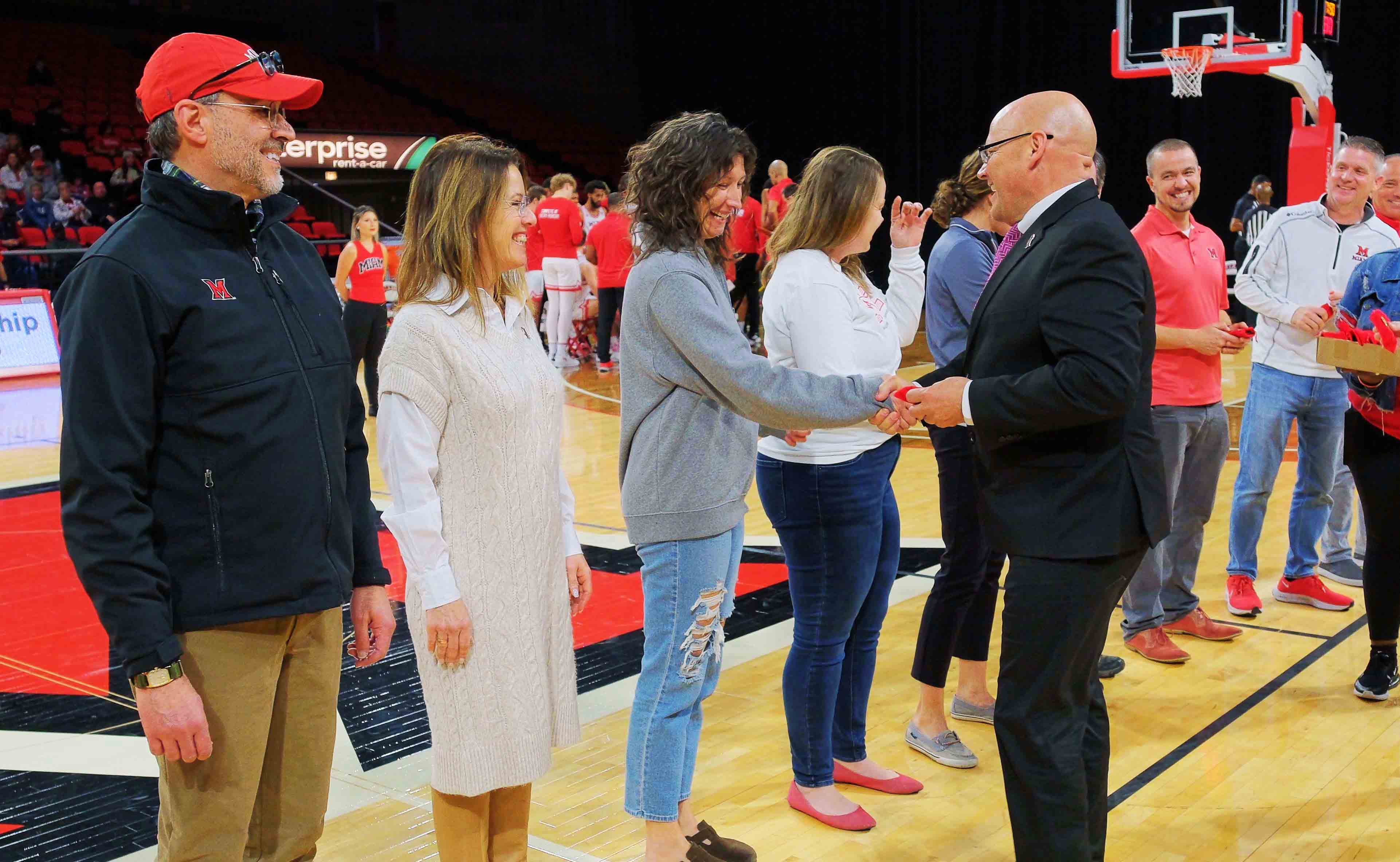 FSB entrepreneurship department honored with Miami University President's Medal
It wasn't the normal timeout entertainment when a group of Farmer School entrepreneurship faculty and staff came on the court at the Miami-Jackson State men's basketball game last week.
Miami University President Gregory Crawford took the opportunity to recognize the Farmer School of Business Department of Entrepreneurship and the John W. Altman Institute for Entrepreneurship faculty and staff with the President's Medal for "dedicated, sustained, and student-focused efforts."
"Our faculty are driven not only by a desire to prepare undergraduates to be productive members of the business and entrepreneurial workforce, but also by the desire to unleash their entrepreneurial mindsets, ignite their imaginations about what is possible, and motivate them to innovate, create value, and elevate their impact on society," department chair and Institute director Tim Holcomb said.
The President's Medal is reserved for individuals who have made significant contributions to Miami University or those who exemplify the university motto through their extraordinary service to their community.
For the fifteenth consecutive year, the Department of Entrepreneurship's undergraduate entrepreneurship program is ranked among the Top 10 public schools in The Princeton Review and Entrepreneur Magazine's 2023 ranking of "Top 50 Best Undergrad Programs for Entrepreneurs." In addition, the Farmer School's entrepreneurship program is also ranked among the Top 10 programs in the world at No. 9 overall, its highest ranking ever.
The Department of Entrepreneurship is the first department at Miami to be awarded the medal.
"Rankings aside, our faculty believe the best measure of a program's impact is the success its graduates' experience, whether that be success in launching and scaling a high growth company or success in bringing an entrepreneurial mindset to solve tough problems in corporate and not-for-profit settings," Holcomb said.
The medal is a replica of the medallion worn by Miami University presidents during inaugurations and at other moments of ceremony. It represents the seal of Miami as approved by the Miami University Board of Trustees on Sept. 26, 1826.