Sculptor brings studio to FSB as he works on Dick and Joyce Farmer sculpture project
Michael Tizzano MA '86 took his studio on the road to the Farmer School.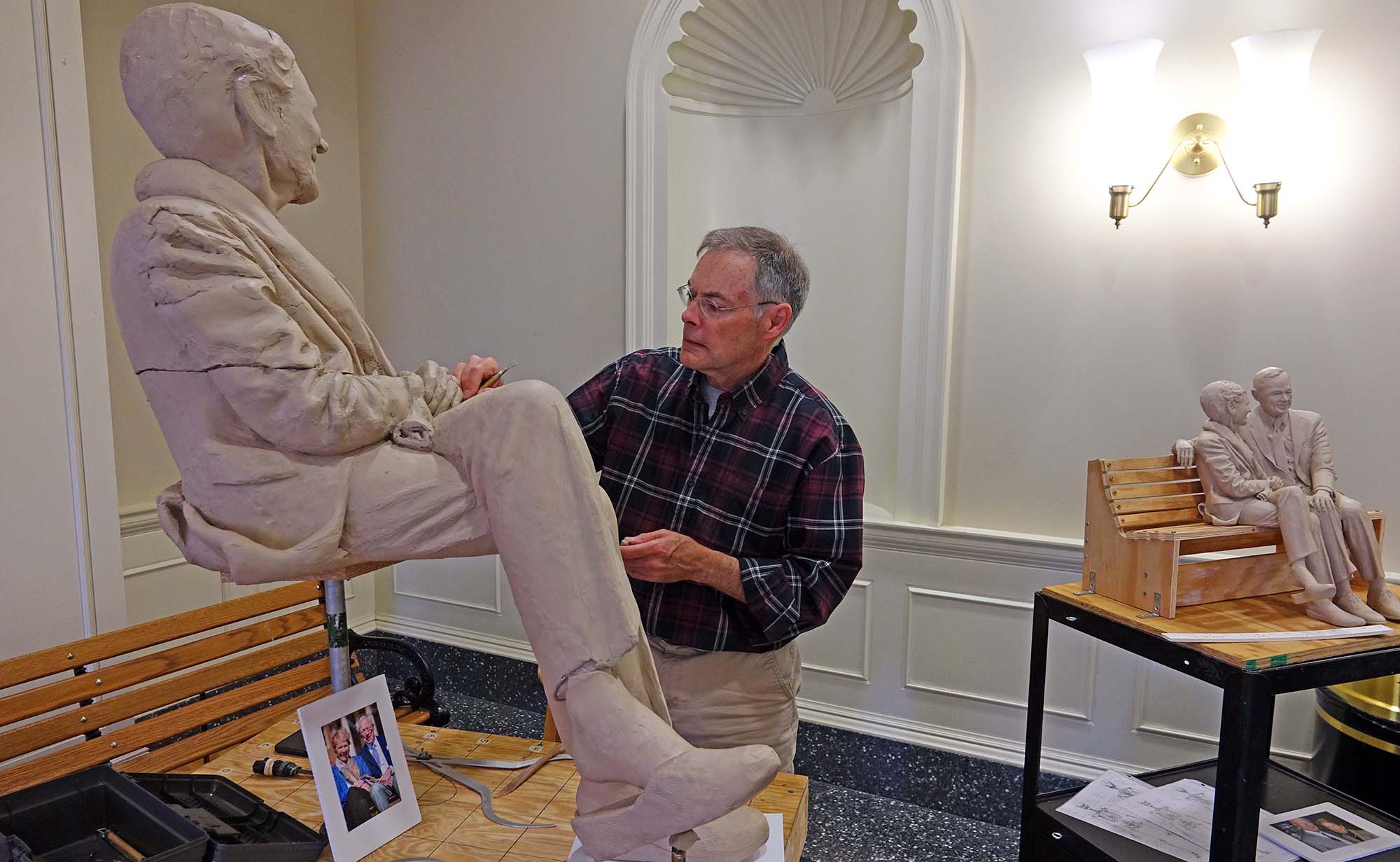 Sculptor brings studio to FSB as he works on Dick and Joyce Farmer sculpture project
When you talk to Michael Tizzano, you'll discover quickly that he's been doing art for quite a while. "I tell people I've been a serious artist since I was six. I used to dig clay out of my yard and make things. I also spent many years drawing and making things out of cereal boxes," he said. It was just this obsession -- I didn't know any better just to create every day."
Tizzano made a career out of art, getting a master's degree in Art Education at Miami before embarking on a 30-year career as a middle school art teacher and then in graphic design. But it wasn't long into his career before he realized that sculpting had become a passion.
"A friend of mine who's a professor at Capital University in Columbus asked me to assist him in teaching a life sculpture class. And I got hooked," Tizzano said. "So I just started doing these sculptures. One of the first ones I did was for our kids' elementary school library."
He said that between his friends, word-of-mouth, and media coverage of his work, he's never had to advertise to keep busy. Those friends came looking for him when the Farmer School of Business wanted to create a sculpture park featuring Dick and Joyce Farmer at the school that bears its name. "A few people that knew me already, they contacted me and, and asked me to do the sculpture. They sent me one photo of them sitting on the bench and said, 'Can you do this?' I said, 'Sure," he recalled.
He's about 175 hours into what he estimates will take about 420 hours of work to complete. Making a life-size sculpture from a photograph isn't terribly easy, either. 'I found two friends who actually matched the dimensions of Dick and Joyce pretty closely, and I was able to measure them and photograph both of them sitting on a bench," Tizzano said. "I created a one-third scale maquette using an oil and wax based clay, and from there, I've been enlarging the sculpture the way they did in the Renaissance with a grid up method where you have a base with a grid and it corresponds to whatever scale you're doing."
"We did 3D scanning of the models with a company in Dayton. And then another company in Dayton did 3D milling of styrofoam and created the figures in sections," he said. "I came up with a method of rolling out clay that's about a quarter inch thick, warmed it up, and would apply it to the figures. So what I'm doing now is adding and taking away clay to get it to match the likeness."
Tizzano brought his work-in-progress from his Worthington, Ohio studio to the Farmer School's Forsythe Commons so students, faculty, and staff could watch the process and ask questions. Once he's done, the process of turning styrofoam and wax into bronze will begin, with completion and installation expected later this year.
"If I had my choice, I would (sculpt) every single day, every waking hour," he said. "I've read a lot about the Farmers, the love the two of them had, their generosity, and the family. I've just been so enamored with them that it's been really, really enjoyable working on this. I feel close to them."