Tackling tough Terillium task trains timely talent
Tackling tough Terillium task trains timely talent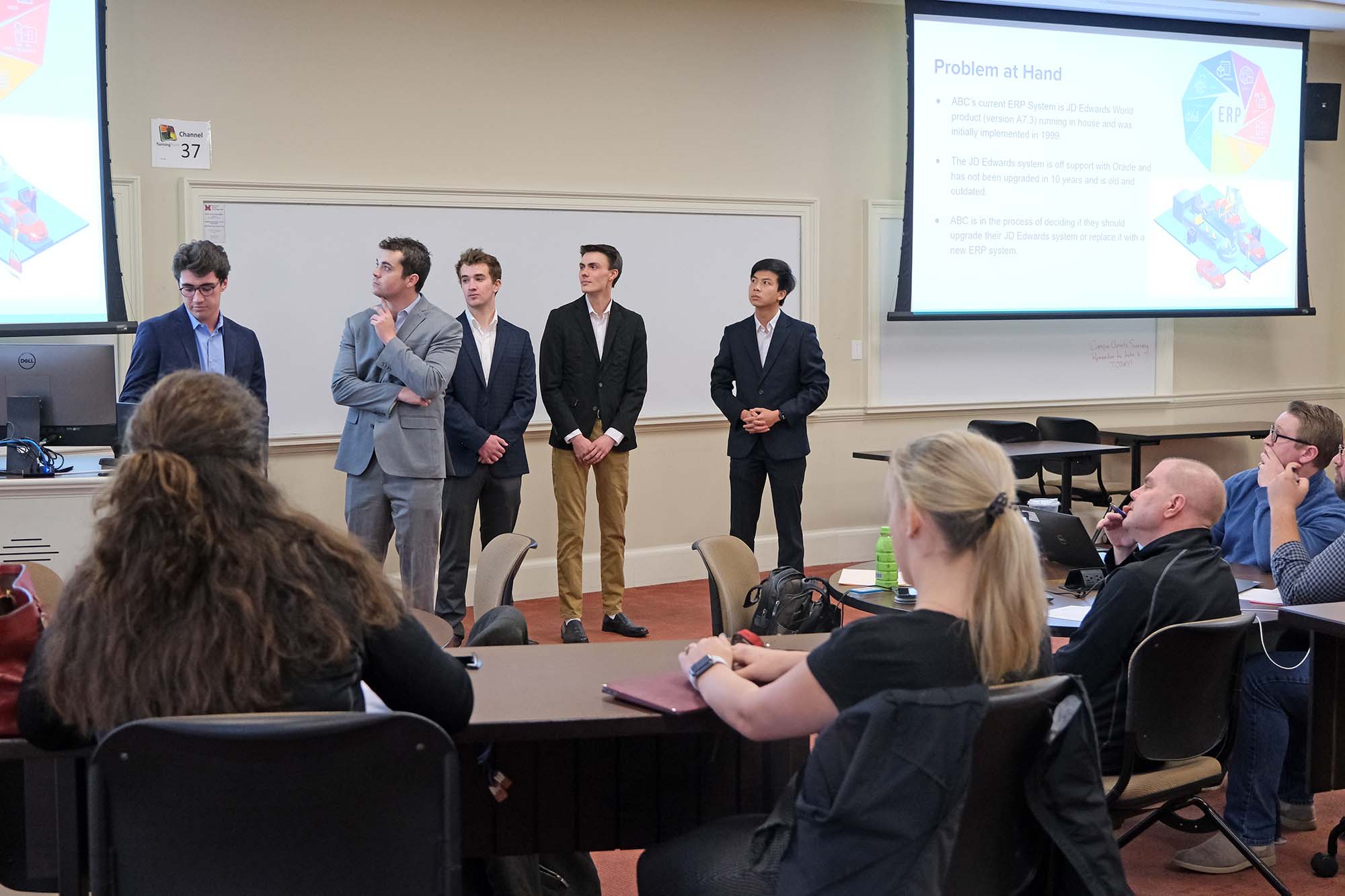 It's not easy being a consultant.
It's not easy being a consultant on a tight deadline.
And it's really not easy being a consultant on a tight deadline when you also have classes, homework, and outside obligations to take care of while doing the project.
But a quartet of Farmer School student teams took on a consulting case challenge put on by Terillium, one of the founding partners of the Center for Supply Chain Excellence at the Farmer School of Business. Their job? Decide the best path for a mid-sized automotive parts company's enterprise resource planning system – replace, upgrade, or a combination of the two?
"I want them to get a flavor of what consulting's about, get a flavor of what we do as an ERP consulting company, because we recruit so heavily here at Miami in the supply chain program," Terillium president Dave Woodworth said. "We just want to keep our name out there, meet and greet with a lot of great students and hopefully recruit them in the future."
The teams had less than two weeks to look over the problem Terillium presented and determine a solution. "It was really good to get my feet wet in case competitions and present with a team that I did not know very well," sophomore supply chain and operations management major Marissa Marquardt said. "The relationship that we've built with Terillium has been really awesome."
"I feel like it's really great for all of us to learn how consulting goes and how to present a good business idea to a company and solve an issue. It could be an experience for all of us later on in our career," junior marketing major Nick Daly said. "Even if you do everything right, you're not always going to get the right answer, but that's part of learning, and when you fail is when you learn the most."
The teams' options for a solution only contained one "wrong" answer – but the team that chose that option used some solid outside-the-box thinking to justify it, Woodworth noted.
"We were very impressed overall with all of the teams this year. They were very well balanced, and it was hard to pick a winner. Everybody brought something different to the table and I think professionally, they did an outstanding job," he said.