Pi Sigma Epsilon business fraternity takes top spot at Nationals again
PSE continued their winning ways at Nationals last weekend.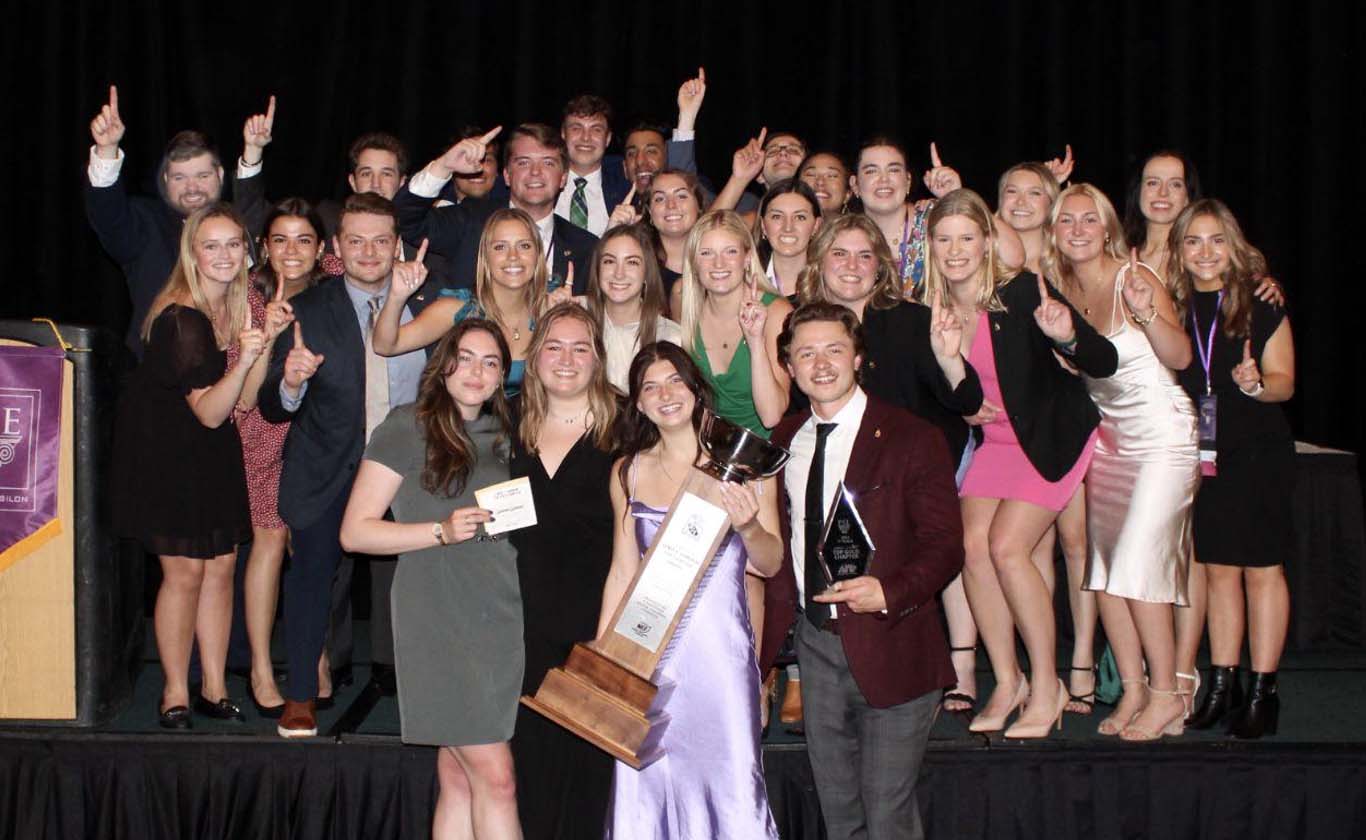 Pi Sigma Epsilon business fraternity takes top spot at Nationals again
It was another successful trip to Nationals for the Farmer School's chapter of Pi Sigma Epsilon this year. The sales and marketing co-ed business fraternity won the national award for top chapter, and placed first or second in 10 competition categories.
The Lewis F. Gordon Top Chapter win was the 17th in the last 25 years, and the fifth in the last six years for the chapter.
More than 2,500 students from 57 university chapters across the nation are eligible to compete in the preliminary competitions, which take place during the four weeks before the national convention and at the convention itself. The categories in which the Gamma Gamma chapter excelled included social media, recruitment, marketing/sales, professional development, new member development, project manager, project manager, and top management team.
"It was very encouraging to see the amount of time and effort and the willingness to take on projects and plan and execute events," faculty advisor Pat Lindsay said. "Board members, other faculty advisors and students from other universities told me how impressed they were with the collegiality and the support that the Miami chapter was giving to so many other chapters."
Team leads or individual performers who won awards were seniors Danielle Barnes, Dhruv Dhawan, and Grant Baxla. Additionally, senior Maggie Powers was a finalist in the ProAm sales competition and earned second place for top Sales Leader.
The Top Gold Level Chapter and Top Management winning team was led by outgoing president Danielle Barnes, Kate Buckley, Sarah Holman, and Nathan Denny.
Charlotte Thaler and Trevor Minyo earned scholarships totaling $2,500.
"The Gamma Gamma Chapter prides itself on investing in its members to build a community that accomplishes major successes. As a Chapter, we've worked incredibly hard to win the award for the Top Chapter of Pi Sigma Epsilon in the nation and maintain 26 years of sustained excellence," Barnes said. "As President, this is the highest honor possible and I have been on cloud nine ever since. Throughout my entire time as President, I put everything I had into PSE in order to bring the Lew home and it couldn't have been done without my Top Gold Chapter team, leadership board, advisors, and amazing Chapter members. This was the highlight of my college career!"
"I'm incredibly proud that the Gamma Gamma chapter won the Lewis F. Gordon Top Gold Chapter competition. Receiving the highest chapter honor PSE has to bestow is a testament to the tradition of excellence the leadership team inspires among the members. Moreover, it acknowledges the hard work of the leadership team in creating a chapter that provides value to our members," Minyo said.
"From my first semester in PSE, I knew I'd truly joined a brotherhood--I'm fortunate to call my best friends my brothers as well. The PSE community constantly challenges me to achieve excellence. Experiencing that dedication to supporting others led me to run for president. PSE has a phenomenal leadership team, working together to continue growing the organization and provide impactful experiences. That's no easy feat, but I love giving back to an organization that has given me so much," he said.