FSB alum Dan Marous gives students career, networking advice
Dan Marous says that networking is one of the most important things someone can do in their career.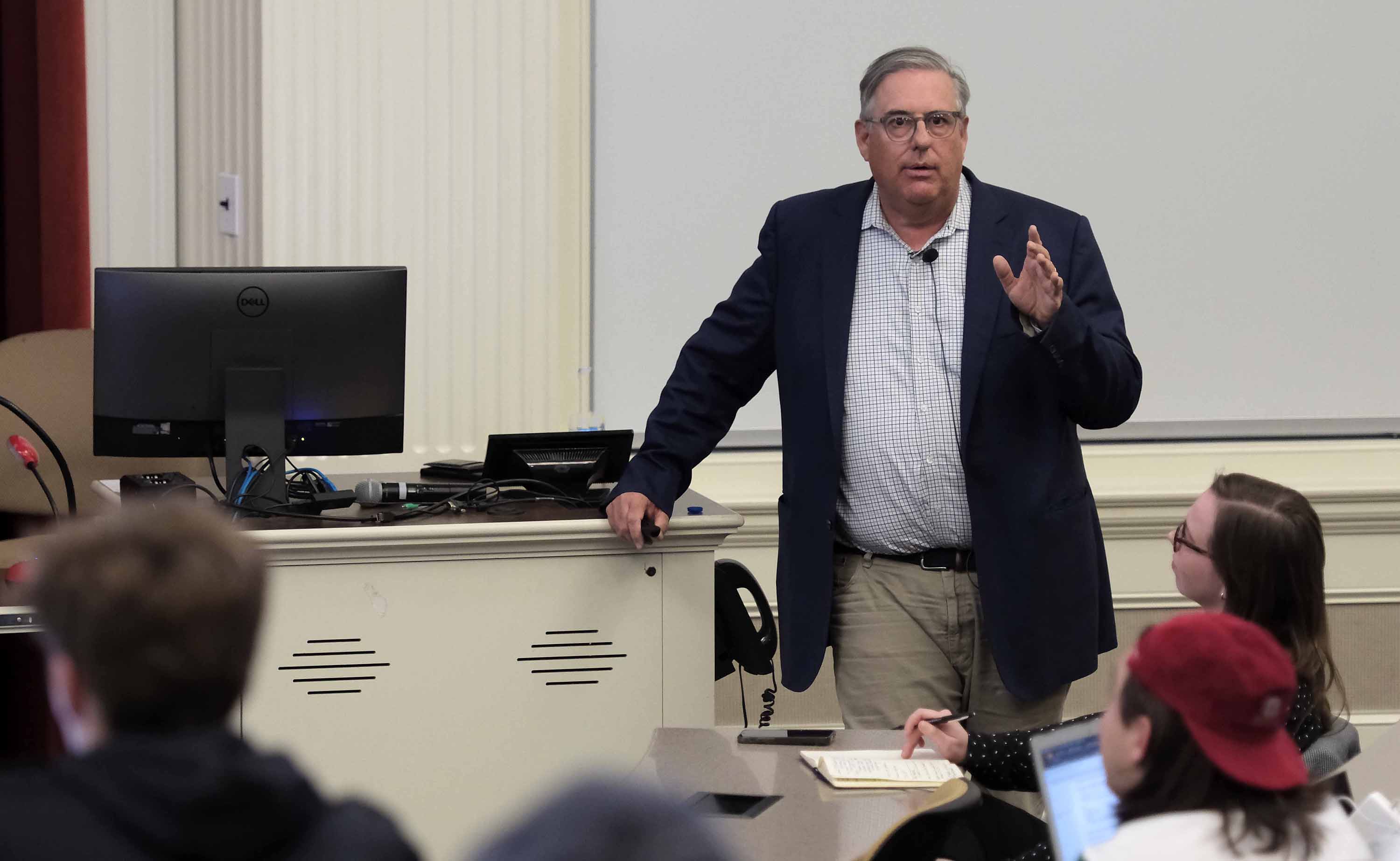 Since graduating from the Farmer School of Business and Miami University in 1990, Dan Marous and his finance degree have gone a lot of places. "I started with P&G, I then went to Staples. I then went to the Finish Line. And then most recently I've been working for a company called Tegra," he said. "The industry lens I'm going to walk you through is I've worked for really big companies and now I'm working for really small companies."
But Marous wasn't the latest Supply Chain Speaker Series guest because he was going to talk finance. "You don't want to listen to a ton of stuff on some boring kind of company. What I want to try to do is, I'm going to tell you how I think about supply chain careers. And if you're not in supply chain, I think this could have some applicability to other functions as well," he said.
Marous told the students that his career path framework has four phases:
Build the foundation – "I think the focus here is what you're doing now. It's your core education and it's really not just learning a function. To me, it's more about learning business fundamentals."
Lean in or MBA? – "Ask yourself, am I successful at what I'm doing and do I love to do what I'm doing? If that's the case, you don't necessarily need to go get the MBA, or you may want to think about doing it part-time, doing it on weekends, doing it with a local school. For me, I was in finance, but I had discovered supply chain, and I really wanted to get an experience to pivot to get into a different area."
Lead, drive and deliver – "This is where you really want to continue to expand your breadth of responsibilities. This is where you want to really begin to focus on stretch assignments and differentiating yourself. But this is also the one where I really think you have to be very thoughtful, and consider the fork in the road of 'Do I want to be a leader and lead teams or do I want to be a subject matter expert and go deep in a particular area?'"
Advise and mentor for the future – "When you get later in your career, even when you're in the VP levels, it's getting stuff done through your people versus you doing it yourself. That's when you really have to start working on your mentorship and teaching skills to get other people to be able to get those results and drive it within your company.
Marous said that his pivot during that second phase took him to Harvard for his MBA, and then a supply chain role at Staples. "I was doing network analysis of where to put the Staples.com fulfillment centers. I then did a stint in planning and inventory thinking about inventory write-offs, markdowns inventory turns, assortment planning, kind of more on the analytical side of things," he said.
But when he looked for a promotion, he realized that he'd built a reputation – perhaps too good of one. "I had basically done all this analysis and people began to think of me as just a strategic type of person. And if you're going to run a full supply chain, you have to be a proven operator. They're not going to give the keys to somebody who hasn't run an operation," Marous said. "They sent me to run a portion of the country where I ran fulfillment centers and I was in there with hundreds of employees. I was dealing with engagement issues. I was working in the service delivery operations where we had the Staples delivery trucks. And that role was the biggest unlock for me, because folks began to think about me more than just as a strategic person, but as an operator."
"If you get the opportunity, cross over and get into areas like the demand area or the sales side. A really good supply chain executive understands how the merchants think, how the salespeople think, and they get that experience on the other side of the desk," he said.
Marous told students that one framework that he's returned to again and again in his career is PIE. "The P is for your performance. It's the work that you do every day. It's how you get evaluated for your performance. The I is your personal brand, the image that you portray to people. And the E is the exposure, the people who are aware of the work that you're doing. When you think through your career, it's the balance of those," he said. "Even now, I'm thinking about my PIE to make sure that I'm adjusting my personal performance and showing that I've been able to get results by the companies I've been advising. Because if I did something for a big company and this is a small company, people are going to say, 'Who cares?' So you have to demonstrate and refine your performance as your role and your time continues."
Marous stressed to students the importance of networking, starting in college and continuing through their careers. "There's not one of you in this room that is not going to have some kind of a bump in the road in your career," he said. "It's going to happen to you. And that's why you need to have that network to help you find that next opportunity. That's why the best time to tend to your network is when you're in a job and things are going great. If you get restructured out, it's not that people aren't going to want to help you, but it's going to be tougher for you to pick up that phone and have those conversations. But if you already have existing relationships with those people, they already know you, they know what you're capable of doing, then you can have that honest conversation."
"You just never know who in your network is going to end up having a big impact on your life. And it's certainly better if you have a foundation of friendship and respect," Marous said. "So always tend to that network, because you just never know what's going to happen."