FSB First-Year Integrated Core nears milestone, looks to future
The 10,000th Farmer School student will pass through the First-Year Integrated Core later this year.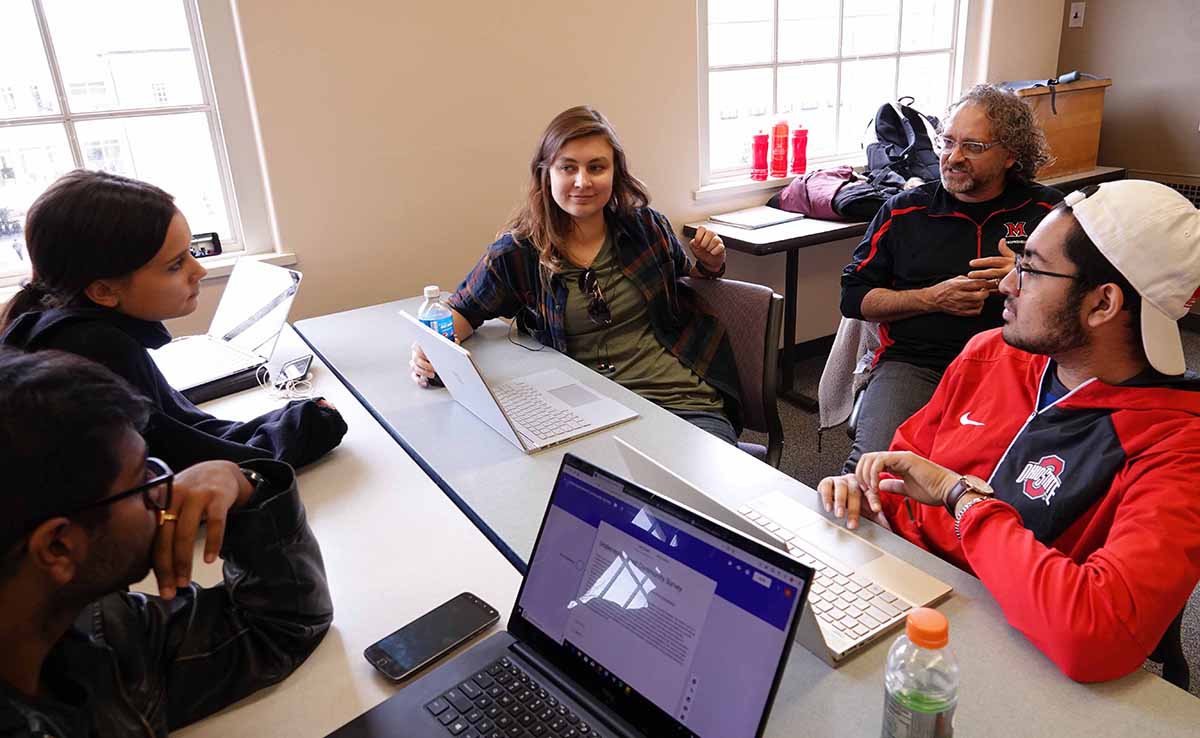 FSB First-Year Integrated Core nears milestone, looks to future
Eight years after starting its innovative and groundbreaking program, the Farmer
School of Business First-Year Integrated Core (FYIC) is set to serve its 10,000 th
student during this academic year.
Started in the fall of 2016, the eight-credit-hour Core FYIC, mandatory for all
Farmer School of Business students, consists of four courses and teaches students
key workplace skills including: communication, collaboration, critical thinking,
creative thinking, ethical thinking, and computational thinking and coding.
Students take these courses simultaneously during a single semester and have all
four classes with the same students. The cohort model helps students build a
community in their very first year of college. A recent programmatic survey
shows students feel the FYIC helped them develop a sense of belonging in the
Farmer School of Business and provided a network of social support – both of
which are essential for success in first-year students.
At the end of the semester, students work on a client challenge where they solve
a real-world business problem for a real company, and they have the opportunity
to use real data to gain insights and problem solve. The client challenge allows
students to apply what they learned to a real project and helps students show
significant progress towards obtaining business mindsets and skills.
"The transformation of the student from week one to week fifteen is unlike
anything I've ever seen. Our students are engaged, and our faculty are invested in
their success. This combination makes for incredible growth over 15 short weeks.
At the start of the semester, they are often nervous to deliver a 30-second elevator
pitch!" FYIC director Rebecca Crews said. "Students feel the change when they
get to the Client Challenge at the end of the semester, and they deliver a
professional presentation to industry executives."
"The FYIC is such a unique experience that not only exposes you to the problem-
solving process for a real business, but does so in such a safe environment with
faculty who do everything they can to support you. I have met some of my best
friends through the program and have been able to watch them grow through the
business school and grow along with them," junior accountancy major Ally Secor
said. "The FYIC is such a dynamic program that has helped me prepare for every
step of the career process from applying and interviewing to actually problem
solving at my internship, and it was also the perfect experience to reference in an
interview because it teaches you such a wide variety of skills."
The program not only prepares students for their education at the Farmer School,
but will benefit them as they embark on their careers. "Every possible interview
question an employer asks you, the First-Year Integrated Core sets you up to
answer them – to think critically about your role in a team and how the people you
work with will impact you and your development," 2019 supply chain operations
and management graduate Rachel Cleveland said.
At the heart of the FYIC is the faculty who teach dozens of sections of the Core
every week, many using new technology such as virtual reality, TopHat, and
Mentimeter to enhance their teaching.
"The success of this interdisciplinary program rests with the 24 incredible faculty
who teach within it. Never could I have imagined working with such a group of
collaborative, innovative people who teach essential soft skills that all business
students should know, work across four different disciplines, and who always have
the students' interests at heart," Crews said. "The faculty are constantly improving
their teaching and continuing to reinvest in student success - even long after
students leave our program. The FYIC would not exist without them."