GM executives lay out their supply chain roles in Speaker Series talk
A quartet of General Motors executives told Farmer School students about the company's supply chain and where they fit within it.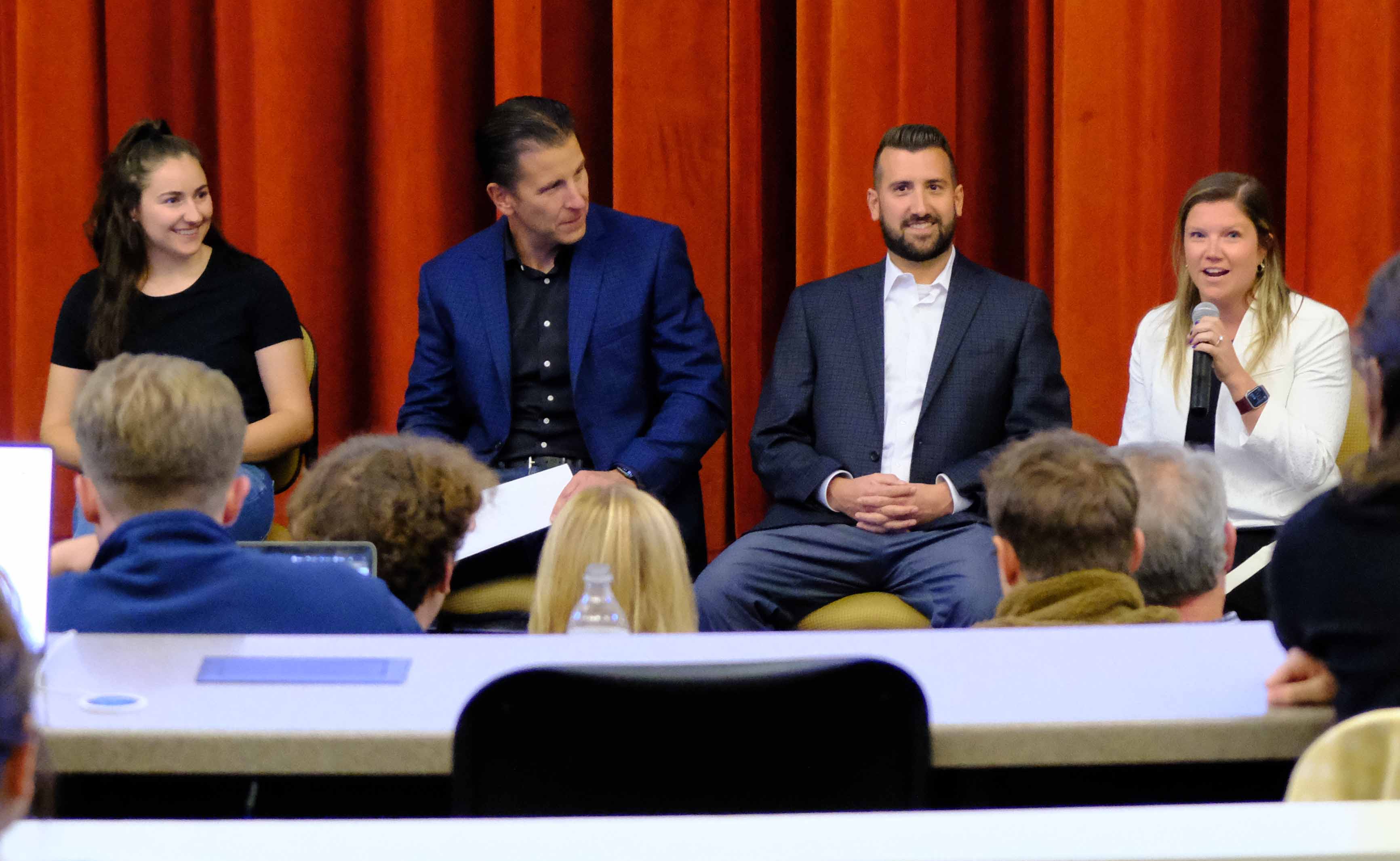 GM executives lay out their supply chain roles in Speaker Series talk
Often, when there's a panel event at the Farmer School of Business, the panel members each discuss the same topic, given to them either by the host or audience members. But when General Motors employees came to the latest Supply Chain Speaker Series event, they each talked about their roles and observations within their particular part of the GM supply chain ecosystem.
William Kopicki, director, Global Purchasing and Supply Chain brought Mikayla McIntyre, command center supervisor, Greta Nemeti, sustainability expert, and Matthew Ronse, manager- Finished Vehicle Logistics.
"We build and sell everywhere around the world. We have global capability. So that means we design and engineer everywhere around the world and we have global scale. So we have products and services everywhere, but more importantly, we have people everywhere and especially our culture. And one thing that I'm going to want you to walk away from tonight is culture makes a difference," Kopicki told the students. "I started 33 years ago, and I've had 18 assignments. I can honestly tell you I've loved every single assignment because I had the ability and chance to search for my passion and my happiness in every role. GM gave that to me."
"We put the customer at the center of everything we do. If, for example, Tom Brady wanted football leather on his seats, I will call Wilson Sporting Goods to get the leather and we'll give Tom Brady seats with football leather -- as long as he pays for it," Kopicki said.

McIntyre talked about her role in the command center, which deals with logistical issues and tactical operations by workers when there is a crisis. "We all get into a room when certain big things happen and do the best we can to solve them. We did that during COVID with making ventilators. The first one came off the line about 17 days after COVID officially started, so that was really impressive," she said. "We have to work through each one of these issues. And the fact that we're now using resiliency and part mapping is really important. So if that's something that interests you, that's something we've done a lot of. We really want to understand our supply chain better than we ever have before."
"The command center is a team sport. It is very challenging. We have a day shift. We have a night shift," McIntyre said. "It's about collaboration priorities, priorities for our plants, understanding who's important. So understanding what is needed, where, at what time, and what's going to be the most effective for the company is a lot of what we do."
Ronse described the infrastructure behind moving newly-built vehicles to their destinations, and the headwinds that are buffeting GM and other automakers in 2023. "When you used to drive by a dealer's lot and you'd see 500 vehicles on the lot, you may drive by now and see 25 vehicles on the lot. What's caused that is a big capacity shortage," he said. "In terms of rail, um, we have about 20% less labor than we had in 2018, and a lot of that has been caused by the railroads losing crews."
"The other big driver of our capacity problems in the ocean space is the amount of production that we're seeing in China that's now being shipped to Europe. So now a lot of that capacity that used to go from Asia to the US has been moved from Asia to Europe. So that's caused us to do a lot of unnatural things," Ronse said. "For example, instead of shipping all of our vehicles that go to the East Coast through the Panama Canal, we're now moving all those vehicles to the West Coast. That cuts our ocean time in half. But now we need to rail all of those vehicles across the network."
"It's something that we're dealing with every day. We've gotten very, very creative in the solutions that we're doing, and it's definitely at the top of the priorities of the organization," he said.
Nemeti talked about GM's "Everybody In" campaign, which has a goal of advancing a zero-emissions future. "We've talked about how this marketing campaign is focused on the electric vehicle shift, but it truly is 'Everybody In:' We can't do this change without our suppliers, policymakers, and our communities working with people who are affected. What does that look like? It's complex because sustainability concerns affect a multitude of industries from multiple angles. What we deal with in the automotive industry is going to be different from what the pharmaceutical industry deals with in terms of sustainability. Different locations also pose more significant risks depending on the community," she said. "Supply chains are tied up in all of these considerations, and it's especially true for an organization as large as GM."
When asked about the methods GM is using to reach sustainability goals, Nemeti said, "We have focused on the relationships that we do have and developing those. So working with them and saying, 'Hey, so you've created this material for us in the past. Is there any way that we can reduce the weight? Is there any way that we can maybe use a material that has less of a carbon footprint?' There are a ton of other companies, especially companies that rate our suppliers on their sustainability initiatives, which we do work with and connect with. I'd say the long-term relationships are where we have found the most fruitful outcomes for us."
"All of our suppliers have to come in and they have to express what their plan is. We don't allow any supplier to not have a plan on how they're going to stay within the industry, within the business and how they're going to stay a partner with us. So we work with them and their engineering team to understand what they're capable of doing now and how that could transition to something in an EV vehicle," Nemeti said. "One of our top fuel tank suppliers is now in hydrogen cells because they had a lot of the molds, they had a lot of the presses, so we were able to understand what that would look like from potentially a new tool perspective and help them out that way and then award them business accordingly."
Discussing the challenges of moving from a fossil fueled-automotive world to one based more on renewable energy, Kopicki said "We want to be part of that solution because it's in the best interest of what we're trying to do. Think about the vision of our EV future. If we don't get the support of the federal government and local governments, the adoption rate is just not going to happen at the pace that we need it."
"We're all about doing what's right for our customers and the environment. So we're trying to play in all those spaces so that we can influence and help," Kopicki said.