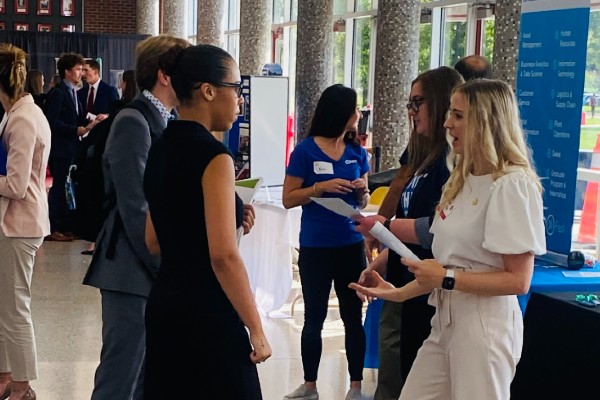 Connect
Finding Connections/Alumni
Networking can be intimidating. Everyone has a network, but you must learn to use it effectively. Start with faculty and family. Do they know the industry in which you want to work? Next, talk with friends on campus to see if they have friends or family who would be willing to speak with you.
Ask for an Informational Interview.  Don't be afraid of rejection; you may have to reach out to several individuals before you receive a response.
Informational Interview Steps
Write to the individual to see if they would be willing to speak on the phone or meet in person.
Make the conversation about the other person. Ask them to share their story and experience. How did they end up in this role? Next, ask for their insights. What suggestions would they have for someone looking to work in this field? Would they be willing to give you feedback on your resume?
Always make sure to send a Thank You to networking contacts.
How to ask:

Hello (name), my name Is (your name), and I am a current (year) at Miami. I am interested in some opportunities at (Company name), and was wondering if you had 15-20 minutes to talk about your experience there. Thank you!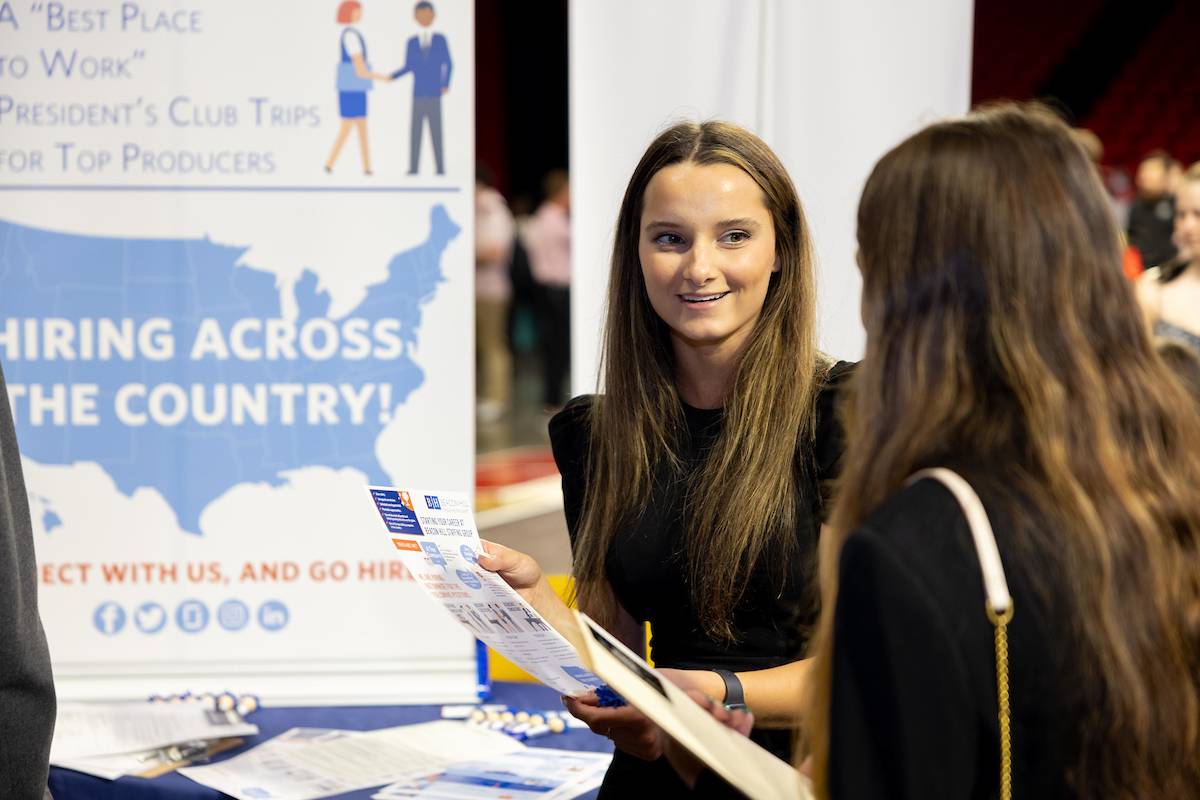 Social Media 
Remember that many employers will search for your social media accounts, so make sure you adjust privacy settings accordingly. You may also want to create separate personal and professional social media pages.
Use Linkedin to make professional connections. Be sure to join the Miami University Alumni Association an other related groups to increase your connections
Drop in your professional photo and maintain professional content and contacts. 
Customize your headline with keywords and phrases that are related to your desired industry or profession. 
Request a connection with professionals you've worked with at internships or met through networking channels. Be sure to "personalize" your request by offering some information on why you would like to connect.
Linkedin University offers great tips and updates for how to "Build a great profile," "Connecting with alumni" and more.
Search the university you wish to make alumni connections using the

 

alumni tool.
Customize categories (location, company, etc.) to achieve desired industry or profession results.
Request a connection with alumni professionals who are involved in the industry/position you wish to learn more about. Be sure to "personalize" your request by offering some information on why you would like to connect.
Conduct an

 

information interview.
Helps students succeed during and after college through conversations and community.  More than 4500 alumni have already signed up, volunteering to advise and mentor their fellow Miamians.  Make the most of the Miami alumni network!
Step 1: Sign up at connect.miamialum.org
Step 2: Find alumni in the NETWORK section.  Filter with keywords, by industry, location, or major.
Step 3: Send a message showing interest in their career and set up a conversation.  Alumni are eager to hear from potential mentees!
Use a professional profile photo. Your cover photo can indicate your interests.
Choose a Twitter handle that will be recognizable as you.
Tell your story in your bio: university, class year, major and keywords describing your career interests.
Follow people in your industry, whether recruiters, companies, or industry experts.
Add a link to your LinkedIn profile, your personal website, blog and/or online portfolio.
Drop your professional-looking picture on your main page.
Select a username that is consistent with your other social media platforms.
Create a bio that reflects your goals and brand. Who are you? Why are you using Pinterest? What are your professional aspirations?
Create boards using images and content to share your interests and experiences in your field.
Mark boards "secret," if they are going to contain content you would prefer to keep private.
Company Research
Always research companies before you apply to a position to make sure the company is the right fit for you. Review the company's website, social media pages including LinkedIn, Google employee reviews, Corporate blogs and news related to that company.
Review the Financial Health of the company. Click on the "Investor Relations" tab to review publically available quarterly earnings conference calls or read the annual report. This will give insight to company risks, new products, growing or stable revenue.
Interviewing with a startup? Check out its profile on Crunchbase to review their rounds of funding, acquisitions, recent hires, and relevant press coverage.
Conduct an Informational Interview. Try to find a past or current employee you can speak with.
Ask yourself the following questions:

What is the company's mission, values, and goals?
What are the company basics? Like size, location(s), history.
Is this company involved in the community or give back?
Does the company represent my Values, Interests, and Personality?
What does Diversity, Equity, and Inclusion look like at the company?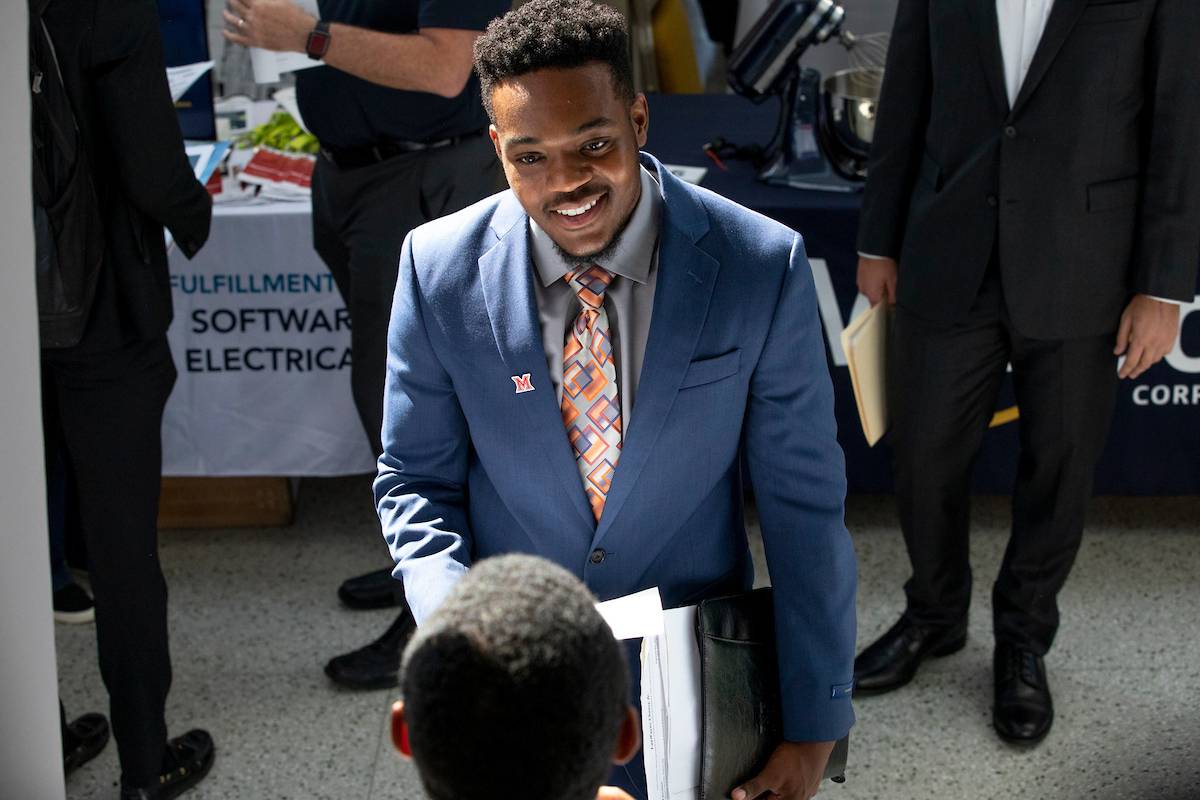 Industry Research
Vault's Career Insider

Provides in-depth intelligence on what it's really like to work in an industry, company or profession and how students can position themselves to land that perfect job. Vault's company rankings, ratings and reviews are verified through surveys of active employees and enrolled students. Unique ID and password required.
Job Shadow with Alumni

Reach out to a Miami Alum network and meet for a Job Shadow.  Common activities include office tours, observing work activities and meetings, networking sessions, meeting employees, information interviews, and direct hands-on experience. 
Successful Connections
Career connection links, establishing valuable partnerships with industry leaders, alumni networks, and internship programs.
8,000+
Organizations Interviewed, Attended a Job Fair, or Posted Jobs at Miami in 2020-2021
Center for Career Exploration and Success
98%
Of 2022-2021 Graduates Were Employed or Furthering Their Education by Fall 2021
Miami University Data
$118K
Median, Mid-Career Income for Miami Alums in 2020-2021
Payscale.com
Farmer School of Business - Career Development Office
Suite 1038E
800 East High Street
Oxford, OH 45056