Writing in the Light: How One Gerontology Professor Teaches Writing to Graduate Students

by Angela Glotfelter
Published April 16, 2019
"The goal of revising the graduate curriculum was to create a community where writing is valued," says Professor of Gerontology and current Director of Graduate Studies Jennifer Kinney, "where writing is not an implicit thing that happens in the dark, but instead it's explicitly talked about and practiced."
After Kinney finished the Howe Faculty Writing Fellows Program with colleagues Dr. Suzanne Kunkel and Dr. Kate de Medeiros, they knew they needed to revise their graduate writing curriculum. But they quickly realized it wasn't a simple problem.
"Over the years, it had become a hodgepodge of things that you should learn in your graduate classes that you don't," says Kinney about one of their graduate training courses, "like how to write a resumé, how to write a cover letter, how to create a LinkedIn profile, how to make a conference presentation. It had become a dumping ground for many of the professional development activities that you should learn in graduate school." Instead, they wanted to teach students how to write for gerontology.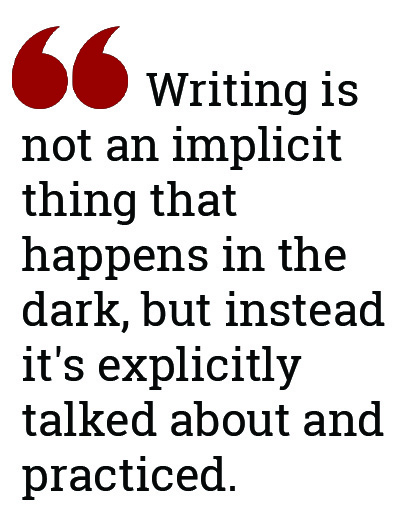 Teaching gerontology graduates students "how to write" is a complicated task. The gerontology graduate program admits students from diverse educational backgrounds. Kinney quickly lists them: "We admit people from nursing, economics, political science, social work, psychology, sociology, in addition to gerontology. You can come to Miami to get a Master's or even a PhD in gerontology having never had a formal course in aging."
Facing these challenges, when Kinney heard about the Fellows program, she jumped at the opportunity. "I thought the potential to sit down with colleagues and work together would be really cool," says Kinney, "We each originally came with our own projects, but then it morphed into 'What does it really mean to write like a gerontologist?'" (Read more about the gerontology team's time in the Fellows program.)
During the program, the team had a revelation about teaching writing: "As we were learning how faculty in history teach writing and how faculty in business teach writing and what faculty in the social sciences teach, we realized that we hadn't really been as explicit in talking about writing and teaching about writing as we should have been."
The rest is history.
Now Kinney teaches multiple courses for graduate students about what it means to write like a gerontologist, including GTY 705: Oral and Written Communication, and two Gerontology Proseminars: GTY 604 and 605.
Her approach forefronts making writing values and conventions in gerontology explicit for her students.
How to Write Like a Gerontologist 101
GTY 705 could easily be called How to Write Like a Gerontologist 101 because Kinney's innovative approach to writing pedagogy has students digging deeply into the voice of the discipline.
One of the main activities Kinney uses is a genre analysis, where she asks students to break apart pieces of a research article—like introduction, results, methods—and try to figure out what the characteristics of writing are in each section.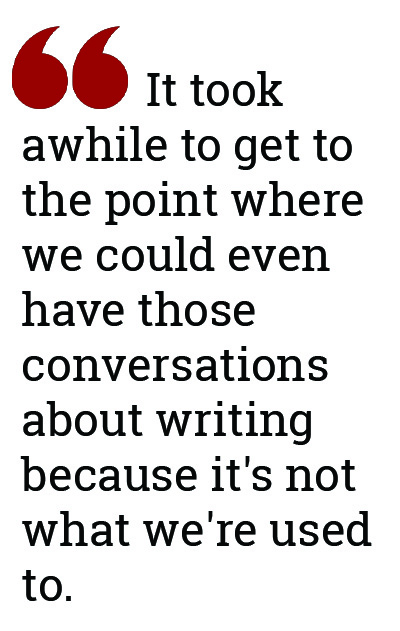 "We start with everybody reading three or four introductions to an article," says Kinney. "Then, students come to class having taken notes about questions like, 'What are the situational characteristics? What are the structural characteristics, stylistic characteristics, organizing principles? What makes an introduction an introduction, based on what you read?'" (For more activities like these, check out Sonja Foss' Rhetorical Criticism.)
The first time Kinney tried this activity, she says, it didn't go as well as she had hoped.
"It took awhile to get to the point where we could even have those conversations about writing because it's not what we're used to," she says.
But she kept trying.
Now, the kinds of conversations she's having with her students about writing in gerontology are groundbreaking: For the first time in the field's history, they're trying to define a voice for the discipline.
"My hope," she says, "is that these discussions and ideas are bigger than we are." She believes they're "starting a foundation" for what graduate writing education and what the voice of the field could look like in the future.
Empowering Student Voices
As we end our conversation, Kinney drives home what she sees as a critical part of teaching students how to write. "It's all about empowering students to be comfortable in their own skin," she says, "to be able to talk about who they are, what they do, what they bring to the table as gerontologists. And writing is a big part of that."
Just as the discipline of gerontology—which is still relatively new—is currently defining its own history, territory, and voice, Kinney wants students to be able to do the same.
"For me," she says, "it's all about empowering students to claim an identity and a space for themselves."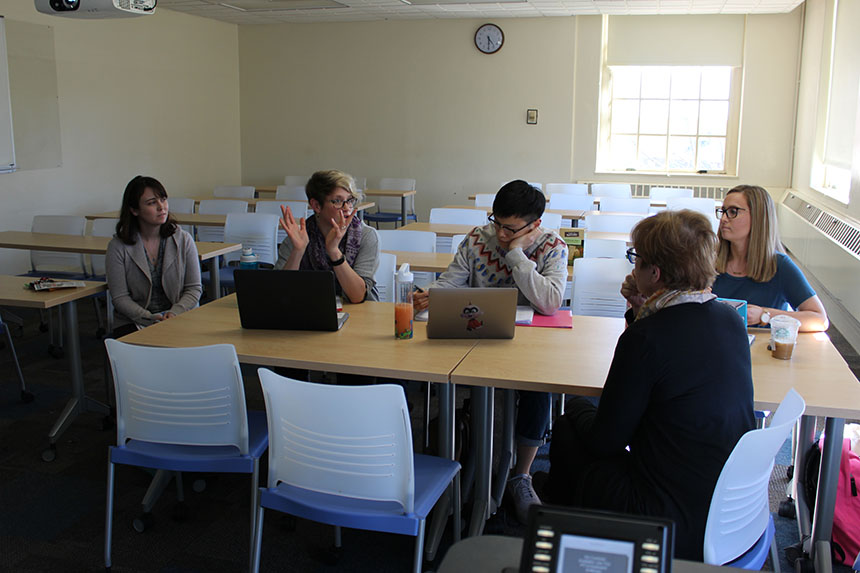 Kinney (foreground) sits with her students (pictured left to right) Katherine Kennedy, Leah Janssen, Gavin Cao, and Valerie Kessler (not pictured: Sara Stemen).