Zoom Automatic Captioning
Zoom Automatic Captioning is Here!
Captioning provides a real-time, text-based version of the spoken word. All virtual public events, such as panel discussions, invited speaker series, workshops, training, and performances should provide closed captions for participants.
Zoom Automatic Captions
Automatic captions have been enabled for all Zoom accounts. This feature uses Artificial Intelligence (AI) to create a text-based version in Zoom that is viewable in real-time. This tool should be enabled in your university Zoom account for use at all times. While automatic captions may not meet accessibility accuracy standards, enabling them is an excellent universal design practice and can be helpful for many different users who are trying to digest content. To enable Automatic Transcriptions in Zoom, you will need to be running version 5.0.2 or higher.  
If you have a participant who is Deaf/deaf or has hearing loss then you will need to ensure closed captioning or third-party captioning service is arranged for the class or event. Third-party services deliver the accuracy required for accessibility. These services are also recommended for large-scale events, whether or not there is an individual request, to ensure the highest quality accessible experience if offered.
For events that do not have a specific accommodation request, we recommend advertising that "automatic captions" will be provided in your promotional materials and at the beginning of the event. 
Get started with Zoom Automatic Captions today to offer an enhanced experience for all users.
Host
Only the HOST can enable and disable the automatic transcriptions.
Click

Live Transcript

at the bottom of the Zoom Toolbar. 

When the Live Transcription menu opens, click Enable Auto-TranscriptionNote

: If the meeting is being recorded and you have enabled Live Transcriptions, you will receive a copy of the transcript where you receive your recorded meeting. 

To turn off Live Transcription, click Disable Auto-Transcription in the Live Transcript menu. Note:

  If you plan to post the recording publicly following the event, the video will need to be captioned after the event, as the Live Transcripts are not saved from Zoom. Additional information is at the end of this document.

Reminder:

One thing to remember is that these are transcriptions provided by artificial intelligence — there is no "live" person in the back end of your Zoom call providing a typed transcript. As such, there may be some mistakes as the technology learns.
Participant
Once Live Transcription enabled, participants, have the option to choose how they want to view the transcripts.
Click

Live Transcript

to choose a transcript option.

Show Subtitles

displays subtitles on the screen.

View Full Transcript

displays subtitles in real-time with both the speaker's name and a time-stamp within the transcript window. We recommend this setting as best practice.

Subtitle Settings

will open a window where you can adjust the font size of both the subtitles and the chat window.

Click

View Full Transcript

to view subtitle and speaker. 

If you would like a copy of the transcript, click

View Full Transcript

and

Save Transcript

. A copy of the transcript will be downloaded to your machine. 

Note

: The transcript saves up to the moment of clicking Save Transcript. We recommend you click

Save Transcript

just before the meeting ends to ensure you have the transcript from the entire meeting. Also, note that this option may not be available if the host has disabled this feature. 
Tips for Using Live Transcription with Zoom
Use an External Microphone

: An external microphone/headset provides better audio quality and, therefore, more accurately matches what is being said verbally. 

Speak Slowly

: Speaking slowly enables a more accurate match to what is being said verbally and allows others to follow the automatic transcript or subtitles. 

Take Turns/Pause Before Speaking

: Zoom's active speaker tracking is used to identify the speaker. When another individual begins speaking, it can take a second or two before Zoom updates the transcript to identify the new speaker.

Monitor the Participants Panel for Participant Reactions

: Zoom's Participants panel displays all attendees and shows any nonverbal feedback the attendees provide. When using automatic live transcription, consider keeping the Participants panel open to see if attendees are indicating they need speakers to

Go Slower

.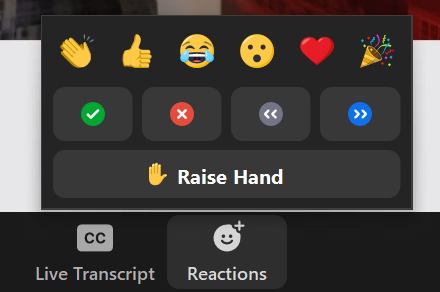 Instructions for Running Accessible Zoom Events
In addition to the captioning practices outlined above, there are other steps you can take to make your Zoom sessions and events more accessible for people with disabilities. Please see our help guide for more Zoom accessibility best practices.
Instructions for Captioning Recorded Events for Distribution
If you plan to distribute a recording of an event, talk, workshop, or performance, it should be captioned. Miami currently has preferred vendor agreements with two captioning vendors, Verbit and 3Play Media. Please see our help guide for captioning multimedia for more information.