IT Services: Honoring the Diversity in All of Us
IT Services is one of the most diverse groups on campus. Our IT family includes members from different cultures, backgrounds, beliefs, and lifestyles. To that end, the IT Services Diversity Committee is a group of teammates dedicated to celebrating all of our fellow Miami University employees and the diverse cultures represented in our community.
Our goal is to raise awareness about workplace diversity and inclusion that builds respectful, productive relationships. Our mission is to foster a safe, respectful work environment to honor the diversity in all of us.
Our work is increasingly important in conjunction with the University's efforts to strengthen our community through diversity and inclusion. We hope to make positive contributions in service to that goal. The group has been involved with the Presidents' DEI Task Force and will be involved with the implementation of the task force's recommendations.
Everyone is different - and we embrace that difference. Join us in celebrating the difference in all of us!
Stay tuned for more information about upcoming IT Services Diversity Committee events! 
Feel free to contact any of the diversity committee members for more information about events, how to join the committee if interested, and how to promote diversity on campus and in your everyday life.
Glenn Chundrlek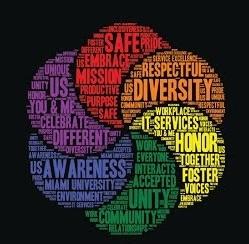 Tim Gruenhagen
Jake Harrison
Elizabeth Parsons
Eboney Kimbrough 
Emma Lester
Sharita Massie
Sean Poley
ElizaMarie Quinn-alger
Leah Tuscany