Miami University to celebrate Class of 2023 during 184th Spring Commencement Ceremony
4,555 degree candidates; alumna Nicole Fleetwood '94 to speak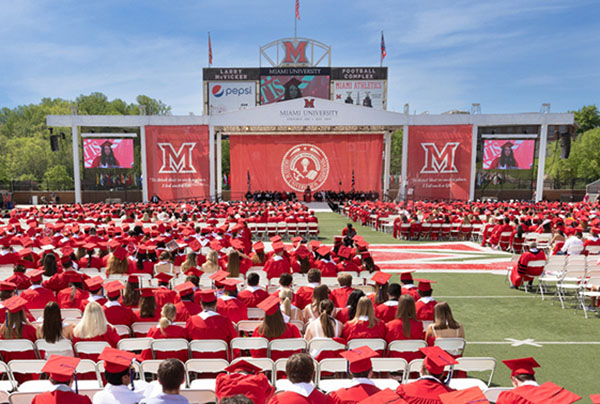 Miami University to celebrate Class of 2023 during 184th Spring Commencement Ceremony
Miami University celebrates the Class of 2023 during the 184th spring commencement ceremony at Yager Stadium on Saturday, May 13, rain or shine. 
The ceremony will begin at 10:30 a.m. and be live-streamed for those unable to attend in person, available through YouTube. 
President Gregory Crawford will preside over the commencement ceremony with Hamilton native Nicole Fleetwood '94 offering the commencement address.
Fleetwood, a graduate from Miami's School of Interdisciplinary Studies Western College Program, is now an academic, curator, and author.
The inaugural James Weldon Johnson Professor of Media, Culture, and Communication at New York University's Steinhardt School of Culture, Education, and Human Development, Fleetwood won a prestigious MacArthur Fellowship in 2021 and recently published the book "Marking Time: Art in the Age of Mass Incarceration," winner of the National Book Critics Award in Criticism, among other awards. She is also the curator of an art exhibition of the same name, which was listed as "one of the most important art moments of 2020" by The New York Times. 
The ceremony will last approximately 90-120 minutes. Current planning includes open seating (this is not a ticketed event) with no restrictions on the number of guests.
Divisional ceremonies and other graduate recognition programs occur throughout the weekend. More information can be found on the commencement webpage. 
Degree candidates include 133 certificates, 70 associates, 3,869 bachelor's, 469 master's, and 14 doctorates, for a total of 4,555. These graduates represent 39 states and Washington, D.C., and an additional 239 are international students.

The top 10 degrees to be conferred as follows: Finance 361, Marketing 296, Psychology 211, Biology 152, Nursing 138, Computer Science 137, Political Science 118, Kinesiology 117, Strategic Communication 110, and Accountancy 108.
A total of 16.4% of students earning bachelor degrees will graduate with cum laude honors, 9.6% magna cum laude, and 6.5% summa cum laude. For associate degrees, 2.9% will graduate cum laude, 1.4% magna cum laude, and 4.3% summa cum laude.
More on Commencement