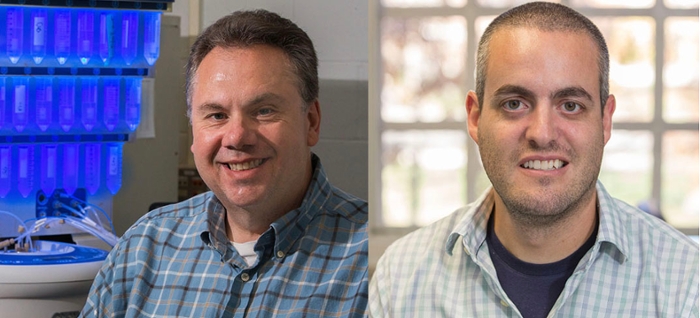 Aug 08, 2018
Biochemists Gary Lorigan and Rick Page each awarded a $1.8 million, five-year MIRA grant, a first at Miami
The prestigious award encourages creativity in research
By Susan Meikle, university news and communications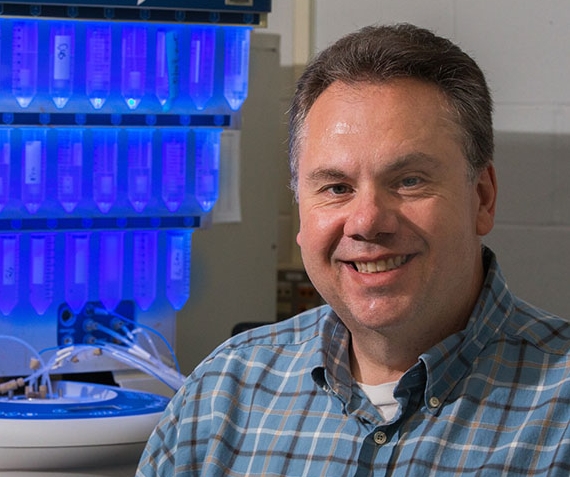 Gary Lorigan, top, and Rick Page
A new type of grant from the National Institutes of Health is designed to allow proven and promising researchers to be more ambitious and creative in their research.
The NIH has recognized Miami University biochemists Gary Lorigan and Rick Page: They were each awarded about $1.8 million over five years, as part of the Maximizing Investigator's Research Award, or MIRA.
The MIRA grants, part of the National Institute of General Medical Sciences (NIGMS), are highly competitive and essentially set the researcher for a career in NIH funding, said Mike Crowder, chair and professor of chemistry and biochemistry.
"It would be rare for a school like Miami to have two MIRAs; it is very unlikely for one department to have two," he said.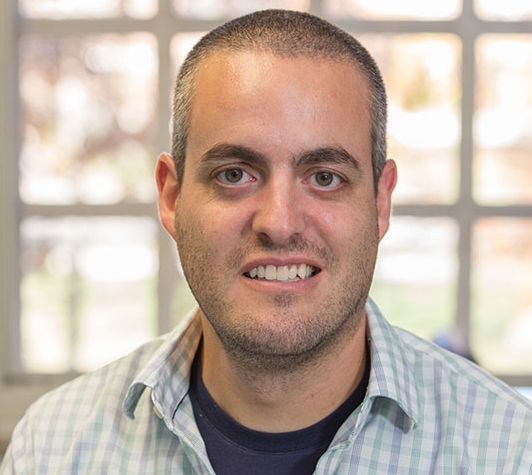 After the first five years of funding, the MIRA program is set up to provide another funding cycle to the researchers, as long as the group was productive, Crowder said. The current system requires researchers to apply repeatedly for a grant.
"Given their success rate on NIH grant proposals using the 'old' system, Gary and Rick are positioned for consistent funding for many years. I could not be happier for them or for their students," Crowder said.
Describing the new grant program, now in its second year, NIGMS director Jon Lorsch said, "We hope that by creating the stability for investigators, we can really empower them to be more ambitious and more creative in their research. We also hope to increase the flexibility for investigators to follow new ideas and new research directions as they arise during the course of their work. If they discover something very interesting, they'll be able to follow that."
Freedom to let the science guide the research
Lorigan, professor, and Page, assistant professor of chemistry and biochemistry, will each receive around $360,000 per year for five years. Page received the MIRA for Early Stage Investigators (MIRA ESI).
The funding supports their research programs, rather than individual projects.
Lorigan's research program: Membrane protein structure; heart disease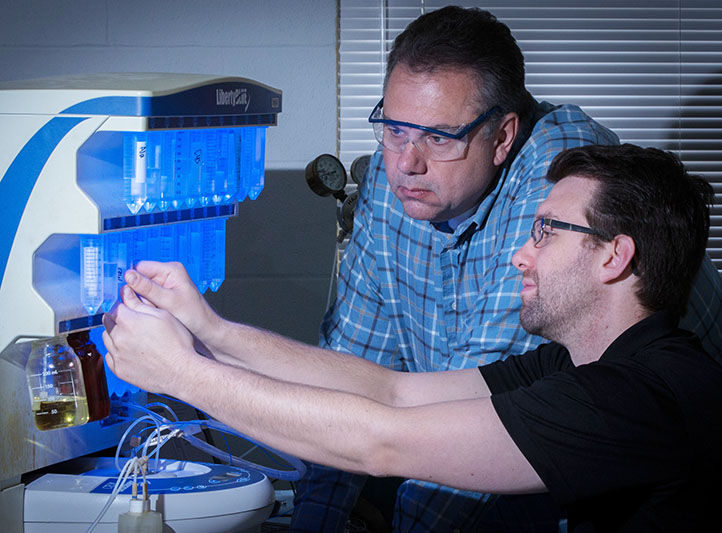 Lorigan with doctoral student Dan Drew (photos by Scott Kissell and Jeff Sabo).
The MIRA grant gives his research group a lot of flexibility and the ability to explore new scientific directions, Lorigan said.
His research program focuses on membrane protein channels that are directly related to heart disease. 
Internationally recognized as a leader in the field of membrane protein structure, he and his research group have pioneered strategies to characterize membrane proteins by using magnetic resonance techniques, such as electron paramagnetic resonance (EPR) and nuclear magnetic resonance (NMR) spectroscopies.  
His expertise has attracted several significant collaborators with important biological problems.
His goal:
To develop transformative biophysical techniques to study the structural and dynamic properties of membrane proteins.
These state-of-the-art pulsed EPR spectroscopic techniques will move the field forward by dramatically increasing sensitivity and accuracy of distance measurements for all membrane protein systems.
Lorigan is currently adviser to a postdoctoral researcher and four graduate students and is mentor to nine undergraduate researchers.
Page's research program: Protein quality control; antibiotic resistance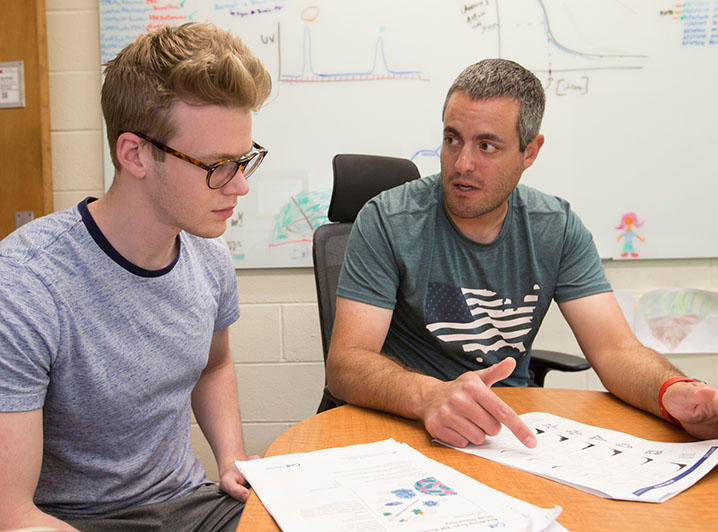 Page with senior Matt Morris, a 2018 Beckman Scholar.
The award "provides my laboratory with the freedom to let the science guide us," Page said. It will advance both the protein quality control and the antibiotic resistance projects in his lab.
The three-dimensional structures of proteins determine the roles and functions proteins play within cells, Page said. Exposure to chemical or mechanical stresses can cause proteins to misfold, resulting in large changes in three-dimensional structure and loss of protein function.
To survive, cells have developed quality control systems that guide misfolded proteins towards pathways that lead to them either being repaired or discarded.
Defects in protein quality control pathways can contribute to diseases including neurodegenerative disorders and cancers.
His goal:
To enhance our fundamental knowledge of protein quality control pathways and identify avenues that may be exploited for future therapeutic targeting.
He has multiple research collaborations with colleagues in chemistry and biochemistry and in bioengineering on his research project on clinical inhibitors of metallo-beta-lactamases (MBLs), which render bacteria resistant to antibiotics.
Page is currently adviser to six graduate students and mentor to 12 undergraduate researchers.
Proven and Promising
Lorigan (2003) and Page (2016) have each been named a Miami University Junior Faculty Scholar.  Lorigan was named a Distinguished Faculty Scholar in 2014.
They each received a National Science Foundation CAREER grant – one of the organization's most prestigious awards in support of junior faulty. Lorigan was the first scientist at Miami to receive one, in 2003. Page is the eighth to receive one, in 2016. (Dominik Konkolewicz, asssitant professor of chemistry and biochemistry, recently received the ninth NSF CAREER grant at Miami).
Last month Lorigan received a $450,000 grant from the National Science Foundation for his research on membrane proteins.
Research at Miami is competitive at the highest levels
"We are incredibly proud to have received a MIRA ESI," Page said.  "That there are now two MIRAs in the department is continued evidence that research at Miami is competitive at the highest levels," he said.  
There are 231 established MIRA grantees and 192 ESI MIRA grantees nationally, awarded over the first two years of the program, according to the NIGMS.